Spill the Beans: Carolyn May of Lucky Bean
As owner of Lucky Bean and a native Mackinac Islander, Carolyn May has been serving up coffee to locals and visitors since 2011
Carolyn May is a native Michigander, but her childhood was unlike most who were born and raised in the mitten. That's because Carolyn grew up on Mackinac Island, splitting her time between the island and the mainland with plenty of hours spent on ferry rides.
As part of the fourth generation of a family-owned and operated candy shop on Mackinac Island, Carolyn learned her way around running a business before venturing away from sweet treats. As the owner of Lucky Bean Coffeehouse since 2011, Carolyn is now in the business of offering sweet sips to locals and visitors.
"I was born in Petoskey and grew up on Mackinac Island. I like to say I was born over the Straits of Mackinac. My mom went into labor on Mackinac Island at the wee hours of the morning and she had to get flown across to Harbor Springs where there was an ambulance waiting for her to bring me to Petoskey. I was a month early, so I was a premature baby.
My health was at stake, and they needed me somewhere that was more facilitated for my health, so I couldn't be born on Mackinac. I was in an incubator for six weeks because of my lungs.
My mom's Catholic and she wanted us to go to a Catholic school. We did go to school on Mackinac for a while, and then we decided we were going to commute because there's a Catholic school nearby, which was Petoskey. So, my entire life since the age of six, we've always been to school for about one month, then leave and finish school in Petoskey, and then come back to the islands and get our family businesses up and running. We then worked for the family business and then just went back and forth all the way through high school.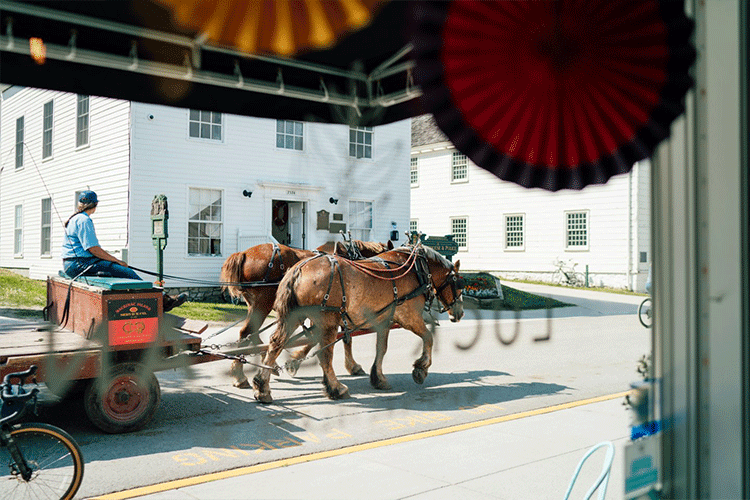 We took the ferry on weekends and then just continued school, whether it was just to finish up the season on the island and then leave and come to Petoskey and go to school five days and then go every weekend to the island. In Petoskey we lived about five blocks from St. Francis, so we were just right in town.
I went to Oakland University in Rochester. I got an associate degree in business administration in North Central in Petoskey and continued my education at Oakland majoring in business management with an HR minor.
After I graduated, I got a Disney internship. I worked in the hospitality industry, so I was at the front desk and concierge at one of Disney Resorts' deluxe hotels, the Contemporary. After that, I decided I wasn't going to work for the family business, which happens to be fudge on Mackinac. I decided to continue in the hospitality field and worked at the Grand Hotel. I worked there as an assistant manager of guest relations for two years, and then decided to open a coffee shop.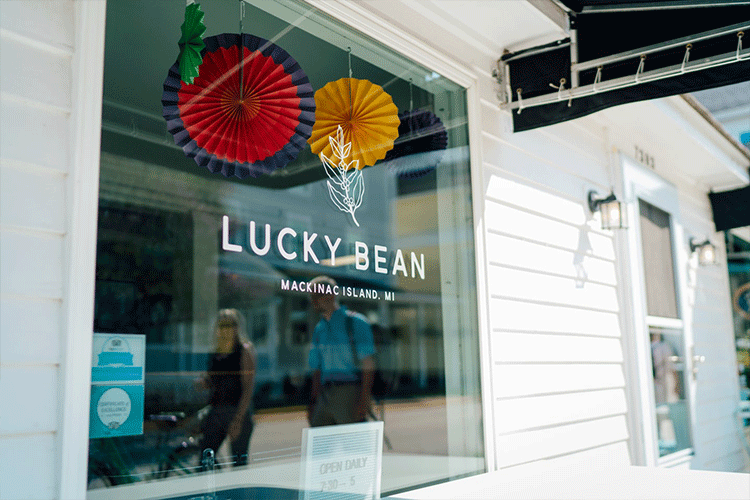 I've always wanted to open a business with my degree, and I thought okay, I can apply the knowledge and resources from college. But also, being in the tourism industry since I was 14 working for my dad, it was just something I was comfortable working around. I also wanted a business that could cater to locals and workers of Mackinac because I felt that there is a need for something to take care of them as well. And so, coffee was the perfect type of entity to get into.
We operate one of the oldest fudge Shops on Mackinac Island, May's Candy Shop. My great grandfather started in Kansas in 1881. It was a skilled job and candy making was something that he had. Then from there, my grandparents moved a lot during the Great Depression. They eventually ended up on Mackinac and he at the time worked for Murdick's. Murdick's had a luncheonette that sold candy, and there is another fudge shop there as well.
I think my grandpa just decided that it looked like there might be a popular need for fudge, and so he also ended up opening a candy shop. And then many other fudge shops have followed – they all came in the 60s and 70s and they're flourishing.
My dad operated it until he passed, and my sister and brother are now operating the candy shop. I think it's the 142nd year continuously operated by a family member – we've always had a family member run the shop.
For me, I started from folding boxes to cutting fudge to clerking and then eventually learning how to make the candies. I learned how to temper chocolate with your hand. I worked with the recipes and online orders, working with customers, helping train clerks, just all aspects of the business side. I was able to have that hands-on experience at a young age, just watching my dad.
He was my role model for everything. And I continue to put a lot of things that he's given me into my coffee shop, and I'm so very grateful for that.
We really like to express the fact that we are a candy making business. We have a recipe book of over 600 recipes, and we'll open it up and try different ones. But we make everything by hand. Whereas competitors, they pre-make or order items that we make by hand. So that's a little bit of a difference of what we do versus what they do.
I opened The Lucky Bean in 2011 and this was my 13th season. We make a lot of specialty drinks, anything with espresso and steamed milk from a mocha or a cortado to a cappuccino or a latte.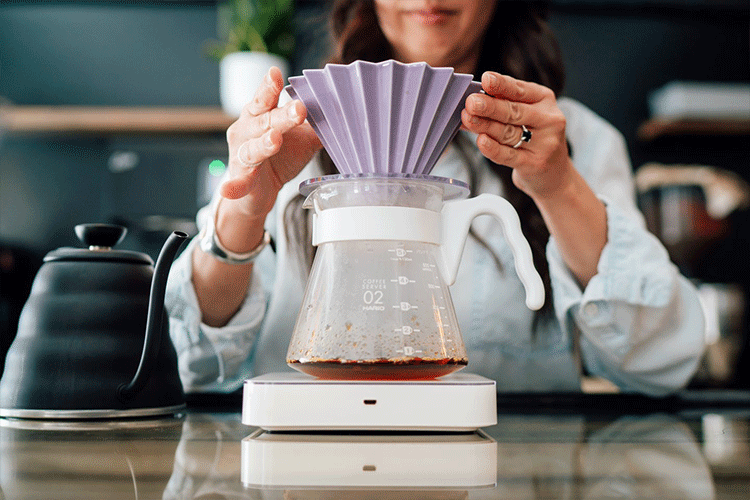 My shop is really small – it's 480 square feet and there's not a lot of room to bake anything, so we're really limited. When I first opened, I always had specials of the day so I would see what the best sellers would be. I devoted five drinks that were specials into what I call Island Originals. They're the staples and signature drinks to the shop. The last three years we started making our own syrups and so those have been huge, huge hits.
I've noticed that my merchandise has really taken by storm: apparel, travel mugs, anything you can imagine, people have been requesting it. I would like to open a separate store a retail store, in addition to hopefully expanding the coffee shop itself, if that opportunity ever exists. Whether it's in the same building or off the island or on Main Street, which I've always been trying to find, but it hasn't worked out yet. I haven't had any luck, but I'm patient.
The coffee shop sparks an experience for the customers where they feel like they're at home. It took me a very long time to figure out what my shop's motto was going to be, but it is 'Where locals drink good coffee.' I created that motto because when I first opened, I didn't spend a lot of money on advertising. And of course, social media wasn't as prevalent at the time. But I had a lot of support, and because of my reputation and growing up there, I had the advantage of people knowing personally who I was, and the devotion I had for my business.
I relied on word of mouth. And all those people that would recommend my shop would tell me, 'Carolyn, I always let them know go where the locals go.' And that's where I want them to also feel that, too. If they're visiting from afar, they can feel at home or feel like one of the locals.
I love living here because of the lifestyle. We have so much to offer in Northern Michigan as far as winter activities go. And even in the summer, especially up north and specifically Mackinac, there's so much to offer. It's a beautiful place. It's well-kept. There are so many beautiful places here that we take care of, and it shows. The quality of life here I would say, from my view, is very good."