Through the Grapevine: Nancie Oxley of St. Julian Winery
As Michigan's first female winemaker, Nancie Oxley has stayed true to her Midwest roots and grown her career at St. Julian Winery
It seems fitting that Nancie Oxley was first bit by the wine bug as an undergraduate student studying under a professor named Dr. Vine. After completing her degree and interning with a world-renowned winemaker in Sonoma, California, Nancie was offered a position at St. Julian Winery in Paw Paw, Michigan, which celebrated its 100th anniversary in 2021.
In her time with St. Julian Winery, Nancie worked her way up from lab manager and assistant winemaker to head winemaker in 2010. In 2017, she was promoted to vice president of winemaking.
As the state's first professional commercial female winemaker, Nancie is shaping St. Julian Winery and Michigan's wine scene for the next century and beyond – cheers to that!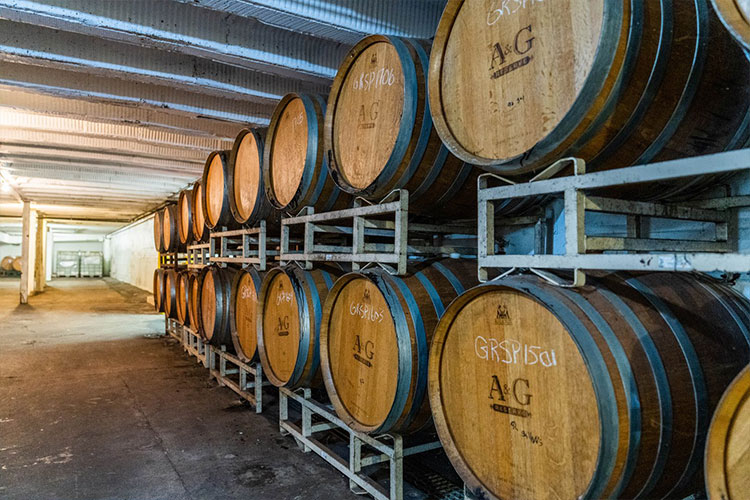 When did your interest in wine begin and what was the moment you decided you wanted it to be your career?
My undergraduate degree is from Purdue University, in food manufacturing operations – that's food science, food manufacturing and management all compressed into one degree program. The Indy International Wine Competition was also hosted by Purdue University at that time and that was my summer job. That's when I got bit by the wine bug. We didn't really grow up drinking much wine. My parents didn't by any means. One of my professors, Dr. Richard Vine, was also the wine buyer for American Airlines and Chief Judge at the Indy International Wine Competition. I got my feet wet working as an entry coordinator for the competition, but I still did not know much about wine.
Dr. Vine recommended I explore the option of an internship. I was lucky enough to land a lab intern position under the tutelage of world-renowned winemaker Daryl Groom at Geyser Peak Winery in Sonoma, California, in fall of 2021. It was a good glimpse into the production side of wine. A lot of people love the tasting side of wine and drinking it, but you must get down and dirty on the production side to know if you'll love the job or not. I was working 16-hour days, seven days a week, and still loving it!
What led you to living and working at St. Julian Winery in Michigan?
Over spring break my senior year, my parents were encouraging me to send out resumes, so I'd have my first "real job" lined up before graduation. I sent my resume to a few different wineries and received offers from all of them, but St. Julian was always at the top of my list. Making wine is more than just a career for me because I am truly linked to the land in this great state, with our home being surrounded by grape vineyards. In 2010, I married my late husband Keith Oxley, the son of Ed and Phyllis Oxley, who are one of the winery's largest growers, providing 15 varieties of grapes to St. Julian.

I thought I would have to go back to California, but I grew up in the Midwest and happened to send my resume to St. Julian. What my background was, and my interest, was kind of the missing puzzle piece at that time. And I've essentially grown up with the winery. I've been here since harvest 2002. Technically 21 years, but harvest 2023 will be number 22 for me, which is crazy!
What does it mean to you to be Michigan's first female winemaker?
I think being the first female winemaker was pure luck, but I am proud to lay a foundation for women to follow.
Did you face barriers or challenges in pursuing this dream?
I've been blessed working for a company that allows me to express my creativity. That's been a huge part of why I have been with the company for so long. The first 15 years of my tenure, David Braganini was at the helm. He was a huge proponent of allowing his winemakers to express their creativity. Upon his passing, his brother John took over, and now John's son Apollo. They both continued that same tradition of allowing me to express my creativity through winemaking. They both have said that they don't want to inhibit any of the inspiration coming from the winemaking team. That's what makes St. Julian's portfolio what it is, and that's what keeps me going every day.
But it's also the amazing team that I have here. We are a very large winery compared to our peers in Michigan, and I couldn't do it without my crew. I've had the privilege of working with some of these guys for the entire 20+ years I have been here. I feel like most days it's the teamwork and the family aspect of this company. So, it's a great crew. We all wear a lot of different hats to get the fruit in the door, pressed, fermented, filtered, blended, bottled and out the door to our customers.
Can you speak to St. Julian's role and significance in Michigan's wine scene?
St. Julian has been in business for over 100 years. That's a feat for a Michigan business, but for a Michigan winery, it's quite remarkable. We were founded in 1921 by Mariano Meconi. He immigrated from Falaria, Italy to Windsor, Ontario. At that time, it was Prohibition, so he was making wine in Canada. And as soon as Prohibition was over, he moved the winery across the river to Detroit and we were there for two years.
Grapes back then were in Southwest Michigan because Welch is just four miles south of our current location. Horse and buggies were used to transport grapes from one side of the state to the other, which proved to not be the best business model. So, in 1936, they moved the winery to the heart of grape country, essentially. There was a lot of rich agricultural history to our building prior to St. Julian moving in. The railway went right in between our buildings, and one of our current barrel sellers is an old icehouse. The local farmers would chip blocks of ice off the local lakes to bring here so they could load rail cars to ship out fresh fruits and vegetables to Chicago and Detroit.
Over the years, we've made sweet, fortified wines. One of our most well-known wines is probably our Solera Cream Sherry. We've evolved though. We're still making some of those sweeter style wines. We planted hybrids in the 70s and then of course, followed suit planting some vinifera. Our portfolio currently has well over 150 different wines, sparkling juices, ciders and spirits.
St. Julian has been at the forefront of the industry since the beginning. We continue to support other wineries, industry groups and growers to continue the tradition of growing Michigan agriculture products.
What does St. Julian mean to the Paw Paw community?
To allow people to taste, it's all about the experience. Anybody can go to their local grocery store, liquor store or wine shop. Having customers come here to the source, right in Paw Paw, showing them where we actually make the wine and allowing them to taste is a big part of what we do. Being one of the largest wineries in the state in terms of how much fruit we handle here, it's impressive for our customers to see grapes being crushed to juice, which will eventually become the wine in their glass.
This past vintage, we crushed over 4,000 tons of pure Michigan grapes, from over 23 growers in Southwest Michigan. We also work with about 500 tons of cherries and a hundred tons of blueberries. We want to show people that we are committed to Michigan agriculture, and we're working with the fruit that's grown right here in our backyard, primarily in the Lake Michigan Shore appellation. And that is still based on Mariano's vision of working with Michigan fruit. Now into the fourth generation who own the company, we are continuing that commitment.
How do you see your role with St. Julian helping to shape, evolve and grow the winery for its next 100 years?
We are wholeheartedly committed to Michigan-grown agriculture. For the 2023 harvest season, we have about 4,000 tons of grapes and cherries that we will be processing. 100% of them are coming from Southwest Michigan, all within the Lake Michigan Shore AVA. Occasionally we do work with growers up in the Leelanau and Old Mission Peninsula, but our belief is to be a true Michigan winery, you must grow grapes in your backyard. There are all these great wine regions of the world, but in order to build to their notoriety, they are all growing grapes locally, not bringing in from other areas.
That's what we are trying to do at St. Julian. We're really committed to our great state. It's been a huge effort. Currently we have over 1,000 acres that are contracted with local growers all down in southwest Michigan. We even own an estate vineyard; John and Sarah Braganini maintain a 25-acre vineyard in Coloma. We are able to push the limits of the vineyard, manipulate vineyard techniques and push boundaries on this site that we don't expect our growers to normally do.
But we are committed to Michigan – Michigan grapes, Michigan cherries, Michigan blueberries, peaches, apples, pears, raspberries…you name it and we have turned it into a wine or spirit! And speaking of spirits, we have a new bourbon program, and we're working with Michigan corn, barley and rye.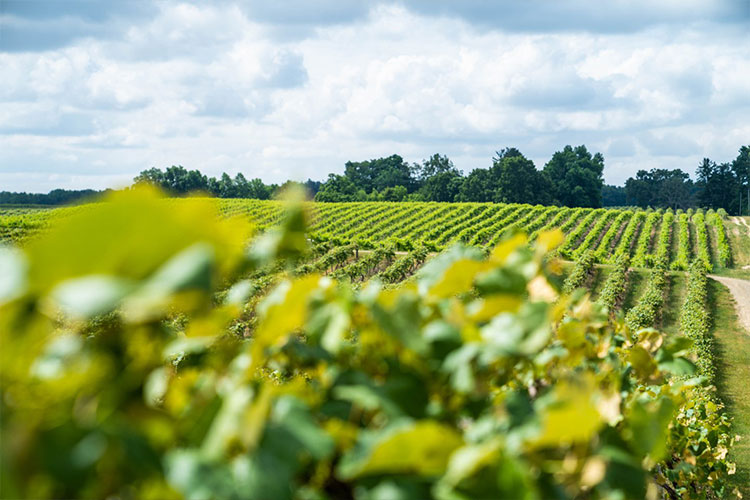 Do you have a favorite wine/varietal, and why?
It's like picking a favorite child! We work with over 52 grape varietals, and we have a little over 185 products at the moment. It's fun to make the wines that end up on the shelves in the grocery store, but I really like making the smaller batch wines. Our Braganini Reserve wines are handmade, small batch, artisanal and more hands-on. But all the wines are my babies!
What do you like about living, working and building a future in the state of Michigan?
Michigan is THE BEST state! There is so much to do here. Whether you are winetasting or brewery hopping, enjoying the hundreds of miles of sandy beaches on our freshwater coastline, riding ATV trails through the gorgeous scenery of the U.P., braving the winter weather to ski the slopes or making that amazing drive over the Mighty Mac, Michigan never seems to disappoint.
Are there lessons you've learned in the world of winemaking that also apply to life?
You never know what hand Mother Nature will deal you each harvest, so you must learn to roll with the punches!