Born and Bread in Michigan: Arlo Brandl of Tecumseh Bread and Pastry
Artisan bread maker Arlo Brandl uses flour power to attract visitors to Tecumseh Bread and Pastry in downtown Tecumseh
Husband and wife duo Arlo and Alisyn Brandl have crafted a recipe for success in downtown Tecumseh. Operating Tecumseh Bread and Pastry since 2016, when they started by working out of a catering company's building during off hours, their bakery has since been recognized by Food & Wine Magazine in its May 2020 list of 100 Best Bakeries in America.
Arlo is among the three first Certified Artisan Bakers through the Bread Bakers Guild of America, helping to continue baking's heritage and representing the growth and development of Michigan's grain economy. Through the Market on Evans' business incubator program, Arlo and Alisyn gained a following in the community and grew into a resident small business.

As the recipient of a $25,000 Match on Main grant from the MEDC in April 2022, Arlo was able to expand his business into a larger brick and mortar location in the heart of downtown Tecumseh.
Whether customers are seeking otherworldly croissants – Arlo was designated the first certified Viennoiserie baker in the U.S. in 2019 – freshly baked baguettes, cookies or other treats, Arlo is ensuring southeast Michigan is a sweet destination for all.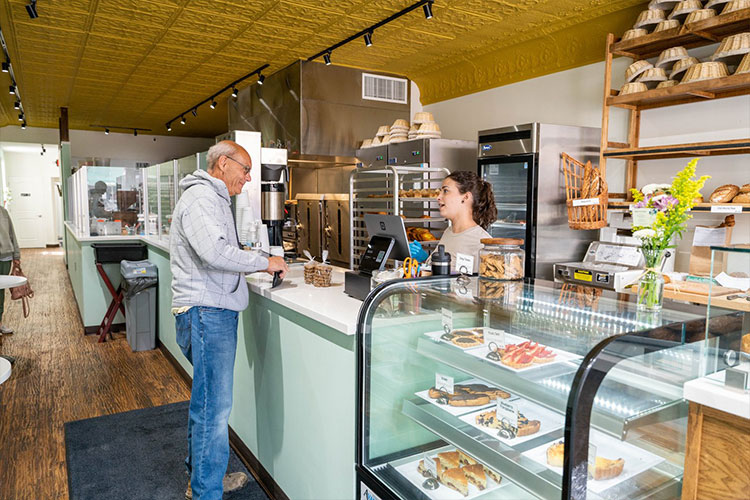 What is your connection to Michigan?
I was born in Port Huron, and it is where I spent most of my time personally and professionally. After college I traveled around the U.S. working at numerous bakeries to gain an understanding of my passion, myself and what I really wanted to do. In the end I traveled back to Michigan to be near family and ended up meeting my wife Alisyn in Traverse City – at a bakery! The cost of living at the time was very nice, and I had established myself with several business owners in the state and had help available when needed, which always arises.
Talk about your new bakery space in Tecumseh.
After six and a half years, we finally secured our own downtown building nearly two years ago. We were under heavy reconstruction for over a year. This space was our initial goal, though we stuck to a slow, steady, planned growth to keep our family and business in line and reasonable. Alisyn designed the bakery to match our love of Boulangeries and the product/experience we chose to share with our community. Business has been much better in terms of foot traffic. We always felt off the beaten path and oddly enough, moving across the parking lot has increased our daily traffic by nearly 50%, including lots of people in our town who finally are making the connection. We always made the joke we are far more popular outside of town than in, and sometimes it seems that way.
Did you experience any barriers to success in making this dream a reality?
Sometimes you run into issues, but we always stuck to our strengths, pushed past the difficulties that arose – whether physical, emotional or mental – and really just kept working for our families' goals. The Tecumseh Farmers Market was our second spot in town and a great transitional location while we secured more stable, daily retail activity in town. It was a great way to maintain our established connections and keep folks informed of what was next.
What is your favorite thing to make?
Bread, of course! But I am passionate towards the craft of baking and my partner can attest to the constant new products I am working on to test my skills, entice customers and my sense of knowledge, understanding and desire to bake. Currently our most popular items are and have always been our savory croissants and anything with Crème Patisserie!
Were you always passionate about baking?
I was. Though I love my hobbies, I was never good enough at guitar. I certainly did not have as much fun or as strong of a passion in the others as I do baking.