Oak Park experiences revitalization of its 11 Mile district with support from MEDC's Community Development programs
With vision, resources and perseverance, change is possible, and the city of Oak Park is a prime example. The once-vacant industrial stretch of 11 Mile Road is experiencing a renaissance over the last few years, transforming from a strip of empty buildings and auto shops into a vital center of breweries, restaurants, coffee shops and renewed community energy for its 29,560 residents. Paired with assistance from Michigan Economic Development Corporation (MEDC) Community Development programs, Oak Park's vision for its future is vibrant and bright.
Kimberly Marrone is the Director of Economic Development and Planning for Oak Park and began working for the city in 2014. Oak Park was a dry city at the time, despite attempts to pass a charter amendment on a few occasions. That year, Oak Park completed and adopted a Strategic Economic Development Plan, pursue resourcing that would provide more economic opportunities, such as a sidewalk café ordinance and on-premise liquor licenses. A local restaurant owner began a campaign to urge residents to vote again for the charter amendment, and in 2015 the community approved it. From that point, Oak Park began writing new ordinances and policies to distribute licenses, as well as prepared materials to promote the licenses to restaurant and brewery owners.
As Oak Park officials sought ways to redevelop and revitalize its city center, they began engaging with MEDC's Redevelopment Ready Community (RRC) program to gain access to best practice tools and knowledge. The RRC program evaluates and certifies communities that integrate transparency, predictability and efficiency into economic development practices. Certification status provides a compelling sign that a community has removed development barriers and streamlined processes to be more competitive and attractive to investors.
In 2018, Oak Park received certification as an RRC; the city moved swiftly to finalize certification requirements, completing all of the recommended steps in less than a year. At that time, City Manager Erik Tungate commended staff on their work to reach that point.
"Working alongside our partners at the MEDC, I'm proud of the great work our economic development team has done under the leadership of Kimberly Marrone," Tungate said in 2018. "This certification is an asset we plan to utilize to continue the tremendous momentum we're building in the areas of business attraction and retention throughout the city."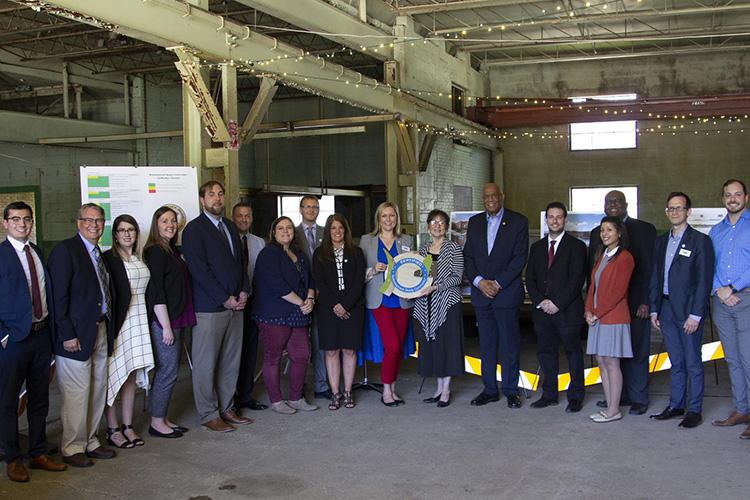 Oak Park held its RRC certification celebration in one of the vacant buildings to showcase the space and possibilities to developers and investors invited; today, the building houses a brewery, Dog and Pony Show Brewing. Marrone and her team also promoted the RRC philosophy of getting developers through the process quickly and efficiently to expedite development. Featured as an RRC on MEDC's MiPlace website, Oak Park has continued to move toward its goal of revitalization by encouraging and highlighting mixed-use zoning opportunities.
In the three years since its RRC certification, Oak Park has opened breweries, restaurants, coffee shops and a bar along its once-vacant 11 Mile corridor. From Oak Park Social, a gastropub with outdoor dining, and Berkley Coffee, to the city's two breweries – Unexpected Craft Brewing Company and Dog and Pony – that feature craft beer, hard seltzers and nightly food trucks, the redevelopment of 11 Mile in Oak Park and the implementation of the social district is leading to an increased tax base and attraction of new businesses. A second restaurant, The OakParker, is anticipated to open in Spring 2022, and will feature outdoor seating as well as a basement lounge.
While the COVID-19 pandemic has created roadblocks for local businesses and communities, Marrone says Oak Park's best practices helped them adapt to ongoing changes.
"I think our streamlined processes have helped us pivot quicker to the changing environment during COVID," said Marrone. "We were able to loosen restrictions and allow businesses to use outdoor public spaces to survive. Our philosophy has been and always be to expedite all our processes and cut out red tape. If ordinances prove to be too restrictive, we change them; if policies are too restrictive, we change them."
City Manager Tungate is focused on keeping the momentum going for Oak Park's revitalization into the years ahead.
"We remain vigilant in our business recruitment and retention efforts despite the pandemic," Tungate said. "Our partnership with the MEDC's RRC program, as well as the marketing of our city's unique attributes, have led to a redefinition of the 11 Mile district. What was once a relatively inactive commercial area of the city has now become a destination."
To learn more about the transformative Community Development opportunities through the MEDC, including the Redevelopment Ready Communities Program, visit miplace.org.