Growing a business from the ground-up, Genemarkers achieved success in precision genomics research thanks to the many resources and talent available in Michigan.
In many ways, ever since the Human Genome Project took off in April 2003 seeking to map the human genome itself, there has been an increased attention on understanding what makes us who we are. Unlike genetics, which is the study of individual genes – roughly 20,000 in a single human being – and their role in making us what we are, genomics is the genetic mapping and DNA sequencing of the complete set of genes of an organism: dogs, cats, ants, and, of course, people. The work seeks to understand the makeup of genes and their interactions with their environment and each other.
According to the National Institutes of Health (NIH), the technology has tremendous potential to improve health globally. Many believe that the information generated by genomics will directly affect the diagnoses, management, and prevention of cancer, diabetes, dementia, cardiovascular and many other diseases and conditions.
Anna Langerveld, Ph.D., founded Genemarkers to leverage that potential by providing precision genomics services – personalized analyses of individual DNA – for improving healthcare outcomes, pharmaceutical research, and consumer products.
And she did so, thanks in part to the support of the Michigan Economic Development Corporation and its partner, the Michigan Small Business Development Center (SBDC) Tech Team, and Kalamazoo's SmartZone, WMed Innovation Center, among others.
Langerveld launched the company in 2008 as a contract research firm specializing in genomics. She quickly discovered that the personal care industry was looking for precisely the kind of outsourced services Genemarkers was equipped to deliver.
In particular, she found that virtually every large multinational company in the personal care industry wanted genomics and protein analysis capabilities to enhance product development and validate efficacy.
She also discovered there was an extensive network available in Michigan to support Genemarkers delivering those services, including subsidized laboratory space and expertise.
"I leveraged the resources of SBDC Tech Team extensively," Langerveld said. "At the time, I knew a lot more about genomics than about running a business. I didn't even know what the cost of goods sold meant. My relationships with the SBDC Tech Team counselors really helped me grow from my role as a scientist to a businessperson."
The firm also received critical early-stage funding from the Bioscience Research Commercialization Center (BRCC), an MEDC partner located at Western Michigan University that focuses its support on promising life sciences startup companies.
Genemarkers initially focused on providing clinical testing services for patients, doctors, and other healthcare professionals to facilitate care based on pharmacogenomics (PGX). PGX describes personalized or precision medicine that works to tailor medical treatment to specific individuals or groups.
By mid-2014, the company moved its offices and laboratories into independent space in Kalamazoo and obtained Clinical Laboratory Improvement Amendments (CLIA) certification which allowed it to process clinical samples from patients and deliver reports to doctors. In the years that followed, the company received accreditation from the College of American Pathologists (CAP), further demonstrating its commitment to quality lab testing.
As a result, it was prepared to isolate individual DNA from a cheek swab and look for genetic mutations which would help determine the most promising medications for a particular patient.
Then COVID-19 arrived. And Genemarkers pivoted, again with support from the MEDC through its Pure Michigan Business Connect COVID-19 Emergency Access and Retooling Grant.
"During the spring of 2020 we pivoted into offering COVID-19 testing. The grant that we received from the MEDC was instrumental in helping us attain that success," said Genemarkers CEO Mike Getz.
Almost overnight, the firm grew from 10-15 employees to more than 50 and had formed relationships with seven Michigan pharmacies, several universities, and more than 30 skilled nursing facilities to meet their COVID-19 testing needs.
"To have pivoted our business model so quickly after COVID-19 began to spread throughout the country is a testament to the ingenuity and perseverance of our entire staff," Getz said. "Without that team effort, Genemarkers would not be in the strong financial and operational position that it is in today."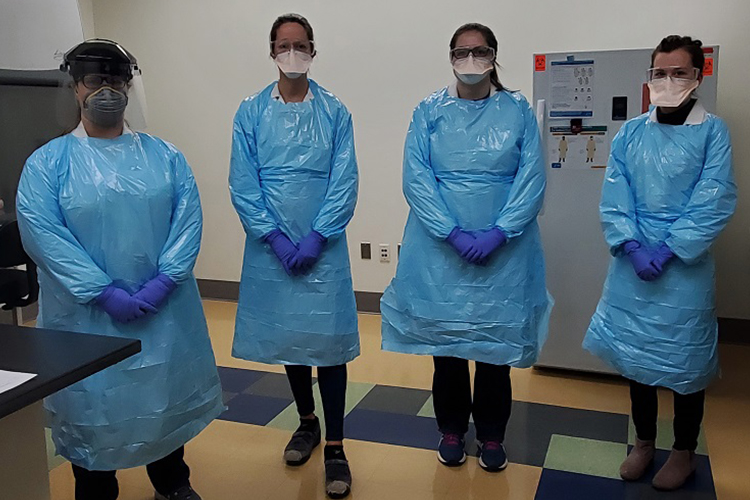 Of course, the end of the pandemic doesn't mean the end of opportunity. Within the past two years, the company has identified and begun capitalizing on another trend, by building out its services to better understand how cannabinoids regulate molecular mechanisms in the skin. That capability has driven significant growth over the past few years and has allowed Genemarkers to contribute measurable value-added research for its clients.
The company has also maintained growth in its original market, despite the unexpected circumstances created by the pandemic. "To this day, a significant part of our revenue comes from genomics and some protein analysis for companies in the skincare industry," Langerveld said. "Over the years, we've worked with almost every big multinational company in the field. We've built brand recognition, awareness, and recurring customers."
She credits much of that growth to the company's Michigan roots and location.
"We were able to get the support, advice, and financial assistance we needed to grow the company, add employees, and provide them with more opportunity. I have friends in New York who have started businesses over the years, and they didn't have the same resources available in terms of learning how to run a business that I had when I started here in Michigan, and that has made all the difference in our ability to succeed over the years."
Every day, the MEDC is helping high-tech entrepreneurs and startups like Genemarkers take their innovative ideas to market. For more information on MEDC and how it can help you grow your own business, please visit michiganbusiness.org/pure-partnership.