Factory Yards Project to Revitalize Godfrey Corridor, Bring 500 Homes & $146M Investment to Grand Rapids
Tuesday, October 24, 2023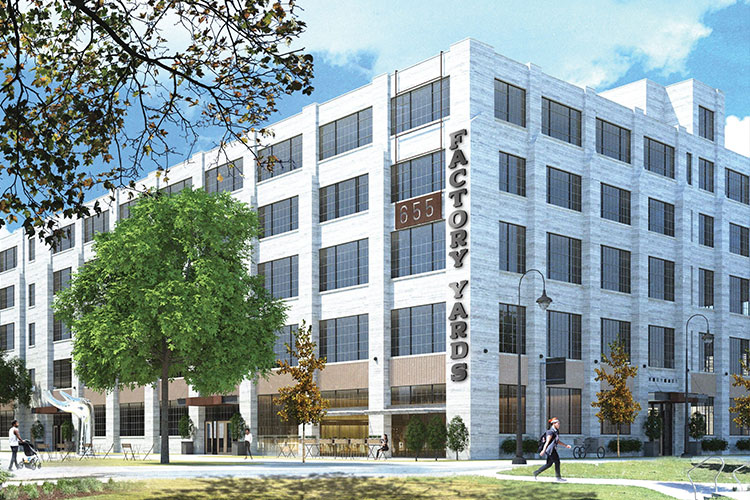 LANSING, Mich. – Today, Governor Gretchen Whitmer joined the Michigan Economic Development Corporation (MEDC) today in announcing Michigan Strategic Fund approval of a Transformational Brownfield Plan for a series of redevelopment and new construction projects to bring an influx of new residents and commercial activity to the Godfrey Corridor in Grand Rapids.

"The Factory Yards project is another step forward in our strategy to grow Michigan's economy by helping communities in West Michigan and across the state 'make it' in Michigan," said Governor Whitmer. "Thanks to legislation passed earlier this year, tools like the Transformational Brownfield Fund will ensure that we can continue to transform and revitalize communities like Grand Rapids. Let's continue moving forward and working together to ensure anyone can make it in Michigan."

The redevelopment of the property will occur on 10 parcels and consist of:
The redevelopment of an existing three-story building and five-story building to create approximately 382 total residential and multifamily units. This component of the project will also include a public plaza, parking deck, food hall, event space, and additional space for restaurant or commercial use
The redevelopment of an existing, single-story warehouse to include commercial climate-controlled self-storage units and fitness/recreational space
The new construction of two, single-story commercial use buildings
The new construction of a four-story, multi-family building containing approximately 85 units

"This pocket of southwest Grand Rapids has long deserved some more attention, and an investment of this magnitude will be a game-changer," said Senate Majority Leader Winnie Brinks (D-Grand Rapids). "When finished, this area will have quality housing and business spaces designed to meet the needs of residents and their families. What was once a possibility is now becoming reality, and I cannot wait to see this vision brought to life."

"This project is ready to amplify and transform the southwest side of Grand Rapids," said Representative John Fitzgerald (D-Wyoming). "This investment in quality, attainable housing for current and future residents is important to sustaining our area's growth. I'm excited for the opportunities that lie ahead, and Factory Yards is a central component of this area's growth."

The series of projects will position the Godfrey Corridor as a gateway to the city's downtown by proposing a mixed-use redevelopment on the site of a vacant and blighted former furniture warehouse and will bring more than $146 million in investment to the southwest side of Grand Rapids.

The site has remained mostly vacant since the 1980s and will address a critical housing shortage in the city of Grand Rapids while including 94 units of affordable housing.

Make It in Michigan

MSF's approval of the Transformational Brownfield Plan in Grand Rapids builds on the state's commitment to its Make It in Michigan strategy, which includes an emphasis on creating vibrant places to live, work, and raise a family.

In July 2023, Governor Whitmer signed legislation to boost economic development in communities across Michigan by unlocking new tools to finance affordable housing and setting up the Transformational Brownfield Fund to convert vacant land and other abandoned property into productive space.

By adding much-needed housing and revitalizing an underutilized area, the Factory Yards project in Grand Rapids is a marquee example of the impact of the Transformational Brownfield Plan tool in the state's Make It in Michigan toolbox.

The completed project is expected to generate a total capital investment of $146 million and 226 full-time equivalent jobs. MSF today approved a Transformational Brownfield Plan valued at $102.9 million that authorizes several sources of tax capture in support of the project:
A maximum of $1,679,672 in construction period tax capture.
A maximum of $4,105,917 in construction period sales and use tax exemptions.
A maximum of $62,608,721 in income tax capture revenues and withholding tax capture revenues (post-construction) to be reimbursed over 20 years.
Local and school property tax capture in the amount of $34,594,809, with state capture limited to $18,619,897.

The City of Grand Rapids is supporting the project with an Obsolete Property Rehabilitation Act ("OPRA") tax abatement valued at $10,155,093 over 12 years, as well as the local portion of the property tax capture component of the Brownfield TIF valued at $15,974,912.

"Today's approval is a significant step forward for the City of Grand Rapids and the Factory Yards project, and we're grateful to the MSF for their ongoing partnership," said Rosalynn Bliss, Mayor of Grand Rapids. "The City has been pleased to support this project alongside the MEDC, the development team, and many neighborhood and community stakeholders. Factory Yards has the potential for many positive impacts and the chance to revitalize this important space in the City. This project will bring a whole new level of activity and vibrancy and is only possible because of the transformational brownfield program. We're grateful for Heritage Development Partners' investment, their team's intentional approach to the project, and their willingness to work collaboratively for the best possible outcomes. We are looking forward to seeing this area of our community come back to life."

"Heritage Development Partners is grateful for the support from the Michigan Economic Development Corporation, the City of Grand Rapids, and the local community to help make this transformative project possible," said Ben Smith of Heritage Development Partners. "The Transformational Brownfield Program award allows Factory Yards to bring much needed housing to Grand Rapids while helping to revitalize the Roosevelt Park and Black Hills neighborhoods."

Factory Yards is the fourth project to be approved for a Transformational Brownfield, and the first in Grand Rapids.

"When we first stood in the building back in 2017, this day seemed so far away. But today we celebrate the MSF funding support approval for a truly transformational housing and mixed-use development in the City of Grand Rapids," said Tim Mroz, Senior Vice President, Community Development for The Right Place, Inc. "It's development projects like Factory Yards that continue to put the City of Grand Rapids on the national map as a destination for large-scale investment. We're grateful to the Heritage Development Partners team for allowing us to be part of this project and thankful for their investment in our community. Simply put, this single project will change the face and future economic trajectory of the entire Godfrey neighborhood."

"The Factory Yards is exactly the type of big-impact community development project that Transformational Brownfield was intended to support, revitalizing a key urban core with new housing, spaces for business growth and gathering places for residents," said Michele Wildman, MEDC Executive Vice President for Economic Development Incentives. "We are proud to work with our partners in Grand Rapids to support projects that will create opportunity and prosperity in the community."
About Michigan Economic Development Corporation (MEDC)