Governor Whitmer Secures $63 Million Investment for Battle Creek by DENSO During Economic Development Mission in Japan
Friday, September 8, 2023
LANSING, Mich. — On the second day of her investment mission to Japan, Governor Whitmer secured a $63 million from global mobility supplier DENSO in its Battle Creek thermal manufacturing facility to retool production lines, accommodating product offerings that will support the electrification of vehicles in the years ahead. The project will ensure DENSO's continued green mobility transformation in Michigan, where the company has more than 3,500 employees at several locations across the state, including its North American headquarters and technical center in Southfield. More than 2,100 employees are based at the thermal facility in Battle Creek.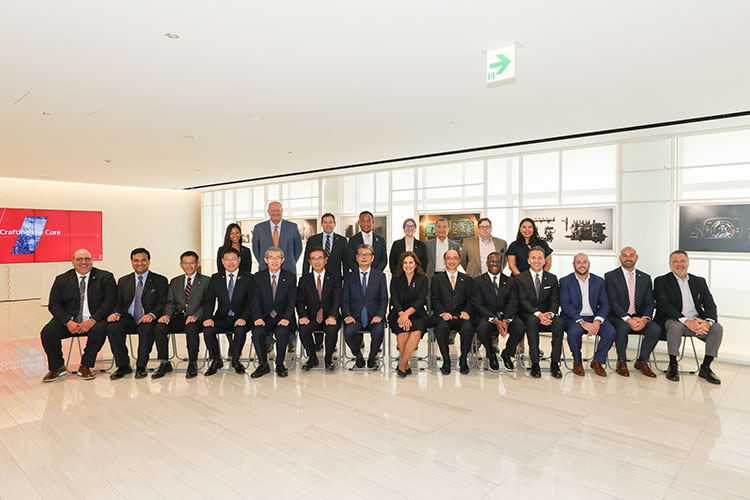 "We are excited to announce a $63 million investment in Battle Creek, building on DENSO's footprint in Michigan and continuing our economic momentum," said Governor Whitmer. "This investment mission has given us the opportunity to connect with leadership at companies like DENSO and tell Michigan's story. Together, we are bringing critical supply chains and investments back home, proving that anyone can 'make it' in Michigan. Thanks to announcements like today's, Michigan will remain a global leader in the future of mobility and electrification."

The governor announced the project win at DENSO's Global Headquarters in Japan as part of her efforts to secure projects and create good-paying jobs for Michiganders back at home. She was joined by members of Team Michigan, including Quentin L. Messer, Jr., CEO of the Michigan Economic Development Corporation, and DENSO board members and executives, among other company leaders.

"We are grateful for the Governor's commitment to strengthening Michigan's position as an advanced mobility leader," said Andy Clemence, a senior vice president at DENSO and leader of the Green Business Group. "While our locations across the globe and North America are vital to our mission of contributing to a better world, we are proud of the impact that our Michigan teams have in designing, developing, testing and producing DENSO products. The investment will help our team build upon our rich legacy in the state and propel us toward a greener, safer future."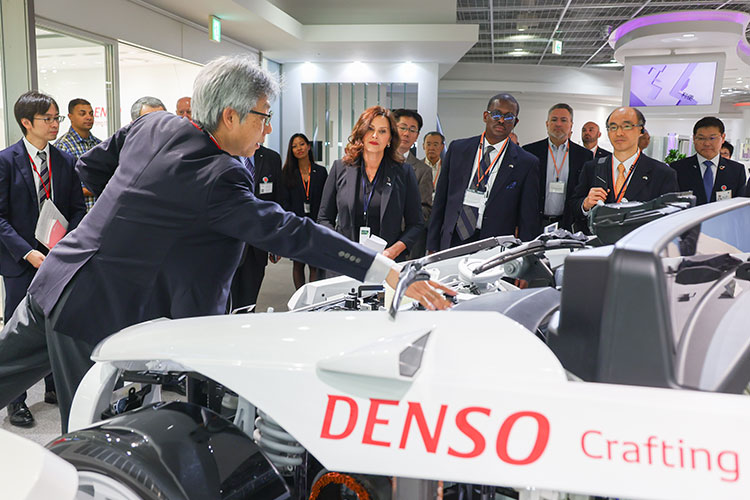 DENSO is an active member on the Michigan Economic Development Corporation's Talent Action Team. In the collaboration, the company has partnered with the state to develop and pilot the Michiganders Scholar's program to enhance the talent pipeline for the EV transition and to upskill those already in the workforce through Michigan Works!. DENSO will also continue to work with the state of Michigan and other community partners on issues that help make southwest Michigan a desirable place to live and work, including workforce development, childcare and housing access.

"DENSO's latest announced investment into its Battle Creek facility is significant in many ways," said Joe Sobieralski, President & CEO of Battle Creek Unlimited. "It underscores DENSO's on-going commitment to the Battle Creek community during a historic shift within the automotive industry. This investment also speaks to DENSO's commitment to work with the State of Michigan and the local community, along with our local and regional workforce partners to upskill existing employees which will keep jobs right here in Battle Creek. BCU has been building relationships with DENSO since 1976. Over the past five decades, the company has become Battle Creek's largest employer. This new announcement will position DENSO to continue to grow in Battle Creek for years to come. We thank DENSO for this investment, and for their continued confidence in the Battle Creek community."

Today the governor also met with leadership at AISIN Corporation, one of the largest Tier One automotive parts and systems suppliers in the world. AISIN currently has six locations throughout Michigan and proudly conducts 100 percent of its research and development and sales and marketing activities from strategic locations in Michigan. During the meeting, the governor spoke with AISIN leaders about the opportunities Michigan offers for future investments by the company, including the state's manufacturing prowess and culture of innovation.


"Gov. Whitmer and the MEDC are good business partners," said Scott Turpin, president & CEO of Northville-based Aisin World Corp. of America.

"The governor has our back, and we have hers," he added. "We've invested in Michigan for nearly 40 years and have experienced tremendous growth thanks to the positive business climate here. Our Sales and R&D operations in North America all take place in Michigan: Ann Arbor, Plymouth, Northville and Fowlerville. We're close to our customers, close to some of the best universities in the country, and we're right in the middle of the growing excitement as the auto industry evolves here in Michigan."
Team Michigan also visited leadership at Musashi, a global Tier 1 automotive parts supplier with Michigan locations in both Battle Creek and Troy that is expanding into new industries, including launching energy storage solutions in North America. During the visit, the Governor thanked Musashi for its ongoing vote of confidence in the state of Michigan and acknowledged the importance Michigan places on its continued partnership with the company for future investment opportunities.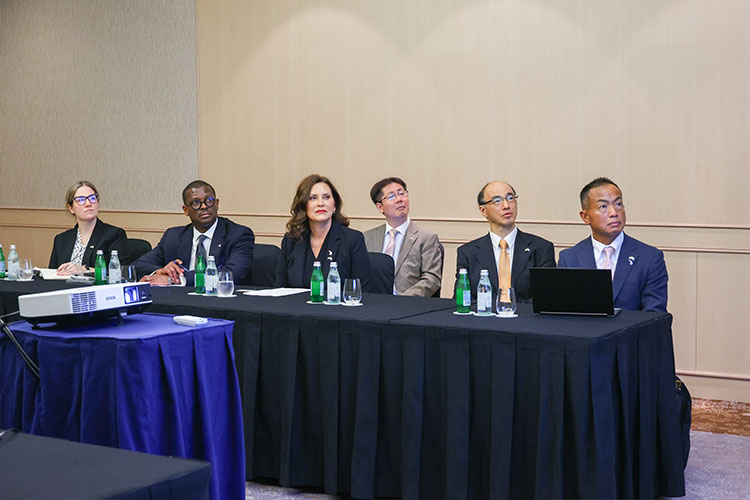 "Musashi's global leadership and Michigan representatives enjoyed welcoming Governor Whitmer and Team Michigan during their investment mission to Japan," said Haru Otsuka, Senior Managing Executive Officer and CEO of Americas Region. "Musashi shares a long history with Michigan and looks forward to strengthening its relationship with the state as the company grows its Tier 1 automotive parts business and launches innovations in energy storage solutions across a variety of North American industries."

The state of Michigan has a long and rich history with Japan, with more than 5,300 jobs being created in Michigan by Japanese businesses through more than $1.8 billion in private investment in the past 10 years. According to the Japanese Consulate in Detroit, there are currently 456 Japanese facilities in Michigan which support more than 39,890 jobs in the state. A third of those jobs are direct manufacturing positions.

"Team Michigan is proud to bring home this win and build on our leadership in EVs and automotive manufacturing," said Messer. "We are grateful for DENSO's continued vote of confidence in our state. While we celebrate today's announcement and look forward to building on the connections we've made, we must remain focused on ensuring that DENSO and the Battle Creek community have the support required to earn future investments that benefit friends, families and neighbors in Michigan and in Japan."
About Michigan Economic Development Corporation (MEDC)