Investments Bring 175 New Jobs, More Than 200 New Housing Units
New investment will boost economies in Allegan, Genesee, Kent, Ottawa, and Wayne counties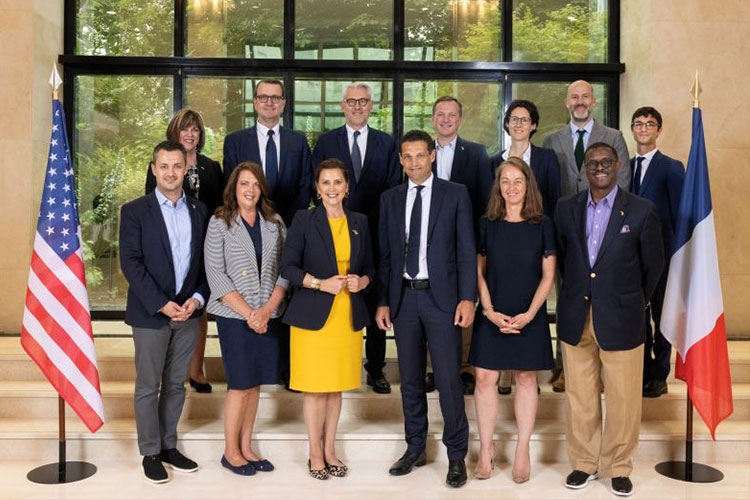 LANSING, Mich. – Today, Governor Gretchen Whitmer announced Michigan Strategic Fund approval of a range of projects underscoring the state's dedication to advancing Michigan's leadership in future mobility and green energy while supporting projects that create places for talent and visitors alike to enjoy and build a future.

"We are strengthening Michigan's economy by bringing good-paying jobs to Michigan residents, expanding on our leadership in mobility and sustainability, creating vibrant communities, and growing economic opportunity for all Michiganders," said Governor Whitmer. "Let's keep competing to win projects that bring good-paying, high-skill jobs home so everyone, in any community, can 'make it' in Michigan. Together, we will continue sending a clear message that Michigan is open for business and building on our momentum."


Plastic Omnium New Energies to Bringing 175 New Jobs to Two Locations in Michigan

Plastic Omnium is a worldwide leader in fuel systems bumpers, fascias, and integrated front-end modules. The company employs approximately 1,000 Michigan residents at its facilities in Adrian, Huron and metro Detroit. As a leader in hydrogen technology, Plastic Omnium plans to achieve revenue generation of more than $3 billion by 2030.

Plastic Omnium New Energies, a subsidiary of Plastic Omnium, has been awarded a large customer contract from a leading OEM and plans to begin designing, developing and producing hydrogen storage systems for medium- and heavy-duty zero emissions mobility. The company plans to lease a facility in Grand Blanc Township, where it will establish what is projected to be the largest hydrogen storage manufacturing plant in North America. At a second, yet-to-be-determined location in Michigan, the company will establish a state-of-the-art testing and validation lab to support key aspects of the product's safety systems.

The project is expected to generate a total capital investment of $171.2 million and create 175 jobs with the support of a $5 million Michigan Business Development Program performance-based grant. The company chose Michigan for the project over competing sites in Indiana, Ohio and Canada because of its relationships with existing Tier 1 suppliers, proximity to its other Michigan operations and strong community support during the site selection process.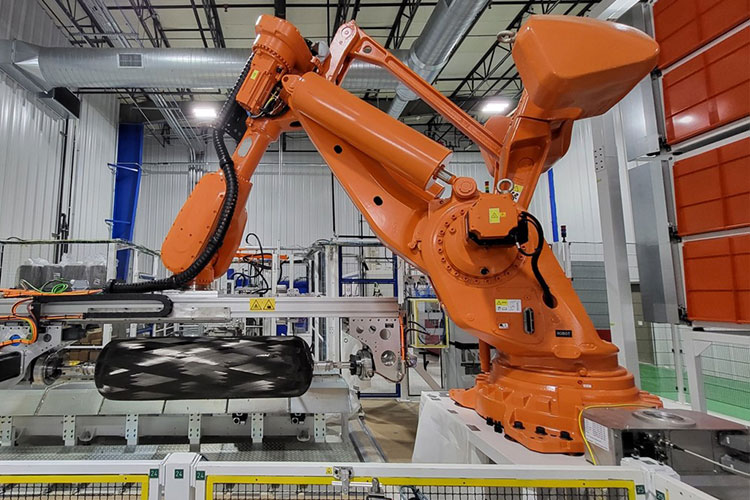 "This investment in the largest hydrogen storage manufacturing plant in the U.S. is a testament to the strong relationship we have had over the years with Michigan," said Plastic Omnium New Energies USA Managing Director Alexandra Charnelet. "We are excited to make Plastic Omnium and the state of Michigan the cornerstone of zero carbon commercial mobility."

Governor Whitmer met with executives from the company during her visit to France in June and made the case that with its attractive business climate, talented workforce, and focus on clean hydrogen development, Michigan was the smart location for a global company to establish operations and create high-tech manufacturing jobs.

Plastic Omnium is integral in the community, striving to help make southeast Michigan a better place by working with programs like Focus: HOPE, Greening of Detroit. Additionally, they sponsor a leading First Robotics team, which trains future engineers and technicians to work in a mechatronic environment. The company also offers internships and co-op programs through relationships with local universities and is committed to working with community colleges to develop skilled labor positions. Plastic Omnium is fully committed to working with Grand Blanc and the greater Genesee County region to help improve the quality of life for its citizens.

The project builds on the state's work to position itself as the global leader in the future of mobility and vehicle electrification as well as the state's focus on clean hydrogen development. The project will bring immediate job growth with a large and expanding auto supplier and will further solidify the company's presence and future investment in the state.

The project also helps to meet goals laid out in Gov. Whitmer's MI Healthy Climate Plan. Announced in April 2022, the plan is a roadmap for Michigan to achieve economy-wide carbon neutrality by 2050 with interim 2030 goals. The MI Healthy Climate Plan proposes climate action that would create tens of thousands of clean-energy jobs, spur economic development and innovation, protect clean air and water, and improve public health.

The MSF also approved a 15-year State Essential Services Assessment exemption valued at $2,379,054 and Grand Blanc Township anticipates approval of a property tax abatement in support of the project. Information on careers with Plastic Omnium can be found at https://www.plasticomnium.com/en/careers/ and on the LinkedIn page: https://www.linkedin.com/company/plastic-omnium/jobs/.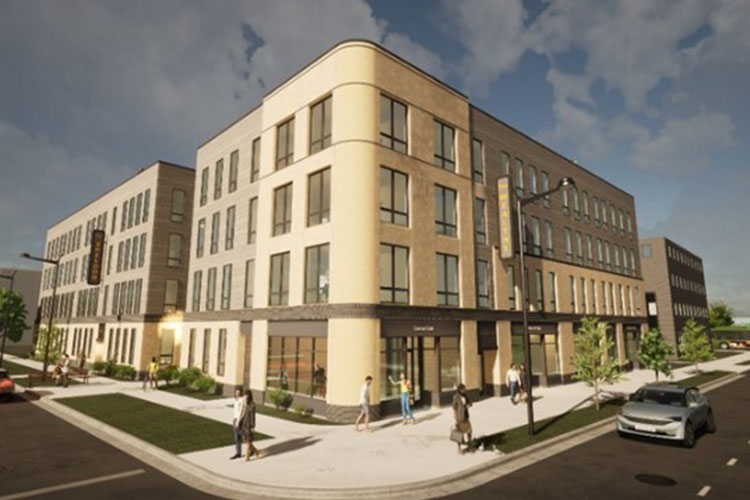 W&S Development Partners, LLC Building 58 New Apartments & Commercial Space in Grand Rapids

W&S Development Partners, LLC plans to construct a new mixed-use development on Wealthy Street in the Wealthy/Sheldon corridor of Grand Rapids. When complete, the project will include 58 market-rate apartments and approximately 2,400 square feet of commercial space.

The project is expected to generate a total capital investment of $16.4 million with the support of a $3 million Michigan Community Revitalization Program loan participation. The project will add much-needed housing and breathe new life into a prominent piece of property along the Wealthy Street SE corridor, bringing walkability, density, and vibrancy to the neighborhood. It is also expected to serve as a catalyst for additional investment in the area.

The City of Grand Rapids Brownfield Redevelopment Authority has received Michigan Strategic Fund approval of $544,048 in state tax capture for the reimbursement of brownfield activities at the site. The city of Grand Rapids is supporting the project through a Neighborhood Enterprise Zone abatement valued at $1,085,299, an Environmental Site Assessment grant valued at $52,000, and approval of the local portion of the brownfield plan valued at $272,225. Grand Rapids is certified with MEDC's Redevelopment Ready Communities program.

New Workforce Housing Loan Fund will Address Workforce Housing Needs in Allegan, Kent, Ottawa counties

IFF, a Midwest Community Development Finance Institution with regional offices in Grand Rapids and Detroit, received approval of a $10 million Workforce Housing Loan Fund from the Michigan Strategic Fund to make investments in rental residential projects that address attainable housing needs across Allegan, Kent and Ottawa counties. The state's support today is following locally led investment efforts, as both Kent County (August 2023) and Ottawa County (November 2022) have committed resources to a similar fund with IFF that have leveraged an additional $82.5 million from the CDFI to support much needed housing supply. Additionally, business development investments in Holland have spanned both Allegan and Ottawa counties.

Housing is a top issue for talent attraction and retention for many businesses located in and looking to expand to Michigan. The fund will help meet the housing needs for current and future employees, and require that 20 percent of the units generated will be for individuals and families with incomes between 60 and 120 percent of Area Median Income and maintain affordability for 10 years.

IFF will utilize the fund to leverage additional funds of up to $55 million to invest in projects and help fill workforce housing needs. Housing need assessments demonstrate that 50,000 housing units will be needed by 2027 to keep up with demand in Ottawa and Kent counties alone.

IFF helps nonprofits, serving a variety of sectors, to increase their financial stability and programmatic offerings and achieve their missions. Since 1988, IFF has provided $1.4 billion in flexible, affordable financing to nonprofits serving a variety of sectors – affordable housing, health care, education, community development, arts and culture, and more – in order to increase their financial stability and programmatic offerings. These investments have leveraged $4.5 billion, developed more than 35.6 million square feet of real estate, and created more than 16,700 units of affordable housing.

City of Detroit Receives Funding to Build 148 Apartments at United Artists Building in Downtown

The MSF today approved additional support for Bagley Development Group's United Artists Building in the heart of downtown Detroit. Originally announced in 2020, the project includes the rehabilitation of a historic, 18-story, mixed-use building that will consist of 148 mixed-income residential units and first-floor commercial space. In May 2020, the project was awarded a $5 million Michigan Community Revitalization Program performance-based loan participation in support of the project. In May 2021, the MSF approved an additional $2 million increase in MCRP funding to help cover increased construction costs.

The MSF today approved an amendment to the terms of the original MCRP loan and awarded the City of Detroit Brownfield Redevelopment Authority state tax capture valued at $5,321,135 to assist with reimbursement of brownfield activities at the site.

The project is expected to generate a total capital investment of $73 million and create 10 full-time equivalent jobs, and will reactivate a long-vacant historic asset, increase density near Grand Circus Park, and bring much-needed affordable housing to the area. The project also addresses the last iconic underutilized property in the Grand Circus Park area of downtown.

Grants Awarded to Develop Fully Accessible Travel Websites for the Visually Impaired

The Michigan Strategic Fund today approved $1 million in federal Department of Commerce Economic Development Administration (EDA) funds to address a critical need for the development of fully accessible local destination marketing organization (DMO) websites to meet the needs of the visually impaired. The goal of the Accessible Traveler Grant Application initiative is to allow Michigan's DMOs to provide a more accessible experience to all users, increasing tourism and improving the development of Michigan's economy.

DMOs may partner with local government and state entities to qualify for the community assessment grant. Recipients will be chosen through application by committee made up of MEDC staff and accessibility experts. Eligible applicants can request a grant of up to $100,000 per project, with a maximum of one application per organization. Awardees will be required to provide a 100 percent financial match based on the project's total cost, and must demonstrate how they will execute their plan and must select appropriate vendors.

"The MEDC and Travel Michigan are committed to ensuring that all are welcome in Pure Michigan," said Dave Lorenz, Vice President of Travel Michigan, part of the Michigan Economic Development Corporation. "This initiative takes a proactive approach to helping our statewide travel partners create a more diverse and inclusive industry and a more accessible environment by encouraging accessible website development and becoming more welcoming to travelers of all abilities."

The funds for the initiative are part of the $10,307,393 EDA State Travel, Tourism, and Outdoor Recreation grant, allocated to Michigan in 2021 for statewide travel and tourism marketing and advertising efforts to help the travel industry rebound from the effects of the COVID-19 pandemic.

"The projects approved today build on our statewide leadership in mobility innovation and sustainability, focus on workforce housing needs across Michigan, and improve accessibility for friends and neighbors experiencing both our beautiful peninsulas," said Michigan Economic Development Corporation CEO and Michigan Strategic Fund President and Chair Quentin Messer Jr. "We are grateful to Governor Whitmer, legislators from both parties, and local officials for their continued support for our programs. We appreciate the ongoing hard work of the Michigan Strategic Fund board. As we continue to Make It In Michigan, work remains to win even more projects, and develop people as we encourage businesses of all sizes to Make It in Michigan."

Local voices in support of today's projects:

Plastic Omnium:
"We are excited to welcome Plastic Omnium to Genesee County and are honored to have had supported this project," said Tyler Rossmaessler, executive director of Flint & Genesee Economic Alliance. "Their decision to invest in our region underscores the strength of our local workforce, strategic location, and supportive business environment. It also builds upon other recent wins that boost Grand Blanc Township and Genesee County's position in the high-tech manufacturing space."

"Hydrogen offers exciting possibilities for automotive's clean energy future and Plastic Omnium New Energies is poised to help move the heavy truck segment forward through next-generation hydrogen technology," said Maureen Donohue Krauss, president and CEO of the Detroit Regional Partnership. "We were proud to assist our state and local partners in securing this important project and keeping our region and state at the forefront of mobility innovation."

"Grand Blanc Township looks forward to Plastic Omnium coming to our community, bringing high-tech manufacturing jobs and building the factory of the future in Genesee County," said Scott Bennett, Grand Blanc Township Supervisor. "We have challenged ourselves to create a development-ready process that makes it easy to do business here and, combined with state and local incentives and a talented employee pool, it is easy to see why we attract state-of-the-art manufacturers like Plastic Omnium."

W&S Development Partners:

"We are very excited to see this project move forward and continue the transformation near the South Division corridor," said Grand Rapids Assistant Economic Development Director Jono Klooster. "With the help of the MSF, the city and its private and nonprofit development partners have been focused on creating a mixed-income neighborhood where residents from with a wide range of household income levels have diverse housing options. W&S Development Partners is helping fulfill that vision with this project investment, taking vacant, contaminated property on one of our Bus Rapid Transit routes and providing housing options for 58 households. Grand Rapids and its Brownfield Redevelopment Authority were pleased to have the opportunity to partner in this project and are grateful for the continued support from the MSF which is critical in bringing these projects to fruition."

"We want to thank the MEDC for their guidance as we looked to revitalize this corner of the city," said Cella Building Company CEO and Managing Member of W&S Development Partners Mike Coyne. "The Grand Rapids Economic Development Department was also instrumental in making this project happen. The support of the MEDC and the City of Grand Rapids made it possible to reimagine this long-vacant property."

"Like all Cella projects, this building will be all electric, fully compliant with the Grand Rapids 2030 District, and targeted for Energy Star Certification," said Cella Building Company President and Managing Member of W&S Development Partners Peter Skornia.

Workforce Housing Loan Fund
"IFF is committed to filling needs that no one else will fill and working with communities to bring their visions to life," said Chris Uhl, IFF's Executive Director for the Eastern Region. "We have been meeting with local leaders and developers to better understand the need and opportunity for housing. This additional investment – on top of funds that have already been committed to a statewide housing fund that first launched in Ottawa County and then Kent County – is proof of MEDC's commitment to support communities across the state and IFF is honored to be able to leverage our knowledge and expertise so these communities can continue to thrive."

About Plastic Omnium
Plastic Omnium is a world-leading provider of innovative solutions for a unique, safer and more sustainable mobility experience. Innovation-driven since its creation, the Group develops and produces hydrogen solutions, intelligent exterior systems, customized complex modules, lighting systems, clean energy systems for all mobility players. With €9.5 billion economic revenue in 2022 and a global network of 150 plants and 43 R&D centers, Plastic Omnium relies on its 40,500 employees to meet the challenges of transforming mobility.

Plastic Omnium New Energies, the hydrogen division of the Group, employs approximately 1,000 Michigan residents at its facilities in Adrian, Huron and metro Detroit.
About Michigan Economic Development Corporation (MEDC)