Michigan Commits More than Half a Million Dollars to Decarbonize its Waterways through Fresh Coast Maritime Challenge Grant Program
Inaugural round of grant funding through the first-of-its-kind program supports e-boat and charging deployments at marinas across Northwest Michigan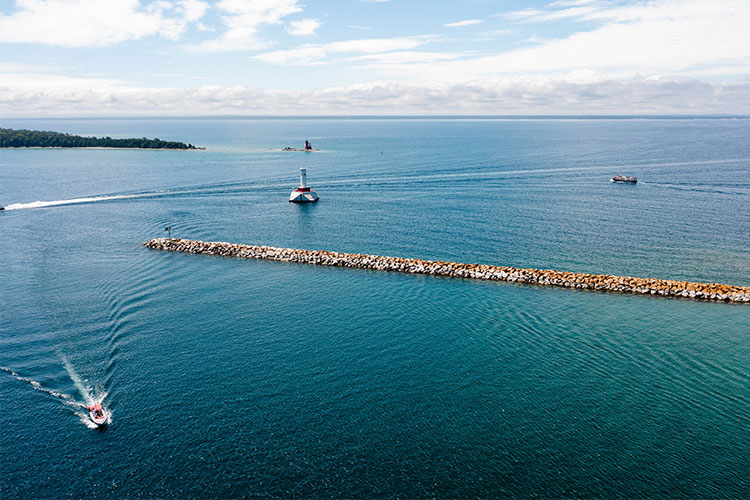 LANSING, Mich. – Today, Governor Gretchen Whitmer announced the first-ever cohort of maritime grant recipients to support Michigan's 'Fresh Coast Corridor'. Six companies – Arc Boat Company, Aqua superPower, Hercules Electric Mobility, Lilypad, Michigan Technological University and Voltaic Marine, Inc. – will receive $506,000 in total grant funding to establish what will become an evolving network of shore-side charging facilities for clean-fueled marine vessels and electric passenger vehicles operating on the Great Lakes.
"The Fresh Coast Maritime Challenge, along with today's grant recipients, represent a critical investment in our water recreation infrastructure that will help to attract visitors, create jobs and preserve the natural beauty of our lakes and waterways for generations to come," said Gov. Whitmer. "By expanding access to e-boats and charging solutions, Michigan will further foster a thriving mobility ecosystem that supports local businesses, enhances community offerings and boosts overall economic growth. It's a testament to our commitment to sustainable innovation and the immense value we place on our precious water resources."
The six companies will receive funding to deploy the following solutions and programs:
Arc, a California-based electric boat manufacturer will receive $20,000 to conduct technology demos and demonstrate the disruptive potential of high-performance EV boats. It will partner with local organizations, businesses, and universities to create public events and explore growth opportunities for electric boating in Michigan.
Aqua superPower will receive $111,000 to install fast marine chargers and conduct technology demos at Michigan-based marinas, including Duncan Clinch Marina in Traverse City, the Village of Charlevoix Marina and Harbor Springs. The company currently has chargers at the Elk Rapids Marina and the Village of Northport already available for use.
Hercules Electric Mobility will receive $75,000 to develop and deploy boats with high-power electric powertrains, and conduct user demonstrations and data collections on consumer acceptance of electric boating and charging with mobile marine charging systems, which are 100% recyclable.
Lilypad Labs, a Michigan-based startup, will receive $135,000 to deploy highly accessible, solar-powered watercraft for public use at marinas and resorts across Northwest Michigan starting with a deployment at Fountain Point Resort on Lake Leelanau.
Michigan Technological University will receive $50,000 for its faculty and students to create a playbook in partnership with local utilities and marinas that will determine how far individuals can travel from their home docks, the optimal distance between charging stations, charging times and costs, as well as how much electrical energy is needed to support a specific number of chargers.
Voltaic Marine, Inc., an Oregon-based startup developing high-performance electric water sports boats, will receive $115,000 to explore and develop Michigan-based strategies focused on advanced manufacturing, battery chemistry, propulsion and emerging technology job creation, while demonstrating its flagship model, the AEW24, in Northwest Michigan.
"With this first round of grant funding, Michigan is embarking on a monumental journey to build out its waterway transit systems, setting a precedent that can influence best practices nationwide," said Kathryn Snorrason, interim Chief Mobility Officer for the state of Michigan. "By incorporating e-boats and charging solutions into our marinas, we are not only embracing sustainable transportation but also revitalizing our water-based infrastructure. This is just the beginning of our path toward a more efficient, environmentally friendly and interconnected water transportation network."
The Fresh Coast Maritime Challenge first launched in April 2023, with the goal of offering commercial enterprises of all sizes a sustainable, cost-effective and efficient means of transitioning watercraft from diesel to electric power and electrifying marinas. This goal correlates to the sustainability directives outlined in the MI Healthy Climate Plan and MI Future Mobility Plan. The first cohort of grant recipients will help enable continued innovation in Michigan's mobility industry, while also contributing to a blueprint that can be replicated by marinas across North America.
"The six projects funded through the first-of-its-kind Fresh Coast Maritime Challenge will not only showcase the Grand Traverse region as the epicenter for the new electric and sustainable boating industry, but further develop our Blue Economy and contribute to more significant economic growth," said Warren Call, president and CEO of Traverse Connect. "We look forward to supporting the work of the awarded organizations and helping them expand their operations in the region."
On Thursday, Aug. 24 from 2-5 p.m. ET, a Demo Day for various electric boat technologies will be held at Elk Rapids Marina. The event will be open to the public to attend. Register for the event here.
To learn more about how Michigan is leading in transportation mobility and electrification, visit www.michiganbusiness.org/mobility.
About Michigan Economic Development Corporation (MEDC)