Gov. Whitmer Announces 130 New Jobs w/ Two Business Expansions Around the State, New Housing and Beer Garden in Marquette
• Two business expansion projects expected to generate total private investment of $14.7 million, create 130 jobs in Cadillac, Southfield • U.S. Air Force supplier AAR Manufacturing adding 41 jobs in defense and aerospace manufacturing • Mixed-use development bringing new housing, beer garden, six jobs to downtown Marquette
LANSING, Mich. – Governor Gretchen Whitmer joined the Michigan Economic Development Corporation (MEDC) today to announce two business expansion projects and one community revitalization project expected to create a total of 136 new jobs and generate a total capital investment of $22.5 million have received support from the Michigan Strategic Fund. The projects are in Cadillac, Southfield and Marquette.

"These projects will create 136 good-paying jobs and invest $22.5 million into our communities, building our economic momentum and underscoring our commitment to supporting every corner of the state," said Governor Whitmer. "Let's keep competing to win projects that bring good-paying, high-skill jobs home so everyone, in any community, can 'make it' in Michigan. Together, we will continue sending a clear message that Michigan is open for business and building on our momentum."

"Today's investments underscore Team Michigan's commitment to delivering long-term economic growth for all Michiganders," MEDC Sr. Vice President of Regional Prosperity Matt McCauley. "We are grateful to the Governor, legislators and local partners for their continued support of our efforts. These projects reflect our commitment to seizing opportunities that make Michigan an even better place for each of our 10 million-plus friends and neighbors to live, work, visit, play, and create futures. We will continue working to win projects, invest in places and support our people as we encourage businesses of all sizes to make it in Michigan."

AAR Manufacturing expansion in Cadillac builds on state's auto manufacturing leadership, further boosts the state as a hub for commercial and defense-related aviation manufacturing

AAR Manufacturing, Inc., founded in 1982, is a leader in lightweight, rapidly-deployable mobility systems and sustainment solutions with government, military, and disaster relief applications worldwide. Its Cadillac facility designs and produces customized cargo pallet systems for air-transporting critical supplies for the U.S. Air Force. The company employs 294 Michigan residents.

AAR is looking to install a new production line to manufacture its Friction Stir Weld Pallet and plans to expand at its facility in Cadillac, where it will make facility renovations and improvements as well as investment in additional machinery and equipment. The expansion aligns with the company's long-term strategy to secure additional business with its primary customer and continue to be the leading designer and producer of cargo pallets for the Air Force.

The project is expected to generate a total capital investment of $14 million and create 41 jobs supported by a $500,000 Michigan Business Development Program performance-based grant. Michigan was chosen for the project over a competing site in Ohio because of the company's relationships with the community, universities, and local businesses.

The project builds on the state's efforts to position itself as the global leader in the future of mobility and automotive manufacturing, and could lead to further investment in the state. AAR provides full benefits to its employees as well as on-the-job specialized training and tuition reimbursement. The hourly employees belong to the local 1433 of the UAW region 1D.

The company partners with the local Chamber of Commerce, city of Cadillac and Michigan Works! and recruits talent from local educational partners and the Career Tech Center.

Michigan Works is supporting the project with a $219,317 grant and the city of Cadillac plans to offer staff time and resources in support of the project. For information on careers with AAR, visit https://www.aarcorp.com/en/careers/.

Legal consulting firm K2 Services establishing its first Michigan operations in Southfield, creating 89 corporate and professional services jobs

K2 Services LLC, headquartered in Chicago, provides law firms and corporate law departments with guidance and technology solutions while also managing cost and mitigating risk. The company provides legal IT services, help desk outsourcing, managed infrastructure services, training and security consulting to hundreds of law firms worldwide.

"This significant expansion by K2 Services, bringing in 89 jobs, demonstrates that our work to create a welcoming economic environment in Michigan is successfully attracting investment from around the country," said state Senator Jeremy Moss (D-Southfield). "I'm proud that Southfield continues to remain a premiere place to open a business and grow a family."

"Southfield truly is the premier business address in Michigan and I welcome K2 Services LLC to our community," said state Representative Jason Hoskins (D-Southfield). "As a former City Councilman and now a voice for them in the legislature, I can say with some confidence that they've made a great choice in Southfield. From the investments we've made at the local level to the statewide investments under the leadership of Governor Whitmer – I am proud to be a part of this pro-jobs government."

The company is looking to establish its first Michigan operations in an existing facility in Southfield, where it will add computers and other IT equipment. The project is expected to generate a total capital investment of $712,000 and create 89 jobs with the support of a $534,000 Michigan Business Development Program performance-based grant. Michigan was chosen for the project over competing sites in Columbus, Ohio, Chicago, and Las Vegas for its deep talent pool.

The project will bring immediate jobs in the tech and professional and corporate services industries. K2 provides full benefits, on-the-job training, and monthly bonuses. The Detroit Regional Partnership and Oakland County Michigan Works! have offered support in the form of a promotional video, workforce data, recruitment strategies, training support, retention and more.

"Oakland County is pleased to welcome K2 Services and the 89 new jobs the company brings to Southfield," said Oakland County Executive Dave Coulter. "As the county with the largest number of attorneys in Michigan, K2 Services' significant investment in Oakland County will pay dividends in both the amount of business they'll find in the region and the connections we can help provide to the skilled and talented network of IT and legal professionals who live here."

"K2 values the partnership developed with the local and state governments in Michigan and believe this partnership helps position our Company for continued success," said Peter Cotseones, CEO of K2 Services. "We're excited to expand our team of technology professionals to include our new Southfield office."

Individuals interested in careers with K2 Services should visit https://k2services.com/careers/.

"The city of Southfield is pleased to welcome K2 Services to our ever-growing corporate community," said Southfield Mayor Dr. Kenson Siver. "The City's extensive infrastructure, access to a footprint of citywide fiber optics and central location are just a few of the many reasons why so many businesses choose Southfield. We trust that K2 Services employees will enjoy the many amenities and conveniences of working in Southfield – the center of it all."

"Our region's highly skilled workforce continues to be a major selling point to companies looking to expand in corporate and professional services," said Maureen Donohue Krauss, president and CEO of the Detroit Regional Partnership. "Working with our partners in Southfield, we were able to showcase how our region is the perfect location for an innovative IT firm like K2 Services."

New mixed-use development will boost economic activity, bring new housing and vibrancy to downtown Marquette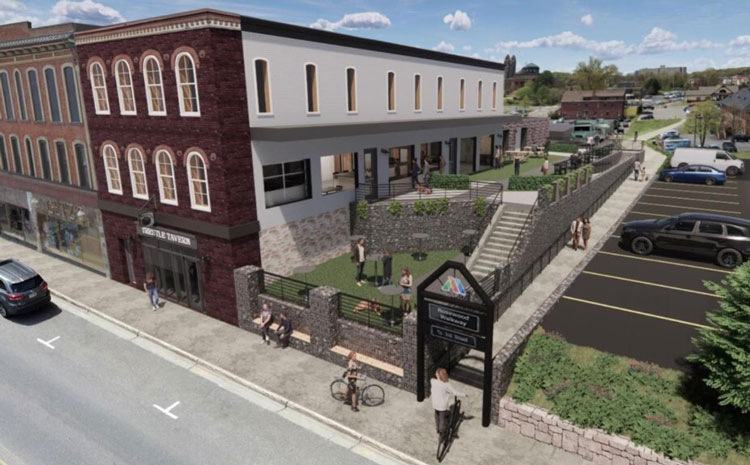 Ore Dock Real Estate, LLC plans to construct and rehabilitate a mixed-use development located at 214 Front Street in downtown Marquette. When completed, the project will include four residential units, commercial space, a restaurant, and outdoor beer garden. The project will allow the existing Ore Dock Brewery to expand its existing facility, which will spur additional investment and visitors to the downtown.

"I've been happy to advocate for state investments that support Marquette's goals of adding jobs and housing," said state Representative Jenn Hill (D-Marquette). "These kinds of projects in U.P. communities help us attract and retain talent, which is a major priority right now."

The project is expected to generate a total capital investment of $7.8 million and create six full-time equivalent jobs. In addition to bringing new housing and redevelopment to the area, the project is expected to drive additional foot traffic and increase the economic vitality of the local businesses. The City of Marquette Brownfield Redevelopment Authority has received MSF approval of state tax capture valued at $352,605 to be used for the reimbursement of brownfield activities at the site.

The city of Marquette Downtown Development Authority will support the project by waiving downtown parking fees for the construction period. The City of Marquette Brownfield Redevelopment Authority is supporting the project through the local portion of the brownfield work plan, valued at $405,605. Ore Dock Brewery is also an awardee of MEDC Match on Main and Revitalization And Placemaking funding to help support the project. The city of Marquette is certified with MEDC's Redevelopment Ready Communities program.
About Michigan Economic Development Corporation (MEDC)