Gov. Whitmer Establishes the 'Growing Michigan Together Council' to Focus on Population Growth, Building a Brighter Future for Michigan
The council will be led by bipartisan co-chairs and develop strategies to make Michigan a place where everyone has the opportunity to succeed
MACKINAC ISLAND, Mich. – Today, Governor Gretchen Whitmer established the Growing Michigan Together Council to develop a statewide strategy aimed at making Michigan a place everyone wants to call home by attracting and retaining talent, improving education throughout the state, upgrading and modernizing our transportation and water infrastructure to meet 21st century needs, and continuing Michigan's economic momentum. Governor Whitmer announced bipartisan co-chairs Ambassador John Rakolta Jr. and Shirley Stancato who will lead the council in developing policies and goals to grow Michigan's population.

"The best thing about Michigan are the people who call it home and this council will ensure our state is able to attract talent and provide expanding opportunities for families," said Governor Whitmer. "Over the last few decades, we have seen Michiganders find opportunity elsewhere because jobs and talent have been pushed out of the state. Since taking office, I've made it a priority to change that narrative. We're lowering costs, attracting good-paying jobs, investing in education from pre-school to post-secondary, protecting our natural resources, and expanding fundamental rights. With today's announcement, we're continuing our work to grow the state and build a better, stronger Michigan."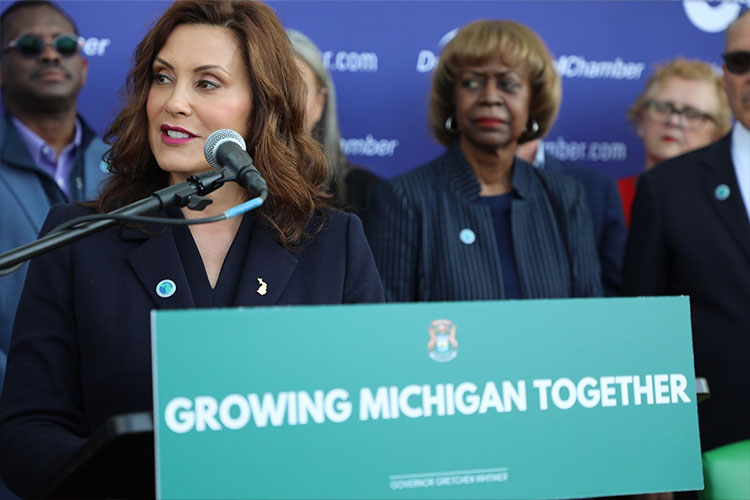 "With this council we can ensure Michigan has the tools to make this state a place where families want to live, work, and build their lives," said Ambassador John Rakolta Jr., co-chair Growing Michigan Together Council. "We're focused on attracting young talent and building a statewide framework – through education and infrastructure – that will expand opportunity for every resident. I'm excited to work with the council to build on Michigan's economic momentum."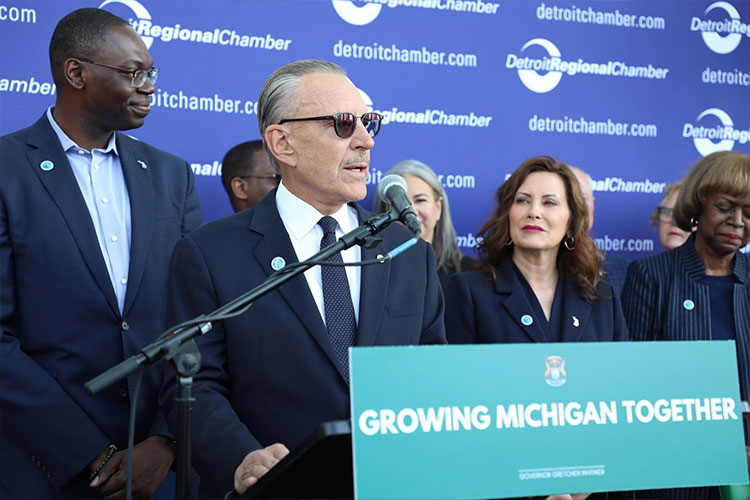 "I'm thrilled to help lead the Growing Michigan Together Council and build on Governor Whitmer's work to make Michigan a welcoming state for all," said Shirley Stancato, co-chair Growing Michigan Together Council. "Creating a formal strategy to ensure Michigan creates jobs, students get the greatest benefits from education starting in pre-K, and upgrading our state's infrastructure for every community will make Michigan a leader in attracting young talent and growing families."
"Michigan is at a great inflection point. We have an opportunity to continue lead the world in advanced mobility, and other high-tech industries, but our economic growth requires growing our own talent and growing the talent pool," said Sandy Baruah, president and CEO, Detroit Regional Chamber. "The Chamber is excited to work with Governor Whitmer to grow Michigan's population and by extension our economy."

"Reversing Michigan's population trends is essential to the future prosperity of our state. Michigan's community colleges are excited to work with the Whitmer administration to develop bold ideas focused on growing both Michigan's talent and our population now and into the future," said Brandy Johnson, president, Michigan Community College Association. "Michigan's two-year public and tribal colleges serve as critical infrastructure to reach out collective goals."

"We're committed to ensuring that every child in Michigan has access to a world-class education," said Peter Spadafore, executive director, Michigan Alliance for Student Opportunity. "We look forward to collaborating with the commission to guarantee that future investments in Michigan's schools not only strengthen performance outcomes but also champion equity. Access to high-quality public education has the power to attract talent to our state, and we are highly motivated to partner with this commission to position Michigan at the forefront of educational innovation and achievement for generations to come."

"Pure Michigan isn't just a slogan. Our beautiful peninsulas are literally defined by our waters and are home to abundant natural resources. They're an outdoor playground unlike any other on the planet and a powerful economic engine." said Lisa Wozniak, executive director, Michigan League of Conservation Voters. "Our future as a magnet destination is going to explode as our leaders prioritize the issues that matter most to Michiganders—from rebuilding our infrastructure and protecting our waters to expanding outdoor recreation and pursuing bold climate action."

"The future of our state depends on securing and creating good-paying jobs that can support working families while addressing the needs of our communities. Over the last few years, we have worked to make Michigan a state that supports workers with major investments that have secured thousands of jobs and legislation making it easier for workers to advocate for needed benefits," said Steve Claywell, president, Michigan Building Trades Council. "I'm thankful that Governor Whitmer has prioritized working families and has provided a seat at the table for us to continue our work."

"Last election made clear that working people across our state want leaders who will fight for a future where all working families can thrive. By listening to the demands of Michigan workers, Governor Whitmer and state legislators have taken huge steps to restore and expand workers' rights to create better jobs and stronger communities," said Ray Sholtz, president, SEIU Michigan. "These are essential steps to recruiting and retaining a talented workforce and allowing people to retire with dignity, because poll after poll shows the majority of people support unions and want good union jobs. In fact, 77% of people under 35 approve of organized labor. With the implementation of the Growing Michigan Together Council, we can build on our legislative and political progress to attract and keep talent in our great state."

"It's critical that Michigan makes investments to support current and future generations. Ensuring every Michigander has a strong foundation with an education system that prepares them to compete in a global economy and improving infrastructure to reliably connect communities will benefit all of us," said Ahmad Nassar, CEO and creative director, Detroit 75 Kitchen. "This council is a helpful first step in making Michigan a leader in providing the best opportunities for residents and attracting talented people from across the country."

"Growing Michigan means growing its population. Critical to a healthy economy is an ever growing and vibrant pool of talent to support job growth in our region," said Jose Reyes, executive director, Npower. "Npower is proud to stand with Governor Whitmer as she takes on this momentous challenge."

Growing Michigan Together Council
The Growing Michigan Together Council will advise the governor on specific policies to grow Michigan's population, including identifying a population goal for 2050. The council will also look at ways to prepare Michigan's workforce for in-demand jobs and emerging industries by proposing initiatives to improve preK-12 educational outcomes and long-term funding solutions for higher education including financial aid. Additionally, to meet the needs of a growing, thriving population, the council will develop long-term, sustainable transportation and water infrastructure funding solutions.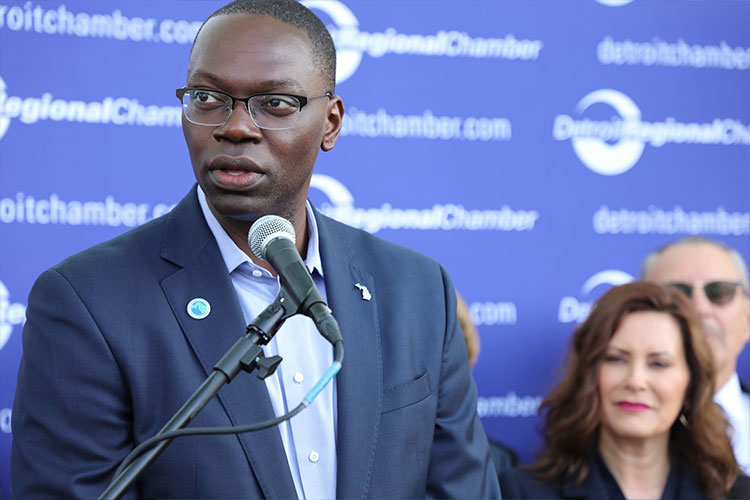 The council will be made up of 28 members, 21 voting and 7 non-voting. In addition to the bipartisan co-chairs, voting members will be made up of two members of the Michigan House of Representatives, two members of the Michigan Senate, and the director of the department of Labor and Economic Opportunity (LEO) or their designee from within the department. The governor will also appoint to the council individuals that represent the interests of the private sector, labor, workforce development and talent, infrastructure, non-profit or philanthropy, and education with one appointee being under 25 years old.

Non-voting members will include the state budget director, state treasurer, director of the Michigan Department of Transportation (MDOT), the chief executive and economic competitiveness officer of the Michigan Economic Development Corporation (MEDC), the executive director of the Office of Global Michigan, or designees from within their respective departments. One individual with a background in economics, and one individual with a background in demography will also be appointed by the governor.

View Executive Order 2023-04.
About Michigan Economic Development Corporation (MEDC)