Gov. Whitmer Announces 100 High-Wage Jobs with Eaton in Marshall, Southfield, and Canton Township
Michigan wins company's investment over other states, countries, underscoring state's leadership in future mobility and high-tech innovation
LANSING, Mich. – Today, Governor Gretchen Whitmer and the Michigan Economic Development Corporation (MEDC) announced that intelligent power management company Eaton is expanding in Marshall, Southfield, and Canton Township with support from the Michigan Strategic Fund. The project is expected to generate a total capital investment of more than $20 million and create 100 high-wage jobs in mobility and high-tech innovation.

"Eaton's expansions in Michigan are driving more than $20 million of investment and creating 100 good jobs, underscoring our leadership in high-tech innovation and building on our economic growth in 2023 and beyond," said Governor Whitmer. "Michigan was chosen for this investment over numerous other locations because of the strength of our legendary manufacturing workforce, inclusive laws and our robust business climate that welcomes companies of all sizes. We remain laser-focused on competing to bring home good-paying, high-skill jobs that will tap into our strengths and power our economy for decades to come."

Eaton Corporation is an intelligent power management company, providing energy efficient products and services to multiple industries including aerospace, data centers, healthcare, automotive and commercial vehicles. By capitalizing on global growth trends of electrification, Eaton is accelerating the planet's transition to renewable energy, helping to solve the world's most urgent power management challenges. Eaton employs and serves many Michigan communities including Canton, Galesburg, Jackson, Marshall and Southfield.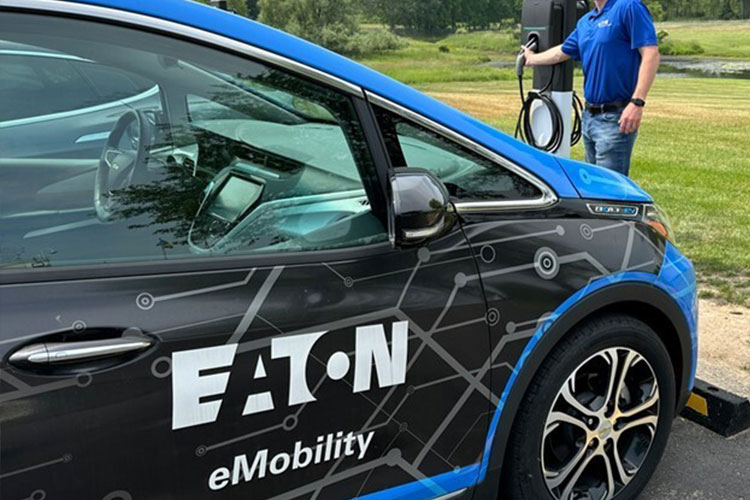 Driven by the growing demands for future mobility, Eaton plans to expand at its facility in Marshall. The expansion will include a new lab for conducting development, environmental, validation, and durability testing for a wide range of EV components, including power electronics, battery protection systems, power connections, inverters, converters, and power distribution systems, and the remodeling of office space. Eaton is also looking at 100 positions focused on electrification research, which will include a mix of new hires and legacy employees transitioning to EV across its Marshall, Southfield and Canton Township locations.

"Eaton's expansion demonstrates that Michigan is a top-tier location to attract emerging industries and invest in new technology. I join with Gov. Whitmer in putting out the call: if you want to create, innovate, and compete in the global economy, make Michigan your home" said state Senator Jeremy Moss (D- Southfield). "I'm especially proud that Southfield remains a key player that fuels the economic engine in metro-Detroit and the entire state."

"I am very pleased to see this investment in not only Southfield where Eaton currently employs around 300 of our friends and neighbors, but across communities in Michigan" said state Representative Jason Hoskins (D- Southfield). "Their work toward renewable energy and electrification is crucial to the economy of the future and we welcome their deepened commitment to Michigan."

"I am thrilled to see Eaton expanding and investing in Canton and our state" said state Senator Dayna Polehanki (D- Livonia). "This is further confirmation that Michigan has become a great place to do business and there's no beating the hardworking spirit of Michiganders."

"With the electrification of our economy in full swing, Eaton's choice to expand in Canton Township and Michigan reaffirms our state's position as a leader in growth, innovation, creativity, and design" said state Representative Ranjeev Puri (D- Canton). "Eaton's focus on electric vehicles, hospitals, planes, a reliable energy grid - many of the things we rely on every day - will be a key component in keeping Michigan competitive and attracting new business. I applaud this strategic partnership between our state and Eaton and look forward to what this investment means for the future of Michigan and its economy."

The project is being supported with a $600,000 Jobs Ready Michigan Program performance-based grant that will assist with training for the new positions. Michigan was chosen for the project over competing sites in Missouri, Oregon, Wisconsin, Poland, China, India and France because of the state's automotive leadership.

"The decision by Eaton to expand in three locations in Michigan underscores our state's leadership in future mobility and high-tech innovation, as well as the strength of our business climate and talented workforce," said MEDC Sr. Vice President of Regional Prosperity Matt McCauley. "This project is a win for Marshall, Southeast Michigan and for the entire state. We are grateful to Governor Whitmer, legislators from both parties, and local officials for their continued support for our programs that help make announcements like today's possible. We appreciate the efforts of our local partners in supporting this effort and will continue working to win projects, invest in places and support our people as we encourage businesses of all sizes to make it in Michigan."

The project builds on the state's efforts to position itself as the global leader in the future of mobility and high-tech innovation, and could lead to further investment and investment within the EV industry. The new positions are predominantly mechanical engineers, electric engineers, electro-mechanical technicians and software developers. Individuals interested in careers with Eaton Corporation should visit https://www.eaton.com/us/en-us/company/careers.html.

"Michigan is a global leader in the future of mobility and high-tech innovation, and we are very pleased to receive funding from the state on this project. Support from the grant will allow us to accelerate plans to expand our eMobility capabilities within Michigan," said Mark Schneider, president, eMobility. "It is a testament to the importance of the state to the automotive industry that it was chosen for the project over competing sites in the U.S. and abroad."

"Eaton has a long history with Marshall and has continued to be an outstanding community partner with their ongoing financial support for community events and Marshall Public Schools," said Marshall Area Economic Development Alliance CEO James Durian. "We are excited that they are expanding again locally and creating new jobs and investments in the area of electrification research and e-Mobility."

Today's announcement builds on other recent electric vehicle investments in Michigan, including the recent announcement by Toyota that it is expanding at its facility in York Township, where it will add a battery testing facility for battery cell, module, and pack testing capability at its R&D headquarters campus. The project is expected to generate a total capital investment of up to $47.7 million. In February, the Shyft Group, a manufacturer of delivery and specialty vehicles, announced it is expanding to produce electric commercial vehicles in Charlotte. The project is expected to generate a total capital investment of $16 million and create 680 manufacturing jobs. Ford announced in January that it was investing $3.5 billion to build a new EV battery manufacturing facility in Marshall, a project that is expected to create 2,500 jobs.
About Michigan Economic Development Corporation (MEDC)