Crowdfunding Campaign Launched for the Holland Community Ice Skating Park
$50,000 goal to win matching grant through MEDC's Public Spaces Community Places initiative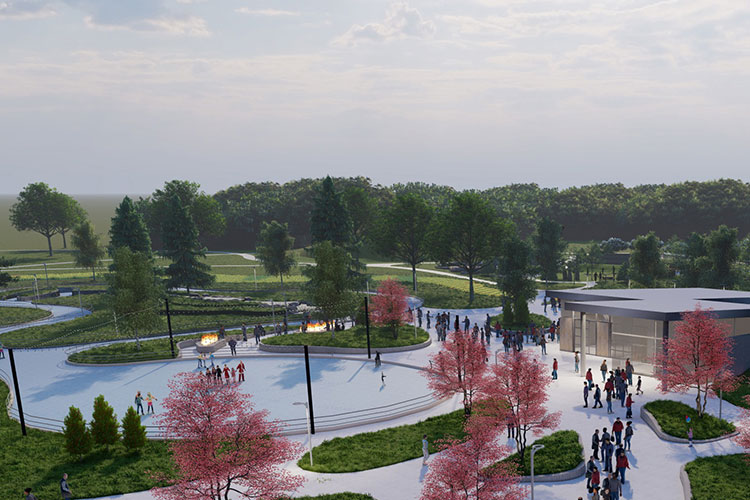 LANSING, Mich. – Holland will soon gain a state-of-the-art, ribbon-style ice skating park through the anticipated success of a crowdfunding campaign, the Michigan Economic Development Corporation (MEDC) and the City of Holland announced today. The campaign is being offered through the Michigan-based crowdfunding platform Patronicity.

If the campaign reaches its crowdfunding goal of $50,000 by July 2, the project will win a matching grant with funds made possible by MEDC's Public Spaces Community Places program. For project details and to donate, please visit: patronicity.com/holland.

"This new four-season public space in Holland will provide residents and visitors with a year-round hub for recreational and social activities, and exemplifies what modern placemaking can achieve," said MEDC Executive Vice President of Economic Development Incentives Michele Wildman. "We are pleased to support and provide resources for this innovative project to complete the space through our Public Spaces Community Places program."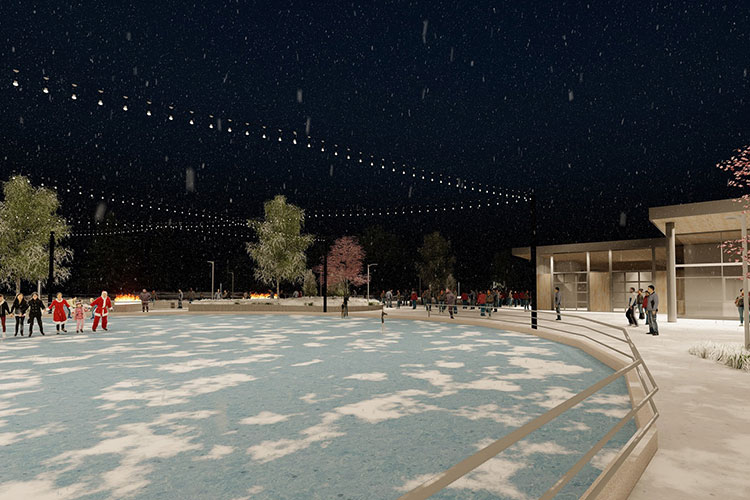 This project will activate an underused portion of Window on the Waterfront Park and bring activity to a part of downtown in need of year-round use and activation. By incorporating world-class design and state-of-the-art technology, Holland's downtown ice rink will be among the largest and most environmentally conscious designs of its kind in North America.

Designed to blend seamlessly into the natural landscape, the Holland Community Ice Skating Park will feature a large "pond" area and a "ribbon" of ice that loops north around landscaped islands. As one of the largest ice rinks of its kind in North America, it will accommodate at least 300 skaters at a time without overcrowding. For those content to watch the festivities, the surrounding gathering space will utilize an innovative snowmelt system to keep the sidewalks, courtyard, and benches warm and clear of snow. A concessions building will offer food and refreshments, skate rental, and public restrooms open throughout the year.

Best of all, the Holland Community Ice Skating Park will be in use throughout the year. The City's Parks and Recreation Department will host art, theater, and music programs in the space and is considering additional options including opening the rink to roller skating in non-winter months.

"The city of Holland is excited to partner with the Public Spaces Community Places program and believes the Holland Ice Skating Project is the perfect example for the goals of the program," said Holland Mayor Nathan Bocks. "The crowd-funding platform by Patronicity will invite the community into ownership and participation of this community gem, a park that will be activated and welcoming to our entire community and complimentary to our downtown."

Public Spaces Community Places is a collaborative effort of the MEDC, the Michigan Municipal League, and Patronicity, in which local residents can use crowdfunding to be part of the development of strategic projects in their communities and be backed with a matching grant from MEDC. Communities, nonprofits and other business entities can apply at https://patronicity.com/puremichigan.

"The Michigan Municipal League is a strong believer of the importance of placemaking projects in our communities," said Dan Gilmartin, CEO and Executive Director of the League. "This new ice-skating park is going to create a lasting, positive experience for the Holland community and will help bring people together. This is what placemaking is all about."

The Public Spaces Community Places initiative started in 2014 with MEDC providing matched funding of up to $50,000 for community improvement projects throughout Michigan. As of April 30, 2023, MEDC has provided more than $11.4 million in matching grants. Since the launch of the program, 343 projects have been successful in reaching their goal, with more than $13 million raised from 65,483 individual donors. Communities have a 97 percent success rate in achieving their goals and earning matching funds.
About Michigan Economic Development Corporation (MEDC)