Gov. Whitmer Announces Support for 28 Small Businesses on Main Streets, in Downtowns Across Michigan
Match on Main grants will create 70 full-time and 144 part-time jobs
LANSING, Mich. – Today, Governor Gretchen Whitmer and the Michigan Economic Development Corporation (MEDC) announced that twenty-eight communities around Michigan have been awarded a total of $697,325 in grants aimed at supporting small local businesses to create resiliency and strengthen downtowns. The grants are expected to create 70 full-time jobs and 144 part-time jobs, and the projects are expected to generate a total private investment of more than $2.6 million.

"Michigan's small businesses define our downtowns, and with today's Match on Main grants, we are supporting small businesses in both peninsulas," said Governor Whitmer. "Together, we are going to make communities across Michigan more attractive places for families to live and work and for businesses to grow and invest. Let's keep our foot on the accelerator as we grow our economy, support good-paying jobs, and build thriving towns across Michigan"

The Match on Main program provides funding to communities that participate as a select and master level community in the Michigan Main Street program or are considered an Essentials or Certified Redevelopment Ready Community. The communities, who receive the grant funding from the MEDC, in turn award grants of up to $25,000 to eligible businesses seeking support.

"Thriving small businesses are the cornerstone of what makes Michigan's downtowns unique and authentic while helping to create economic opportunity across the state," said MEDC Senior Vice President of Small Business Services Amy Rencher. "These Match on Main grants will help local businesses find new paths to growth and create and retain jobs, while further developing vibrant, unique, and attractive places where people want to live, work, and play."

Grants may be used by the business for eligible expenses that support technical assistance, interior building renovations, permanent or semi-permanent activation of an outdoor space, permanent or semi-permanent business infrastructure, and other working capital needs such as marketing needs and inventory expenses. Additional needs identified by the business and supported by the local community are also considered.

In Rogers City, the city awarded a $25,000 grant to L Rose Studio of Dance, which will use the funds to create a new dance studio in downtown Rogers City. The owner is a Rogers City native and currently a student at Northwood University looking to give back to her hometown.

"I am so excited to share my passion for dance with our community through the launch of L Rose Studio of Dance in downtown Rogers City," said Linnea Hentkowski, owner of L Rose Studio of Dance. "The award of the Match on Main Grant will provide the funds needed to create a bright, newly constructed dance studio where dancers will explore their own talents and passion for dance in an energetic and loving environment."

Downtown Lansing Inc. awarded a $25,000 Match on Main grant to Mr. Leslie's Cheesecakes, a dessert maker currently based in the Allen Neighborhood Center's incubator kitchen. The funds will be used to purchase kitchen equipment and open a retail location for the expanding cheesecake business, which currently wholesales their products in grocery stores around Michigan.

"We are so happy that Mr. Leslie's Cheesecakes has been offered this opportunity," said Marcus Leslie, owner of Mr. Leslie's Cheesecakes. "We look forward to spreading our happiness through cheesecakes within the Lansing Community. This grant will assist our company with growing to the next phase which includes purchasing much needed equipment and to assist other entrepreneurs and youth in their journey to build businesses."

April 2023 Match on Main grant winners: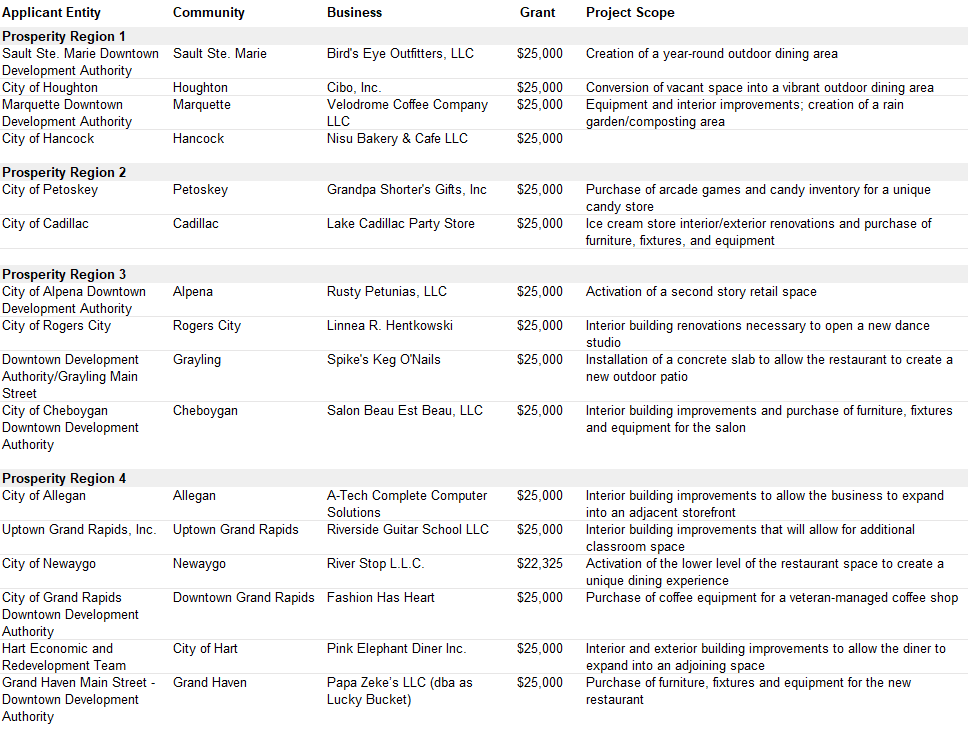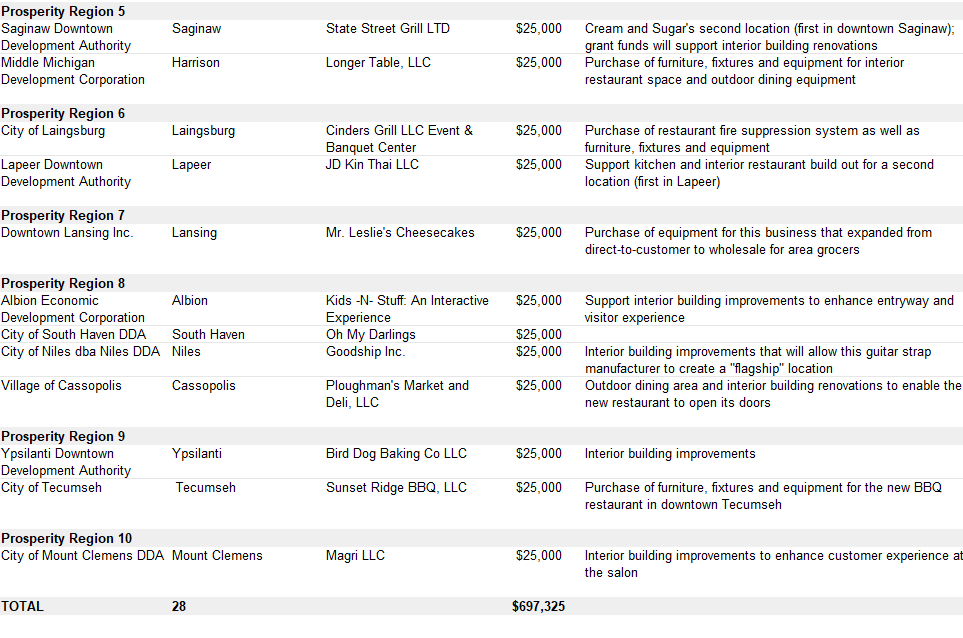 The focus of Match on Main is to support place-based businesses as they seek to launch and grow on main street. For more information about the program, visit miplace.org/small-business/match-on-main.

In December 2022, MEDC announced that 35 communities around Michigan were awarded a total of $807,673 in grants aimed at supporting small local businesses to create resiliency and strengthen downtowns around Michigan. A total of 20 small businesses around Michigan received assistance through the program.

Michigan's small businesses are a vital part of the state's economy, employing more than 1.8 million people. Helping businesses to open and grow is a key focus of MEDC, and the Match on Main Street program is one of MEDC's tools that provides opportunities for new and expanding businesses located in Main Street districts to grow and succeed. For more information on the program, visit here.
About Michigan Economic Development Corporation (MEDC)