Michigan's Tourism, Hospitality Industries Underscore Importance of Being Welcoming to All at Pure Michigan Governor's Conference on Tourism
Wednesday, April 12, 2023
Industry awards recognize individuals, tourism entities that exemplify best practices, impact on industry; Chelsea, St. Ignace named Pure Michigan Trail Towns, Cass River Water Trail and Paint Creek Trail named Pure Michigan Trails; Pure Michigan ad campaign continues to have a positive economic impact on the state
GRAND RAPIDS, Mich. – At the annual Pure Michigan Governor's Conference on Tourism, travel industry leaders recognized top hospitality individuals and entities for their contributions to Michigan's tourism industry through the Governor's Awards for Innovative Tourism Collaboration. Also announced during this week's celebration were the latest communities and trails to be recognized with a Pure Michigan Trail Towns or Trails designation, and a new report demonstrating the positive impact of the Pure Michigan travel campaign on Michigan's economy.
"With summer just around the corner and record numbers of families heading to our parks, public lands, and destination towns for a world-class vacation on a middle-class budget, let's take a moment to recognize Michigan's travel industry that makes so many of the lasting memories we make in pure Michigan possible," said Governor Gretchen Whitmer. "Our world-class tourism, recreation, and hospitality businesses drive billions of dollars of economic activity, support hundreds of thousands of jobs, and by investing in our parks, regional economic development, and workforce program, we can help them grow. As we recognize our award-winning businesses, I encourage everyone to experience pure Michigan first-hand this summer."
More than 600 tourism representatives, economic development professionals and meeting planners from across Michigan gathered in Grand Rapids this week for the 2023 Pure Michigan Governor's Conference on Tourism, where they are focusing on the latest trends and changes in the industry, including ways to make travel more accessible and inclusive for a diverse range of travelers.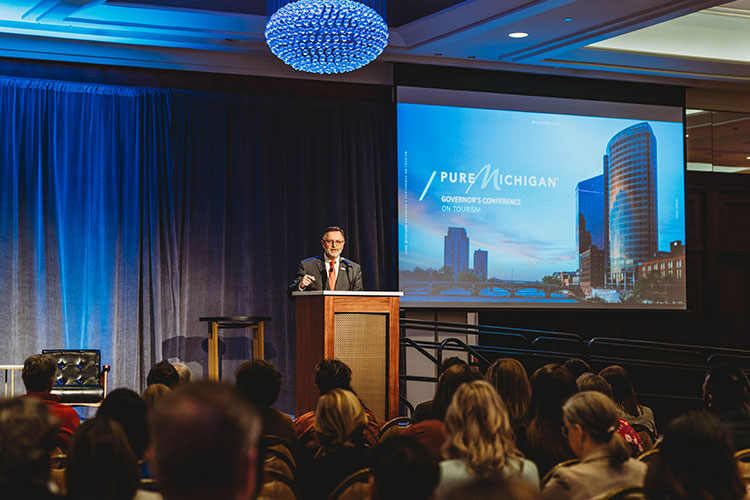 The Governor's Awards for Innovative Tourism Collaboration were created in 2009 by the Michigan Travel Commission to elevate the status of Michigan's tourism industry and to promote innovative collaboration as an effective, efficient, and creative operating principle for the industry.

The awards and recognitions announced at this year's event include:
2023 Governor's Awards for Innovative Tourism Collaboration:
The Innovative Tourism Collaboration Award for an Experience Development Partnership was presented to "Destination Clare: Art Sculpture Walk." The community of Clare came together when one local artist had a dream of starting an art sculpture loan program in Clare County. The dream was to bring artists from across the U.S. to showcase their art in an outdoor setting while providing an exposure of art within the community, to engage the large visitor traffic that flows through Clare each year, and provide an arts and cultural experience within the downtown. In 2021, the Clare County Arts Council launched the Clare Art Sculpture Walk project and issued a Call for Artists, with more than 29 artists from across the U.S. submitting their sculpture for consideration. The project required great collaboration with the city of Clare, business partners, nonprofit agencies, schools and the community. Downtown businesses say that the project has increased foot traffic, increased the number of shoppers, and caused people to linger a little longer downtown.
The Industry Partnership in Education Award went to Respect Marquette County. Respect Marquette County is a successful demonstration of a community coming together in a new and innovative way to collaborate on ways to support sustainable tourism in their county. Respect Marquette County is a coalition that is comprised of a variety of partners across Marquette County. When the program started in 2022, there were 20 people involved in the coalition. Now, they have 40 local coalition partners, including Northern Michigan University, hotels, motorized and non-motorized trail groups, economic development groups, local business owners, and many more. As the first destination management organization (DMO) in the state of Michigan to have a partnership with the national organization Leave No Trace, the Respect Marquette County program has helped influence other DMOs in Michigan to pursue similar partnerships. Respect Marquette County is inspiring locals and visitors alike to respect the local culture and natural resources of Marquette County.
The Innovative Tourism Collaboration Non-Traditional Partnership Award was presented to the West Michigan Sports Commission.
The West Michigan Sports Commission bid on and won 2022 Junior Gold Bowling Championships through a non-traditional partnership with two DMOs that it typically competes with: the Greater Lansing Sports Authority and Visit Muskegon. The unique collaboration proved to be a win for all three regions – Grand Rapids, Lansing and Muskegon. The annual national bowling tournament requires a significant number of bowling centers and hotels to host it. The tournament draws approximately 4,000 athletes from 50 states. The key to this partnership was consistent, ongoing communication between all parties. The 13-day event represented one of the largest sporting events for the area, generating $7.3 million in visitor spending and 10,000 hotel nights booked shared among the three regions. The biggest takeaway in that regional partnerships work. This collaboration is a model that can be replicated in the future with these organizations.
Presented by Tourism Industry Coalition of Michigan (TICOM) President Chad Wiebesick, the Collaboration Awards are intended to promote innovative collaboration as an effective, efficient and creative operating principle for the tourism industry.
2023 Legacy Award: Herb Zeilinger, CTIS, Great Lakes Bay Regional Convention & Visitors Bureau
Presented by Dave Lorenz, the annual Legacy Award is given to a person or organization that has served the Michigan travel industry in an extraordinary way, either during a lifetime of achievement or during the past year in some extraordinary way.
Herb was recognized for a lifetime of service to his community. He has worked at the Great Lakes Bay CVB since 2011, and prior to that, served 17 years at the Frankenmuth Convention and Visitors Bureau/Chamber. He has volunteered for service on industry and community committees such as Circle Michigan and the American Bus Association. Currently, he serves on the Frankenmuth City Beautification Committee and the Frankenmuth Historical Preservation Exhibit Renovation Committee. He has demonstrated selfless support of community.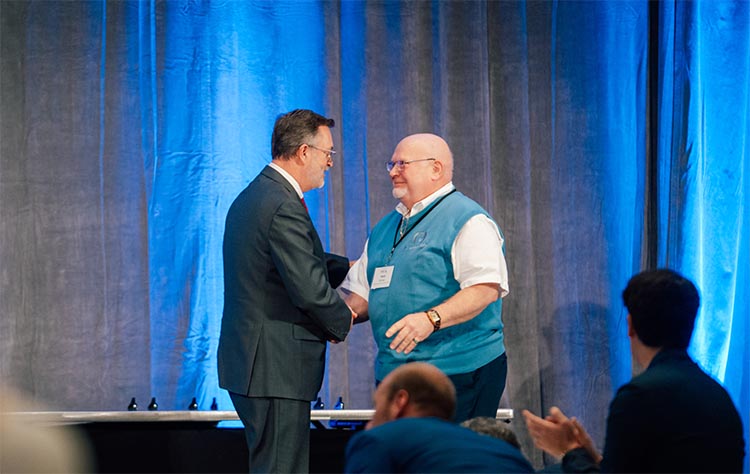 Pure Award
Presented by Michigan Cares for Tourism, the Pure Award is intended to recognize Michigan tourism entities that have pioneered the incorporation of innovative and exemplary best practices in natural, cultural, and/or heritage stewardship into their daily operations. The 2023 Pure Award went to the Thunder Bay National Marine Sanctuary for changing the face of Michigan tourism locally, regionally, and state-wide by providing a unique destination involving the local communities yet providing an international draw to the first freshwater National Marine Sanctuary in the nation. The 100+ shipwrecks in Thunder Bay of Lake Huron and its associated activities have proven invaluable to education, recreation, and the local economy. Averaging over 100,000 visitors each year, Thunder Bay has worked to preserve the sanctuary, create best practices in freshwater diving, and works collaboratively across the industry to combat the effects of climate change on the Great Lakes.
"This year's best in tourism awards honor those individuals and entities that go above and beyond in making Michigan a top travel destination and truly elevate the state's tourism industry," said Dave Lorenz, Vice President of Travel Michigan, part of the Michigan Economic Development Corporation. "It is vital to recognize our industry partners, whose passion, dedication, and collaboration are critical to the success of travel in Michigan."
Pure Michigan Trails and Trail Towns
Two trails and two communities were recognized as Pure Michigan® Trails and Pure Michigan® Trail Towns by the Department of Natural Resources during the conference. Each year, the Michigan Department of Natural Resources and Pure Michigan spotlight some of the state's best trails, over both land and water, and trail destinations through the Pure Michigan Trail and Trail Town designation program. The program – designed to help boost Michigan's position as the "Trails State" – provides recognition to locations that represent some of Michigan's best trail experiences.
The 2023 Pure Michigan Trails are:
Paint Creek Trail – The aptly named Paint Creek Trail begins in downtown Rochester and meanders north along the creek to where its headwaters flow out of Orion Lake. This beautifully wooded nonmotorized trail travels along Paint Creek – one of Michigan's premier cold-water trout streams – and connects to the Polly Ann Trail and Bald Mountain Recreation Area via connector paths. It was the first rail-trail in the state.
Cass City River Water Trail – The Cass River Water Trail meanders for 37.5 miles between two counties and six townships. Featuring 13 boating access sites, two portages and thousands of breathtaking views, paddlers will experience diverse paddling elements and pass through many small towns. Paddlers can rest at one of the many picnic areas, enjoy downtown Frankenmuth or Vassar, take in the sites of the Shiawassee National Wildlife Refuge and more. Endless local volunteer support is the reason that the trail has been so highly regarded by paddlers from around the region.
The 2023 Pure Michigan Trail Towns are:
Chelsea – The city of Chelsea is known for its outstanding commitment to trails demonstrated by its advancement, development and advocacy efforts. A vast trail network connects Chelsea's lively downtown, the local sidewalk and pathways system, the DTE Energy Foundation Trail, neighborhoods, historic attractions, local parks, Waterloo and Pinckney recreation areas and more. The Washtenaw Border to Border Trail will soon run through the downtown once the trail section is fully constructed.
St. Ignace – The city of St. Ignace has a proven track record for developing, funding, building and advancing trails integral to connecting Michigan's peninsulas. One of the key components is the North County Trail that travels along the waterfront through the heart of the city. In addition, strong partners have helped advance several recent projects, including the development of the Silver Mountain Bike and Hike Trail and a secondary trail between Straits State Park and the downtown, among other projects.
"With more than 13,000 miles of trail, Michigan is known as the trails state," said DNR State Trails Coordinator Tim Novak. "The Pure Michigan Trail Town program recognizes the communities who have worked hard to support and advocate for trails and trails users while providing safe, accessible recreational experiences year-round. This year's towns and trails have broad community support and continue to invest in their local trail systems. They understand and support the economic and social impacts of trails and how important they are to improving quality of life for residents and visitors. That is why we are proud to designate them as Pure Michigan recipients."
The trails and towns that receive this designation are identified as among the best of the best in the state of Michigan, promoting healthy lifestyles, conserving natural resources, and providing a catalyst for economic activity in their communities. Learn more here.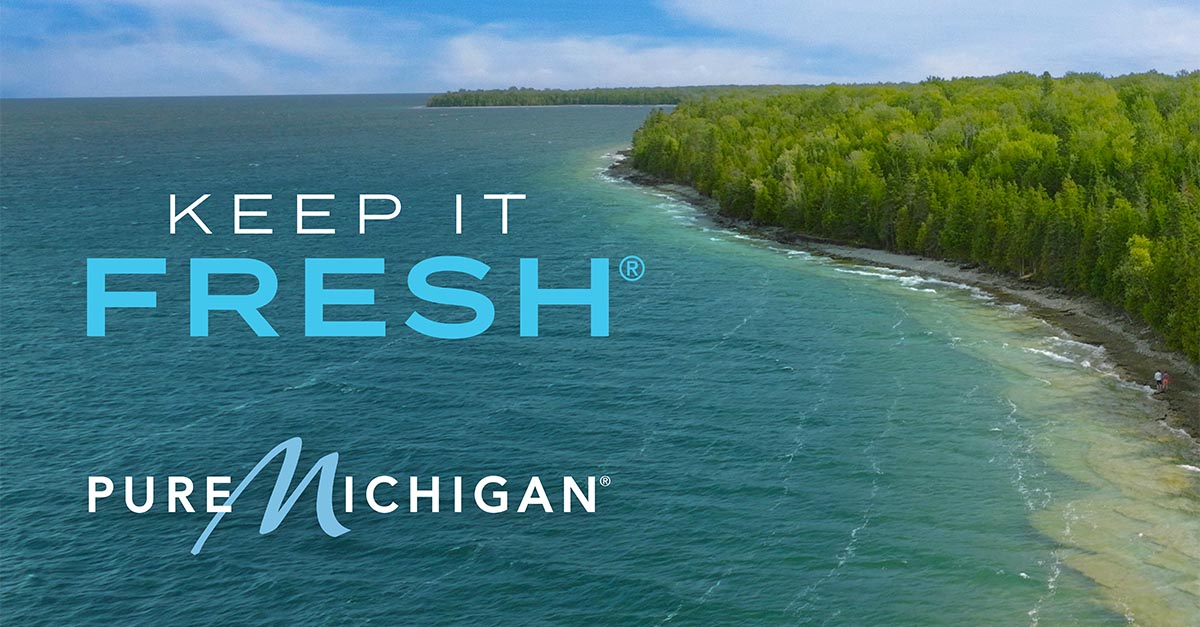 The results of the 2022 SMARInsights Advertising Effectiveness Research for Pure Michigan report were also released at the conference today. In 2022, advertising influenced nearly 2.1 million leisure trips to Michigan from regional and feeder markets. With an average spend of more than $1,500 per visitor, the total spend was more than $3.1 billion. In addition, more than $195 million in state tax revenue was generated. In consideration of the $17.4 million spent on advertising in 2022, Michigan had a Return on Investment (ROI) of $11.16.
The large increases seen from 2021 to 2022 underscore the impact and importance of running the advertising nationally. The $3.1 billion in ad-influenced visitor spending in 2022 is the largest on record since SMARInsights began evaluating the MEDC campaigns in 2018.
The report showed the campaign performing well in communicating key messages and generating interest in visiting the state. The advertising is also having a positive influence on the Michigan trip experience, as evidenced by longer, more active and better trips with more social sharing among those aware of the ads.
"By looking at our campaigns at a national and regional level, we can get a more holistic view of the impact of our campaign strategy at driving leisure travel in Michigan," Lorenz said. "These numbers show that advertising – and our related efforts in public relations including our own social and digital channels – continues to influence travel and the Pure Michigan campaign continues to drive economic growth, in turn supporting statewide economic development efforts to showcase Michigan as a great place to live, work and play."
About Michigan Economic Development Corporation (MEDC)