LANSING, Mich. – The State Historic Preservation Office (SHPO) has awarded $750,000 in grants to support the preservation of and reinvestment in historic buildings in communities along the Great Lakes, the Michigan Strategic Fund announced today. The grants represent awards from SHPO's Resilient Lakeshore Heritage Grant Program, funded through the federal Historic Preservation Fund (HPF)—Paul Bruhn Historic Revitalization Grant Program, administered by the National Park Service.

"We are pleased to have this unique opportunity to directly support investment in the historic places that are so critical to the identity and vitality of our lakeshore communities," said Martha MacFarlane-Faes, Deputy State Historic Preservation Officer. "These awards will have an immediate impact on the ability of the awardees to continue to be good stewards of these buildings, and we hope that the finished work will also serve as an example of the benefits of historic preservation in our communities, particularly along traditional commercial and civic corridors."

Currently a one-time funding opportunity, SHPO's Lakeshore Heritage Grant Program was established to provide funding to private property owners, nonprofits, and municipalities in communities along the Great Lakes that participate in SHPO's Certified Local Government (CLG) program, MEDC's Michigan Main Street program, or MEDC's Redevelopment Ready Communities program, all of which recognize the importance of reinvestment in a community's heritage assets as part of ongoing economic development and community planning activities.

Grant awards range from $50,000 to $100,000 and are being provided in nine communities along both peninsulas, representing communities such as Calumet, Alpena, and South Haven. Funds will support critical building work such as foundation stabilization, roof replacement, and masonry repair, as well as activation of vacant storefronts and interior spaces. Funds will also support the listing of several of the properties in the National Register of Historic Places, which will not only recognize the historical significance of the properties but also enable property owners to potentially take advantage of additional preservation incentives in the future, such as the state or federal historic preservation tax credit or grants available through SHPO or other entities.

Award offers are being made to the following applicants:

425 5th Street Roof Stabilization in Calumet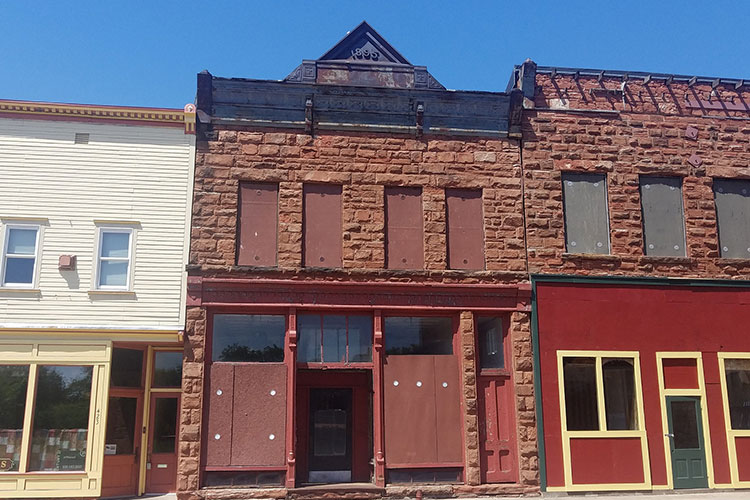 In Calumet, the Houghton County Land Bank Authority, in partnership with the Keweenaw Economic Development Alliance, is being awarded $100,000 to support stabilization of the historic sandstone building at 425 5th Street, the subject of a multi-year effort by the Bring Back Calumet initiative and various project partners to save the building from collapse and return it to productive use. The building is part of the Calumet Historic District, which is listed in the National Register and designated a National Historic Landmark.

"This project funding is crucial to our ongoing efforts to preserve the fabric of downtown Calumet and eventually bring this building back to life," said Jeff Ratcliffe, Keweenaw Economic Development Alliance executive director. "The support for our Bring Back Calumet initiative from Michigan SHPO is crucial to achieving this goal."

Thunder Bay Theatre in Alpena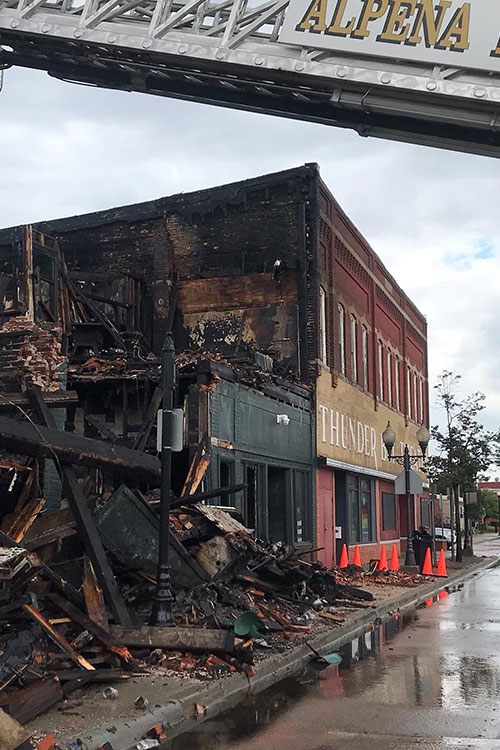 Thunder Bay Theatre, Inc., a nonprofit in Alpena, is being awarded $100,000 to support a $1.2 million rehabilitation of its building, which suffered a devastating fire in 2020 that left the building inoperable. The total project will repair damage from the fire and complete critical updates to the building, which will allow the non-profit to reactivate this key historic property in downtown Alpena and ensure its long-term use as a community asset.

"We are so grateful to have been selected to receive a grant award through the RLHG program for the renovation of Thunder Bay Theatre," said Alpena Downtown Development Authority Executive Director Anne Gentry. "Since the fire, our building has been vacant while we plan its entire $1.2 million renovation. This grant award is crucial to allow the renovation of our over hundred-year-old, mixed-use building and will be used to repair and replace our windows, doors, and electrical work throughout the building. We are grateful to the SHPO team for supporting the rehabilitation of our historic building, which will allow us to get back to bringing live, professional theatre to Northeast Michigan and ensure our building is preserved for the next hundred years.

"As part of the project, we will also be completing a nomination for Downtown Alpena to be listed as a district on the National Register of Historic Places with the support of the city of Alpena and Alpena Downtown Development Authority. Because of this grant, we hope our project will serve as a model for stewardship of historic buildings in our community and promote greater efforts for preservation here in Alpena," Gentry said.

Historic Hotel Nichols in South Haven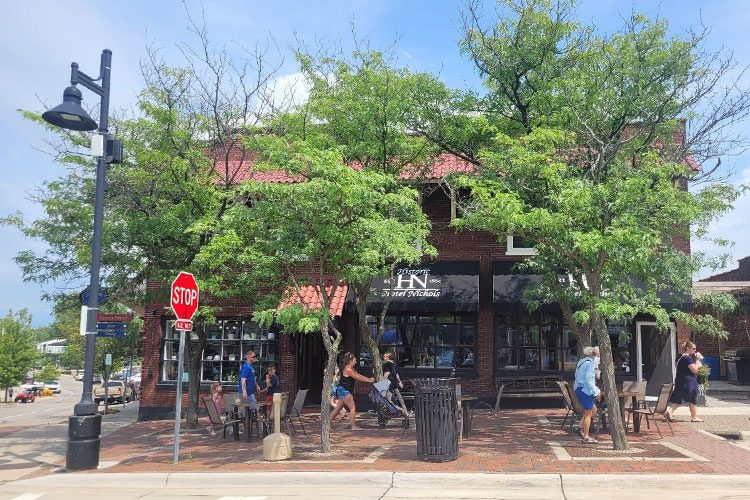 In South Haven, a $100,000 grant is being provided to repair, stabilize, and restore the exterior of the Historic Hotel Nichols, which has, under various names, operated as a hotel since 1925. Funding will be used to rehabilitate the masonry exterior, which has weathered nearly one hundred years of Great Lakes winters, and to restore the original clay tile awnings. The project will contribute to the larger goal of preserving key features of the building while also continuing to support South Haven's tourism economy.

"South Haven has been a bustling hub of small business and American entrepreneurship since the turn of the 20th century," said Historic Hotel Nichols Proprietor Scott A. Whiteford. "Historic Hotel Nichols, originally named The Parkview Hotel circa 1925, has been fortunately located in the center of all that has transpired. Continuously locally owned and operated through the present, the Resilient Lakeshore Grant program has provided an integral investment towards restoring the 1925 brickwork and beautiful wood, clay, and steel awnings that have graced this iconic building and surrounding community since its beginnings.

"This investment will allow us to continue serving our guests and local community members with modern amenities while celebrating century-old charm for years to come. Historic Hotel Nichols is where everyone is always treated as family—shop local, eat local, stay local," Whiteford said.

Focused on the historic preservation of culturally or archaeologically significant sites throughout the state, Michigan's State Historic Preservation Office's main function is to provide technical assistance to local communities in their efforts to identify, evaluate, designate, interpret and protect Michigan's historic above- and below-ground resources. SHPO also administers an incentives program that includes state and federal tax credits and pass-through grants available to certified local governments. To learn more about the State Historic Preservation Office, visit miplace.org/historic-preservation/. Details and updates for all projects funded through the Lakeshore Heritage Grant Program will also be available on the website as projects progress.

Project Funding
This program is supported through a grant from the Paul Bruhn Historic Revitalization Grants Program as administered by the National Park Service, Department of Interior. Any opinions, findings, and conclusions or recommendations expressed in this material are those of the author(s) and do not necessarily reflect the views of the Department of the Interior.
About Michigan Economic Development Corporation (MEDC)