LANSING, Mich. – Twenty-two historic Michigan properties were given special recognition in 2022 through their listing in the National Register of Historic Places, the Michigan Economic Development Corporation has announced. Administered in Michigan by the State Historic Preservation Office (SHPO), the National Register of Historic Places is the United States federal government's official list of districts, sites, buildings, structures, and objects deemed worthy of preservation for their historical significance.

"The historic properties listed in the past year range from big cities to rural towns and landscapes, each embodying a significant story in the history of our communities, our state, and our nation. National Register designation recognizes our shared history, fosters a sense of pride in our communities, and propels economic investment and activity," said Deputy State Historic Preservation Officer Martha MacFarlane-Faes. "SHPO is proud to partner with so many people and communities across the state in celebrating this diverse group of properties which have been listed in the National Register of Historic Places in 2022."

More than 96,000 properties across the country, including nearly 2,000 in Michigan, have been listed in the National Register since the program began in the 1960s. The National Register is a program of the National Park Service and is administered by the states.

Each place listed in the National Register is referred to as a "property," whether it is a single building, site, or structure or a historic district composed of hundreds of individual buildings. In 2022, sixteen individual properties and six historic districts totaling more than 389 contributing historic resources in Michigan were listed in the National Register.
To be considered for listing in the National Register, a property must generally be at least 50 years old, and must also be significant when evaluated in relationship to major historical events or trends in the history of their community, the state, or the nation. A property must also possess historic integrity – the ability to convey its significance.

The following Michigan properties were listed in the National Register in 2022:
Elijah Bull House - Bloomfield Township
Walbri Hall - Bloomfield Township
Luther Burbank School - Detroit
Marygrove College - Detroit
Most Worshipful Prince Hall Grand Lodge of Michigan - Detroit
Orsel and Minnie McGhee House - Detroit
Sojourner Truth Homes - Detroit
William E. Higginbotham Elementary School - Detroit
Ernest J. and Edna Humphrey Farm - Ewen
Heartside Historic District (Boundary Increase) - Grand Rapids
Sisters of the Order of Saint Dominic Motherhouse Complex -Grand Rapids
Iron Mountain Veterans Administration Hospital - Iron Mountain
Gibson, Inc. Factory and Office - Kalamazoo
Parkwyn Village - Kalamazoo
Upjohn Company Office Building - Kalamazoo
Fishtown Historic District - Leland Township
East Ludington Avenue Historic District - Ludington
Michigan Central Railroad Middleville Depot - Middleville
Nathan Esek and Sarah Emergene Sutton House - Northfield Township
Elmer R. Webster School - Pontiac
Saugatuck Gap Filler Annex - Saugatuck
Vicksburg Historic District - Vicksburg
Upjohn Company Office Building, Kalamazoo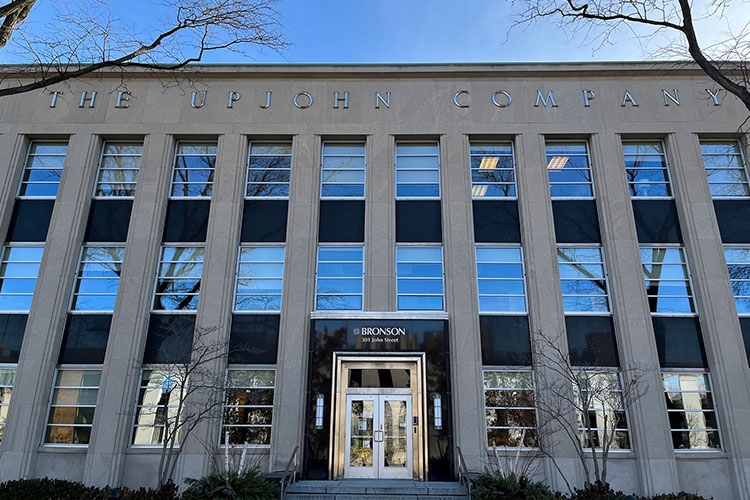 The Kalamazoo area may be known for its modern Pfizer pharmaceutical plants today, but it all started with physician W. E. Upjohn in 1885. The Upjohn Pill and Granule Company's new "friable" pills were an immediate success and the company boomed. By the 1930s, the company employed 1,200 people and was a leader in pharmacology research and development. The 1935-built Office Building was designed by nationally acclaimed architect Albert Kahn during a period of dramatic growth in the company. Primary business, research, and investment decisions were made and carried out in the offices and general spaces of this building. Designed in a restrained Art Moderne motif, the Upjohn Company Office Building is one of the few remaining, largely intact examples of Kahn's work in Kalamazoo, and an important example of Kahn's approach to large corporate office buildings in the 1930s.

"I knew this was a special building when I worked for Upjohn in the 1970s, but I didn't yet know why," said Pamela Hall O'Connor, author of the building's National Register nomination. "l learned a good deal about its architect and architectural importance in the interim. But it was not until I began the nomination work that I really learned about Upjohn's early investment in research, and how that took the company from a small regional concern to global manufacturer status. As well, Upjohn's influence on Kalamazoo is profound and continues today.

"Now owned by and under the stewardship of Bronson Hospital, it continues its use as administrative offices – the best possible outcome for a National Register property, and its continuing presence at the tip of a large triangle of land that once held all of Upjohn's operations – helps tell that story," Hall O'Connor said.

Civil Rights Sites, Detroit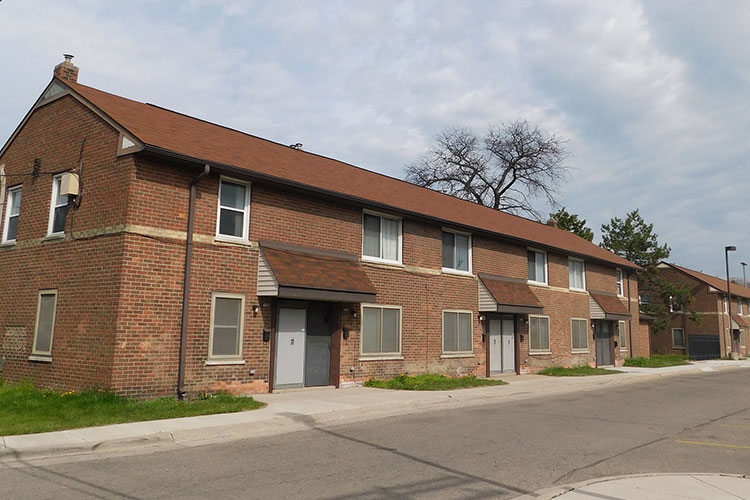 Starting in the 1910s, African Americans in many southern states began to migrate north in search of jobs and to escape the repressive Jim Crow society. This migration accelerated as the United States entered World War II, and Detroit's Arsenal of Democracy began building parts for tanks, planes, and weapons. Repressive and discriminatory policies severely limited the places African Americans could live, even in Michigan. Completion of the Sojourner Truth Homes complex represented a significant step forward in the quest for fair housing, fair employment, and equal treatment. The housing complex was designated for Black tenants sparking protest from the surrounding White neighborhood residents and igniting a passionate demand for equity in housing from the Black community.

Black homeownership was equally challenged. Restrictive racial covenants, redlining maps, and similar policies made Black homeownership almost unattainable. In 1944, the McGhee family, who were Black, sought to purchase a house on Seebaldt Street in an all-White Detroit neighborhood. A neighboring family won a court order revoking the McGhees' purchase of the house on the basis of a restrictive covenant forbidding non-White residents. The McGhees, aided by the NAACP and represented by Thurgood Marshall, appealed the case to the U.S. Supreme Court. The court's 1948 decision in favor of the McGhees upheld the principle of freedom from discrimination in the enjoyment of property rights.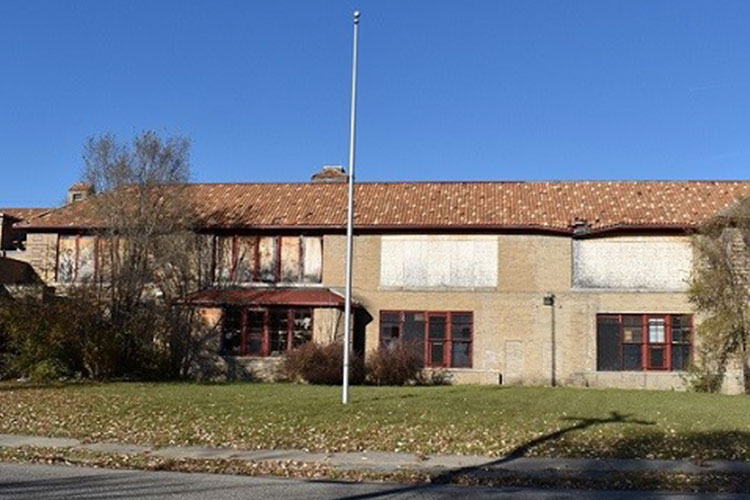 William Higginbotham Elementary School was built in phases between 1927 and 1948 to bring modern education facilities to the largely African American neighborhood known as 8 Mile-Wyoming. In Detroit as in many other cities, the segregation of educational resources was widespread, resulting in overcrowding and lack of investment in minority school facilities. Higginbotham School was constructed with the same quality of materials, amenities, and design as the dozens of other public schools built in Detroit at that time. The school's excellent elementary education for African American children developed talented students who became noted residents from Detroit and recognized nationally. Higginbotham School is listed for its significance in education, civil rights, and architecture.

East Ludington Avenue Historic District, Ludington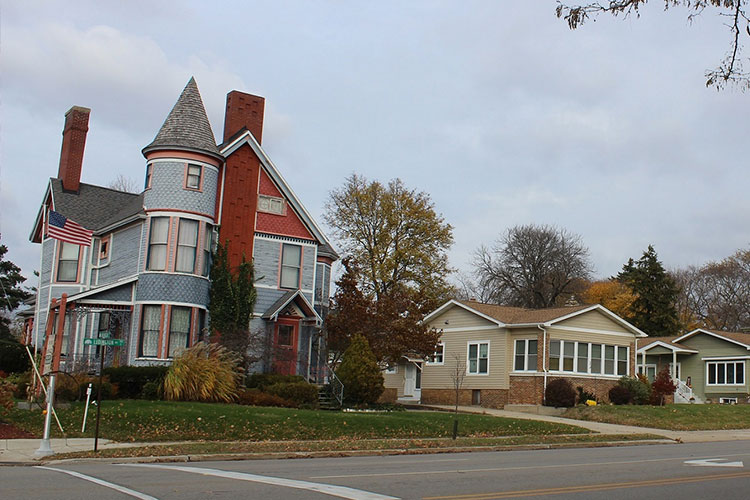 Among the historic districts added to the National Register is Ludington's East Ludington Avenue district, spanning five blocks from Delia to Staffon Streets. The district is centered on the main gateway to the city from the east along US-10 and continues to be a prestigious address. The district is significant for its role in the local tourism industry and for its architecture, including primarily high-style buildings that illustrate national architectural trends during the period from 1872 to 1959. A walk through the district reveals homes in a variety of architectural styles including Italianate, Queen Anne, Neoclassical, Craftsman, and midcentury motels reflecting the aesthetics of the Ranch style.

"Having the beautiful historic homes along East Ludington Avenue be recognized by the National Register of Historic Places has been a dream of mine for some time," said Raymond Madsen, sponsor of the district. "Initially many homeowners were wary about the idea but after learning more about what this designation entailed from the State Historic Preservation Office, they uniformly supported the effort. Now that it has become a reality, I am happy to report that the entire community has become more aware of our local history and is eager to share it with Ludington's many summer visitors."

Properties listed in the Upper Peninsula
Across the 300-mile length of the Upper Peninsula, three properties also joined the National Register this year. In Sault Ste. Marie, the former Garfield School was built in 1898 of brownstone commonly found in the U.P. The building is in the early stages of conversion to affordable housing, which will add new density to an existing residential neighborhood east of downtown. Near rural Ewen, the Ernest J. and Edna Humphrey Farm was nominated for its association with Ontonagon County's lumber industry and for its Craftsman bungalow farmhouse. As a moderately-sized logging operation in the county, the barn was specifically constructed to house logging horses and is a rare example of a resource with a direct connection to the county's logging camps, which survive only as archaeological sites.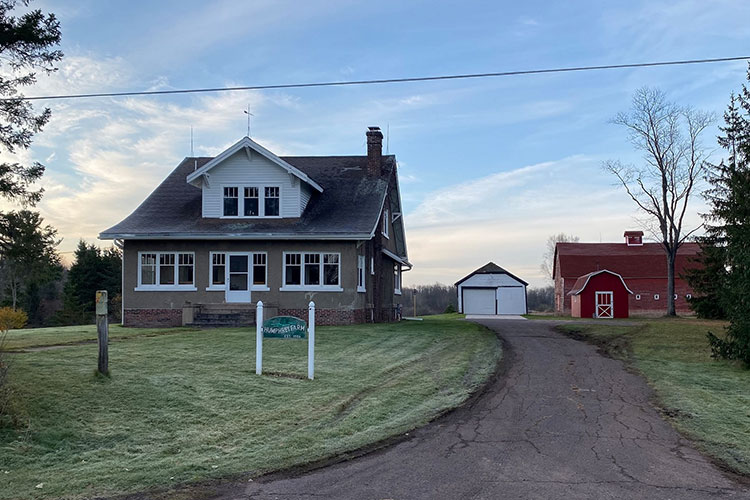 National Register nominations may be written by individuals, groups such as historical societies, or units of government, including the federal government itself. In Iron Mountain, the Iron Mountain Veterans Administration Hospital – known today as the Oscar G. Johnson VA Medical Center – was nominated by the VA directly as an example of a Third Generation Veterans Hospital, one among many constructed as part of a nationwide building campaign initiated in 1945 by VA to meet the overwhelming demand for modern healthcare facilities for veterans returning from World War II. Unlike many other VA hospitals from this time, Iron Mountain represents the federal government's commitment to providing medical care to veterans residing in predominately rural areas. Despite additions and modernization, the hospital continues to serve the Veteran population and retains its original form, scale, and materials.

To obtain copies of any of these National Register nominations, or high-resolution photos, contact preservation@michigan.gov.
Listing of a property in the National Register is honorary and places no restrictions on what a property owner may do. They are not required to open the site to the public nor to display a plaque acknowledging the listing, although many companies offer plaques to recognize the hard work and effort to get a property officially listed. In addition, listing in the National Register provides opportunities for promotion, makes available certain incentives like grants and tax credits that foster investment in our cities, towns, and villages, and allows for the consideration of historic resources when federal funding or permits are involved.

Focused on the historic preservation of culturally or archaeologically significant sites throughout the state, Michigan's State Historic Preservation Office's main function is to provide technical assistance to local communities and property owners in their efforts to identify, evaluate, designate, interpret and protect Michigan's historic above- and below-ground resources. SHPO also administers an incentives program that includes state and federal tax credits, and pass-through grants available to certified local governments.

For more information about the National Register of Historic Places program in Michigan, and on how to nominate a property, visit https://www.michigan.gov/nrhp
About Michigan Economic Development Corporation (MEDC)