Gov. Whitmer Holds Meetings with Global Executives to Sell Michigan as the Place to Grow Business, Create Good-Paying Jobs
Thursday, January 19, 2023
DAVOS, Switz. – Governor Gretchen Whitmer spent the final two full days of her Europe investment mission at the World Economic Forum in Davos, where she participated in forums on sustainability, mobility, and the role of executive leadership.

"The World Economic Forum is a unique opportunity for Michigan to connect with leaders to discuss bringing jobs to Michigan and promote the state's efforts to elevate our mobility and sustainability initiatives," Governor Whitmer said. "We're showing the world what we have to offer, demonstrating our leadership in cars, chips, and clean energy, and proving that the best manufacturing in the world happens right here in Michigan." 

On Wednesday, Governor Whitmer participated in a lunch discussion, "How to Restart Global Cooperation," which featured world leaders in government, business, and philanthropy. The governor also held a number of one-on-one meetings with government officials and executives from companies including Volvo, ABB Group, Bosch, Siemens, and others. Thursday's sessions featuring the governor included "Next Generation Industrial Strategies" and "Automotive and New Mobility Governors Public Sector Dialogue."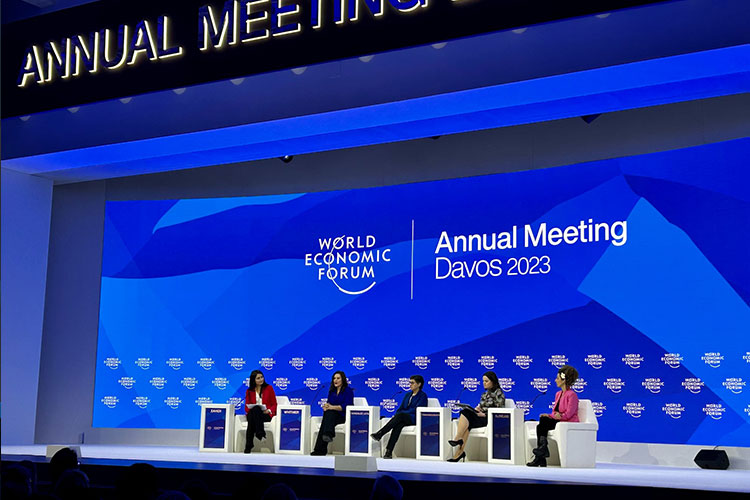 In May 2022, Governor Whitmer announced Michigan Strategic Fund approval of funding to secure the World Economic Forum's first US Centre for Advanced Manufacturing focused solely on the future of manufacturing, solidify Michigan's position as the manufacturing capital of the United States. The center is hosted at Automation Alley in Troy and is a partnership between the World Economic Forum, Automation Alley, Oakland County and the State of Michigan. 

"Michigan is the epicenter of manufacturing in the US. That is why the World Economic Forum chose Michigan as the site for the US Centre for Advanced Manufacturing. We are a two-way communication system for elevating local successes here in Michigan and across the US to the global level and, inversely, carrying global stories back to the US for adaptation," said Cynthia Hutchison, CEO of the US Centre for Advanced Manufacturing. "As a community, we're harnessing the power of people and technology through our work, building an ecosystem to accelerate digital transformation within industry."

The goals of the Centre focus solely on the future of manufacturing and help solidify Michigan's position as the manufacturing capitol of the United States. By leveraging and extending the global reach and knowledge of the Forum, the Centre is in a strong position to influence the national, regional, and global agenda on advanced manufacturing.  

"The US Centre for Advanced Manufacturing is proud to be a part of Michigan's manufacturing story and a key driver of Industry 4.0 innovation in the United States," said Automation Alley Executive Director and CEO Tom Kelly. "We thank Governor Whitmer for her support in highlighting our efforts on the global stage at Davos."

The World Economic Forum, established in 1971, is an international, nonprofit organization that engages the foremost political, business, cultural, and other leaders of society to shape global, regional, and industry agendas.

Governor Whitmer departed for Europe on a five-day investment mission to Norway and Switzerland, focusing on attracting job-creating business investments, particularly in Michigan's next-generation of automotive manufacturing and clean energy independence ecosystem.

This marks the first economic development visit to Europe under the governor's administration; the first-ever governor-led mission to Norway in recent history; and the first Michigan governor trip to Switzerland since 2016. The governor was joined in Norway by Michigan Economic Development Corporation CEO Quentin L. Messer Jr. and other MEDC officials.

Norway, located in Northern Europe, is bordered by Sweden, Finland and Russia. It is home to some 5.4 million people. Switzerland, located in Central Europe, is bordered by Italy, France, Germany, and Austria, and has a population of approximately 8.7 million. Business leaders and economists estimate large potential growth opportunities for Michigan in Norway and Switzerland: 
Between 2018 and 2021, Michigan companies exported a total of $895 million in goods and materials to Switzerland and Norway, with transportation equipment as the top Michigan export to both countries. 


Overall, eight foreign direct investment projects were created in Michigan by Swiss and Norwegian companies between 2018 and 2022, resulting in a total of 161 jobs. Those projects generated a total capital investment of $39.8 million. 
About Michigan Economic Development Corporation (MEDC)