ZURICH, Switz. – Governor Gretchen Whitmer arrived in Zurich Tuesday morning to meet with Swiss companies to discuss investment opportunities and collaboration in global industries, including executives from the Swiss company Güdel AG, a Zurich-based manufacturer of high-precision machine components and provider of automation solutions. During the meeting, Governor Whitmer thanked the company for its continued growth and investment in Michigan, noting that Michigan has the largest concentration of European companies in the United States.

"In the past five years, European companies have invested more than $4 billion into Michigan," said Governor Whitmer. "Investments from companies including Güdel are key to our ongoing economic development, and we appreciate their vote of confidence in Michigan's talented workforce and strong business climate. Our future is bright, and thanks to companies like Güdel, we can continue growing our economy, bringing supply chains home, and securing good-paying jobs for Michiganders."

Following her meeting, Governor Whitmer joined executives from the mobility and semiconductor industries to speak on a panel, "The Return of Manufacturing," at the World Economic Forum Annual Meeting. The discussion focused on key challenges and opportunities for the industrial sector in the years ahead and what strategic priorities and partnerships should guide the work of the global manufacturing community.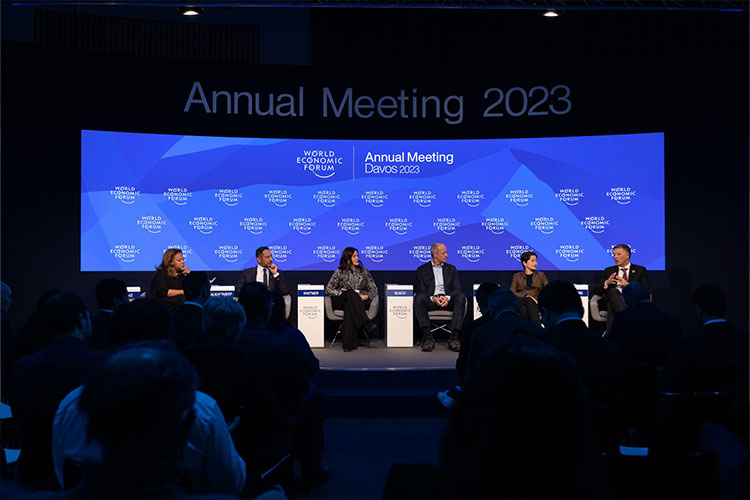 In May 2022, Governor Whitmer announced Michigan Strategic Fund approval of funding to secure the World Economic Forum's first US Centre for Advanced Manufacturing focused solely on the future of manufacturing, solidify Michigan's position as the manufacturing capital of the United States. The center is hosted at Automation Alley in Troy and is a partnership between the World Economic Forum, Automation Alley, Oakland County and the State of Michigan.

The goals of the Centre focus solely on the future of manufacturing and help solidify Michigan's position as the manufacturing capitol of the United States. By leveraging and extending the global reach and knowledge of the Forum, the Centre is in a strong position to influence the national, regional, and global agenda on advanced manufacturing.

"Michigan is the national leader for employment in industries related to Industry 4.0 and automation," Governor Whitmer said. "Since I took office, Michigan has announced more than 32,500 manufacturing and advanced mobility jobs, many building batteries, electric vehicle, or other advanced mobility products. These investments have cemented our status as the global epicenter of mobility and manufacturing, and as home to the Forum's only global Advanced Manufacturing Centre, we will build on that leadership, bringing in even more opportunity for workers and bolstering economic opportunity in every region of our state."

The World Economic Forum, established in 1971, is an international, nonprofit organization that engages the foremost political, business, cultural, and other leaders of society to shape global, regional, and industry agendas.

Governor Whitmer departed for Europe on a five-day investment mission to Norway and Switzerland, focusing on attracting job-creating business investments, particularly in Michigan's next-generation of automotive manufacturing and clean energy independence ecosystem. This marks the first economic development visit to Europe under the governor's administration; the first-ever governor-led mission to Norway in recent history; and the first Michigan governor trip to Switzerland since 2016. The governor was joined in Norway by Michigan Economic Development Corporation CEO Quentin L. Messer Jr. and other MEDC officials.

"Michigan is a model on the national and global stage in the convergence of advanced manufacturing and technology, and we're taking this opportunity to share firsthand with leaders from other countries how Team Michigan can strengthen our ties with them that enhance economic opportunities for Michiganders and Michigan businesses of all sizes," Messer said. 

Norway, located in Northern Europe, is bordered by Sweden, Finland and Russia. It is home to some 5.4 million people. Switzerland, located in Central Europe, is bordered by Italy, France, Germany, and Austria, and has a population of approximately 8.7 million. Business leaders and economists estimate large potential growth opportunities for Michigan in Norway and Switzerland: 
Between 2018 and 2021, Michigan companies exported a total of $895 million in goods and materials to Switzerland and Norway, with transportation equipment as the top Michigan export to both countries. 
Overall, eight foreign direct investment projects were created in Michigan by Swiss and Norwegian companies between 2018 and 2022, resulting in a total of 161 jobs. Those projects generated a total capital investment of $39.8 million.
About Michigan Economic Development Corporation (MEDC)