LANSING, Mich. – Today, Governor Gretchen Whitmer joined the Michigan Economic Development Corporation (MEDC) to announce state support for two business expansion projects expected to create a total of 155 new jobs and generate a total private investment of $12 million in the cities of Detroit and Fenton.

"Today's investments by wheel.me and Miller Industries will create 155 good-paying jobs as we continue growing our economy and investing in every region of the state," said Governor Whitmer. "We've added 100,000 jobs year over year and the Make it in Michigan plan I unveiled during my State of the State address last night will help us keep bringing jobs and supply chains home to create unparalleled economic opportunity for Michiganders in every county. Let's work together to ensure Michigan leads the way in advanced manufacturing and future mobility."

wheel.me™, established in Norway in 2013, is a robotics company that has created the world's first autonomous wheel. The company's smart wheels can turn almost anything into an autonomous robot, enabling businesses to automate their existing operations and improve automated material handling in manufacturing, logistics, warehouse operations, and elsewhere. The company has 75 employees worldwide.


wheel.me launched the first prototype of its autonomous robots in 2018 and has since grown rapidly and caught the attention of large companies globally. As its first international office in North America, they are now establishing their operations in a leased facility at the Michigan Central Innovation District in the Corktown neighborhood of Detroit. The office will house sales, operations, and supply chain to support customers throughout North America. The company's future plans also include constructing a manufacturing facility in Michigan.

The project is expected to generate a total capital investment of $1 million and create 40 high-wage jobs, supported by a $240,000 Michigan Business Development Program performance-based grant. wheel.me chose Michigan over competing sites in other states due to Michigan's leadership in automotive manufacturing and proximity to the company's stakeholders.

The project builds on the state's work to position itself as the global leader in high-tech innovation and the future of mobility while helping to ensure the company's long-term viability and future investment in Michigan.

"wheel.me is very grateful for the support from the Michigan Business Development Program. We are excited to create highly qualified jobs, help local businesses improve their competitiveness and create long term value with our unique technology," said wheel.me U.S. Director Rasmus Noraas Bendvold. We are looking forward to work closely with our great partners in the region, and welcome both local talent, SMEs and large companies to reach out to us."

In support of the project, the Detroit Regional Partnership is offering a promotional video and in-kind support including recruitment strategies, marketing support and introduction to talent recruitment and training providers.

Individuals interested in careers with wheel.me should visit https://www.wheel.me/join-us.

"There's a reason why international companies like wheel.me pick Detroit – we are at the center of advanced mobility and revolutionizing how the world moves," said Maureen Donohue Krauss, president and CEO of the Detroit Regional Partnership. "Attracting wheel.me is a big win for the region as they are pioneering cutting-edge autonomous wheel technology and offer first-of-their-kind mobility solutions to businesses. Michigan Central and the Book Depository are very quickly proving to be a magnet for world-class innovators."

Steel Fabricator Miller Industries Expanding In Fenton Township, Adding 115 Jobs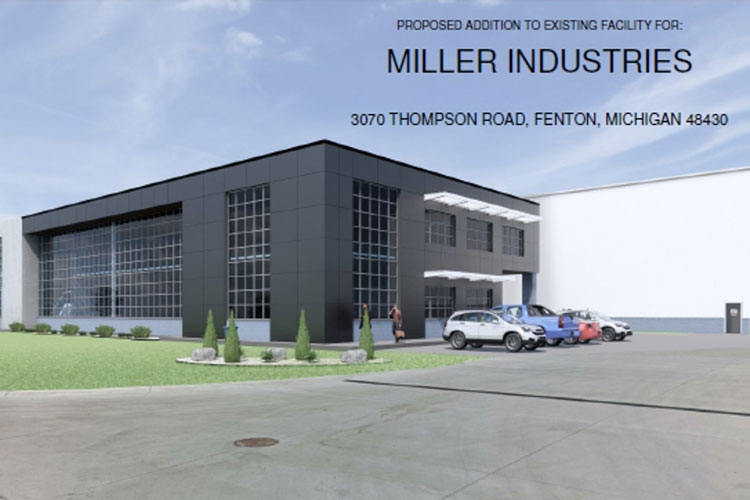 Miller Industries, LLC, a subsidiary of Miller Industries Holdings, specializes in custom steel fabrication and air supply systems and sales. The company also represents numerous national companies in heating, ventilation and air conditioning applications. Miller Industries is headquartered in Fenton Township and currently employs 150 Michigan residents.

The company continues to experience increased sales and plans to expand at its Fenton Township headquarters, where it will add manufacturing, warehouse, and office space. The expansion will also allow for extra capacity and high bays along with mechanical cranes. The project is expected to generate a total capital investment of $11 million and create 115 jobs, supported by a $450,000 Michigan Business Development Program performance-based grant. Michigan was chosen for the project over competing sites in Kentucky, Ohio and Tennessee.

Miller Industries supports personal growth of its employees by encouraging cross-training and promoting from within. The company utilizes Michigan Works! to reach local talent in disadvantaged areas and underrepresented employees. The project will bring a significant number of good-paying manufacturing jobs with a strong area employer and will also ensure the company's long-term viability and future growth in the region.

"Miller Industries is a family-owned company serving both local and international clients from its homebase in Genesee County," said Tyler Rossmaessler, executive director of Flint & Genesee Economic Alliance. "This is a great example of a business that has found success in leveraging our region's workforce and strong business climate. We are excited that they have decided to expand their footprint in Fenton Township and are here to support their continued growth and investment in our community."

Fenton Township has offered a property tax abatement in support of the project and also plans to support the company with staff time and resources. For information on careers with Miller Industries, visit https://millc.com/employment/.

"Miller Industries' expansion will provide an impressive update to our Thompson Road corridor and bring more jobs to our community," said Fenton Township Supervisor Vince Lorraine. "We are pleased that the company, which has been a major employer in Fenton Township for years, continues to grow here."

"The decisions by wheel.me to establish its North American operations in Detroit and Miller Industries to expand in Fenton highlight the enduring strength of Michigan's value proposition: talented workforce, diverse ecosystem of potential customers and suppliers, and the business environment focused on long-term economic growth," said Quentin L. Messer, Jr., CEO of MEDC and President and Chair of the MSF Board. "We are grateful to the Governor, bi-partisan legislative leaders and local officials for their continued support of the Michigan Business Development Program. The existence of the Michigan Business Development Program was vital in securing these two wins. These projects are representative of our holistic, people-first approach to economic development that rewards risk-takers while further securing Michigan's leadership in industries that will propel our economy into the future and benefit more Michiganders."
About Michigan Economic Development Corporation (MEDC)