Crowdfunding Campaign Launched for the "Enterprise Pocket Park" in Downtown Farmington
Friday, December 23, 2022
$75,000 goal to win matching grant through MEDC's Public Spaces Community Places initiative
LANSING, Mich. – Downtown Farmington will gain a new universally accessible pocket park through the anticipated success of a crowdfunding campaign, the Michigan Economic Development Corporation (MEDC) and Farmington Downtown Development Authority (DDA) announced today. The campaign is being offered through the Michigan-based crowdfunding platform Patronicity.

If the campaign reaches its crowdfunding goal of $75,000 by January 31, the project will win a matching grant with funds made possible by MEDC's Public Spaces Community Places program. For project details and to donate, please visit: patronicity.com/farmington.

"This project will breathe new life into an underutilized space by creating a pocket park with an inclusive and accessible design that the entire community can enjoy," said MEDC Executive Vice President of Economic Development Incentives Michele Wildman. "We are pleased to support and provide resources for this project through our Public Spaces Community Places program."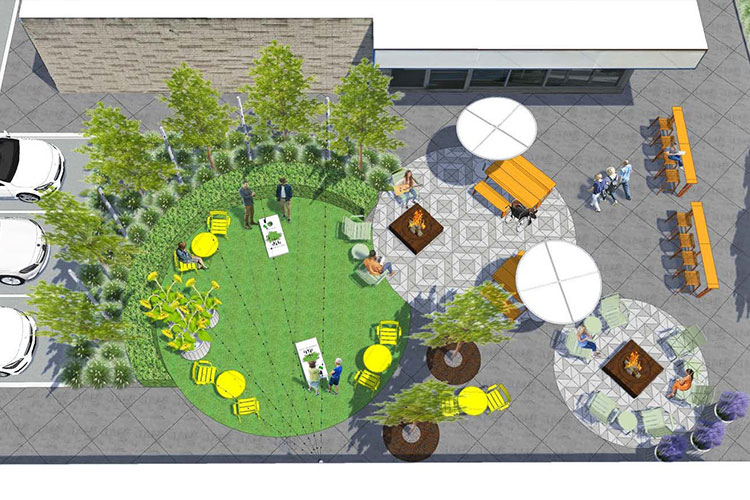 This project will transform an old, tired asphalt space into a vibrant, green, warm, lighted park space. The Farmington DDA has worked with the Disability Network of Eastern Michigan (DNEM) and Grissim Metz Andriese to ensure that this new space meets the principles of universal design and is accessible to all users of all abilities.

The Enterprise Pocket Park will feature a public art installation, overhead string lighting, firepits, outdoor seating, and greenspace complete with turf, trees, and planters. This new space will welcome locals and visitors alike and support the small businesses in the area, providing a public gathering area for everything from Farmington Community Library story hours, to hosting live jazz trios, to meeting your neighbors for a cheesesteak, pint, or a smoothie.

"The investment of placemaking development resources in our local community through this matching MEDC grant makes this project possible. The matching structure, incorporating so many local voices through small-dollar pledges, recognizes the strength of our volunteer passion and the high priority Farmington places on public spaces we can all enjoy," said Farmington Downtown Development Authority Director Kate Knight. "Each time we tell this story and make the ask, it becomes more natural, as the response has been overwhelmingly positive: When will it be ready? Can you give me a flyer to put up in my business? I love the design and illustration. How can I help?"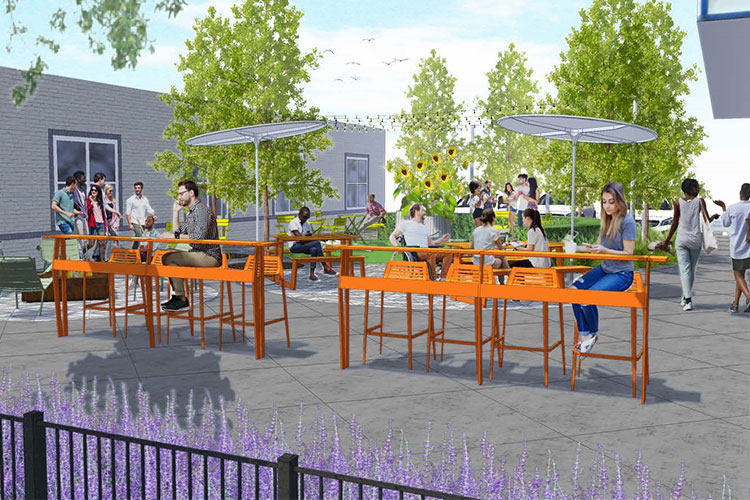 Public Spaces Community Places is a collaborative effort of the MEDC, the Michigan Municipal League, and Patronicity, in which local residents can use crowdfunding to be part of the development of strategic projects in their communities and be backed with a matching grant from MEDC. Communities, nonprofits and other business entities can apply at https://patronicity.com/puremichigan.

"The Michigan Municipal League is a firm believer in the importance of building community wealth," said Dan Gilmartin, CEO and Executive Director of the League. "This pocket park will improve the human experience for all in the Farmington community and create a positive impact for generations to come. This is really what community wealth building is all about."

The Public Spaces Community Places initiative started in 2014 with MEDC providing matched funding of up to $50,000 for community improvement projects throughout Michigan. As of Dec. 19, 2022, MEDC has provided more than $10.9 million in matching grants. Since the launch of the program, 335 projects have been successful in reaching their goal, with $12.6 million raised from 59,519 individual donors. Communities have a 97 percent success rate in achieving their goals and earning matching funds.
About Michigan Economic Development Corporation (MEDC)