Crowdfunding Campaign Launched for 'Watervliet Pocket Park Activation' Project
Thursday, November 17, 2022
$50,000 goal to win matching grant through MEDC's Public Spaces Community Places initiative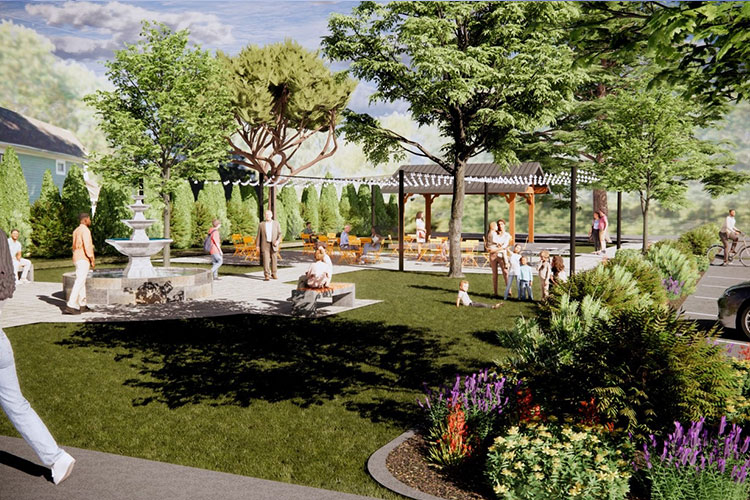 LANSING, Mich. – Downtown Watervliet will soon gain a new pocket park and gathering space through the anticipated success of a crowdfunding campaign, the Michigan Economic Development Corporation (MEDC), city of Watervliet, Watervliet Downtown Development Authority, and Cornerstone Alliance announced today. The campaign is being offered through the Michigan-based crowdfunding platform Patronicity.

If the campaign reaches its crowdfunding goal of $50,000 by December 31, the project will win a matching grant with funds made possible by MEDC's Public Spaces Community Places program. For project details and to donate, please visit: patronicity.com/wpp.

"This pocket park will transform a vacant lot into a vibrant, inviting gathering space in downtown Watervliet for the entire community to enjoy," said MEDC Executive Vice President of Economic Development Incentives Michele Wildman. "We are pleased to support and provide resources for this project through our Public Spaces Community Places program."

This project will transform a long empty lot into a public gathering space, complete with a pavilion, accessible seating, atmospheric lighting, a decorative fountain, games, and extensive landscaping. The concept draws on plans set forth in the city's plan for downtown Watervliet. The plan aims to increase public activity and feature amenities that enhance Main Street and provide opportunities to develop festivities and events on a year-round basis.

The pocket park will support public gatherings and programming such as a summer concert series, pop-up markets, food truck rallies, festivals, farmers markets, and holiday celebrations. The surrounding neighborhood features many shops, restaurants, and taverns, all of which stand to benefit from the added activity this park will bring to Main Street. It will also be possible for nearby establishments to activate the space as outdoor seating, or for other events. There are unlimited possibilities and benefits for this vibrant space.

"Compelling public spaces that are well-designed and robustly programmed are economic drivers for nearby businesses, and they help ensure that our communities are places where employers can attract and retain talent," said Andrew Haan, Cornerstone Alliance Vice President of Business Development. "The ability to leverage our organizational resources with local and state dollars to improve Berrien County is an incredible opportunity to accelerate growth."

Public Spaces Community Places is a collaborative effort of the MEDC, the Michigan Municipal League, and Patronicity, in which local residents can use crowdfunding to be part of the development of strategic projects in their communities and be backed with a matching grant from MEDC. Communities, nonprofits and other business entities can apply at https://patronicity.com/puremichigan.

"The Michigan Municipal League is a firm believer in building community wealth," said Dan Gilmartin, CEO and Executive Director of the League. "This new park will provide a positive impact on the Watervliet community for generations to come, which is what community wealth building is really all about. The opportunity for a variety of events speaks directly to the arts and culture pillar of community wealth building."

The Public Spaces Community Places initiative started in 2014 with MEDC providing matched funding of up to $50,000 for community improvement projects throughout Michigan. As of Nov. 14, 2022, MEDC has provided more than $10.8 million in matching grants. Since the launch of the program, 332 projects have been successful in reaching their goal, with $12.5 million raised from 59,058 individual donors. Communities have a 97 percent success rate in achieving their goals and earning matching funds.
About Michigan Economic Development Corporation (MEDC)