Crowdfunding Campaign Launched for "Four Seasons at Dyckman Park" Project in South Haven
$40,000 goal to win matching grant through MEDC's Public Spaces Community Places initiative
LANSING, Mich. – Dyckman Park in downtown South Haven will soon gain a year-round gathering space and fireplace through the anticipated success of a crowdfunding campaign, the Michigan Economic Development Corporation (MEDC) and city of South Haven announced today. The campaign is being offered through the Michigan-based crowdfunding platform Patronicity.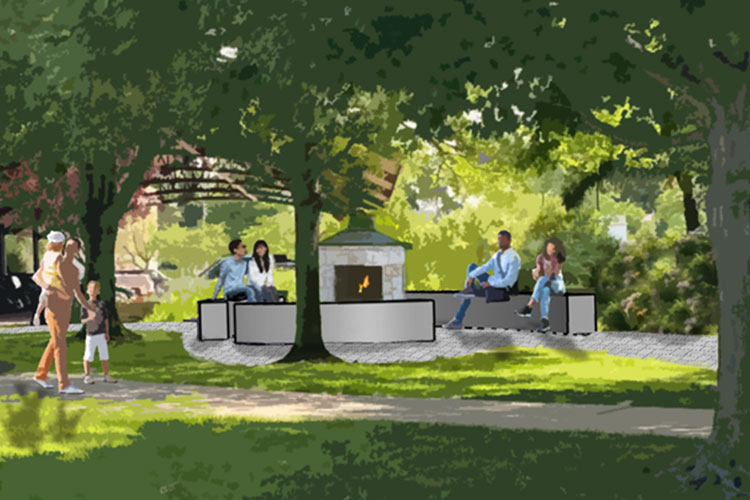 If the campaign reaches its crowdfunding goal of $40,000 by December 2, the project will win a matching grant with funds made possible by MEDC's Public Spaces Community Places program. For project details and to donate, please visit: patronicity.com/southhaven.

"Creating and enhancing spaces that allow for year-round communal gathering and activity is what our program is all about," said MEDC Executive Vice President of Economic Development Incentives Michele Wildman. "We are pleased to support and provide resources for this project through our Public Spaces Community Places program."

This project will increase the utilization of an important downtown park next to the public pavilion, which hosts the farmers market in the summer and ice-skating rink in the winter. The campaign will activate Dyckman Park with a new outdoor fireplace and seating, and strategically link activities to the downtown via a pleasant walkway and public gathering space that would be open and accessible to the whole community.

"The SHOUT Organization is excited to continue its legacy of supporting public spaces in South Haven, and we encourage others to do the same," said SHOUT for South Haven President Bob Copping. "The MEDC's Public Spaces Community Places Program will match the dollars raised locally to help advance this transformative, SHOUT-inspired project in Dyckman Park."

"This project supports the city of South Haven's Economic Development Strategic Plan by contributing to a strong downtown and year-round economy. Moreover, community gathering places like this contribute to a sense of community pride and togetherness," said South Haven Assistant City Manager Griffin Graham.

Public Spaces Community Places is a collaborative effort of the MEDC, the Michigan Municipal League, and Patronicity, in which local residents can use crowdfunding to be part of the development of strategic projects in their communities and be backed with a matching grant from MEDC. Communities, nonprofits and other business entities can apply at https://patronicity.com/puremichigan.

"The Michigan Municipal League is a firm believer in the importance of community wealth building," said Dan Gilmartin, CEO and Executive Director of the League. "The creation of this space for the South Haven community will serve the community for generations to come and improve the human experience for all, which is what community wealth building is all about."

The Public Spaces Community Places initiative started in 2014 with MEDC providing matched funding of up to $50,000 for community improvement projects throughout Michigan. As of Sept. 30, 2022, MEDC has provided more than $10.7 million in matching grants. Since the launch of the program, 328 projects have been successful in reaching their goal, with $12.3 million raised from 58,468 individual donors. Communities have a 97 percent success rate in achieving their goals and earning our matching funds.
About Michigan Economic Development Corporation (MEDC)