Crowdfunding Campaign Launched for the "Community Internet in Detroit" Project
Thursday, October 13, 2022
$5,000 goal to win matching grant through MEDC's Public Spaces Community Places initiative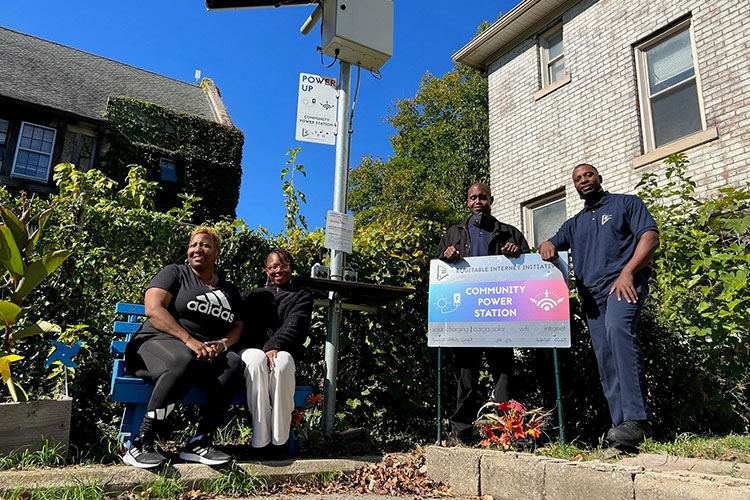 LANSING, Mich. – The Islandview neighborhood in Detroit will soon gain communal internet and a gathering space through the anticipated success of a crowdfunding campaign, the Michigan Economic Development Corporation (MEDC) and Detroit Community Technology Project (DCTP) announced today. The campaign is being offered through the Michigan-based crowdfunding platform Patronicity.

If the campaign reaches its crowdfunding goal of $5,000 by November 30, the project will win a matching grant with funds made possible by MEDC's Public Spaces Community Places program. For project details and to donate, please visit: patronicity.com/internet.

"Having reliable internet access is crucial in today's world, and this project not only brings this vital resource to the Islandview neighborhood, but it also activates a community space for residents to gather and enjoy," said MEDC Executive Vice President of Economic Development Incentives Michele Wildman. "We are pleased to support and provide resources for this project through our Public Spaces Community Places program."

In 2016, The Detroit Community Technology Project and BLVD Harambee, along with two other Detroit organizations, launched the Equitable Internet Initiative (EII) after recognizing that many Detroiters are without access to a stable high-speed internet connection in their home. BLVD Harambee EII is leading the "Community Internet in Detroit" project on the ground and will activate the currently underused solar charging stations in the Islandview neighborhood.

This campaign will create seating with benches, tables, and shades, place signage around the stations directing residents and providing suggested uses, purchase a 10-year celebration plaque, and purchase garbage and recycling bins to beautify and create usable space at the stations. At the solar charging stations, residents will be able to charge their devices and connect to the internet via a hotspot. They will also have access to an intranet connection where residents can communicate with one another and share resources. This creates opportunities for students to do their coursework, adults to search and apply for jobs, and neighbors to enjoy more public space in their neighborhood.

"Being selected for the Public Spaces Community Places grant program is timely as Detroit rapidly develops. With this money, we can execute community projects that center on community needs and make visible efforts to reach toward one another to ensure no one in Islandview is left behind. Someone is thinking about them and cares," said Detroit Community Technology Project Communications and Culture Manager Leon Hister.

Public Spaces Community Places is a collaborative effort of the MEDC, the Michigan Municipal League, and Patronicity, in which local residents can use crowdfunding to be part of the development of strategic projects in their communities and be backed with a matching grant from MEDC. Communities, nonprofits and other business entities can apply at https://patronicity.com/puremichigan.

"The Michigan Municipal League is a firm believer in the importance of community wealth building," said Dan Gilmartin, CEO and Executive Director of the League. "This gathering space will create a positive impact on the Islandview community for generations to come, which is really what community wealth building is all about."

The Public Spaces Community Places initiative started in 2014 with MEDC providing matched funding of up to $50,000 for community improvement projects throughout Michigan. As of Sept. 30, 2022, MEDC has provided more than $10.7 million in matching grants. Since the launch of the program, 328 projects have been successful in reaching their goal, with $12.3 million raised from 58,468 individual donors. Communities have a 97 percent success rate in achieving their goals and earning our matching funds.
About Michigan Economic Development Corporation (MEDC)