Crowdfunding Campaign Launched for "We are PickleballERs" in Eaton Rapids
$30,000 goal to win matching grant through MEDC's Public Spaces Community Places initiative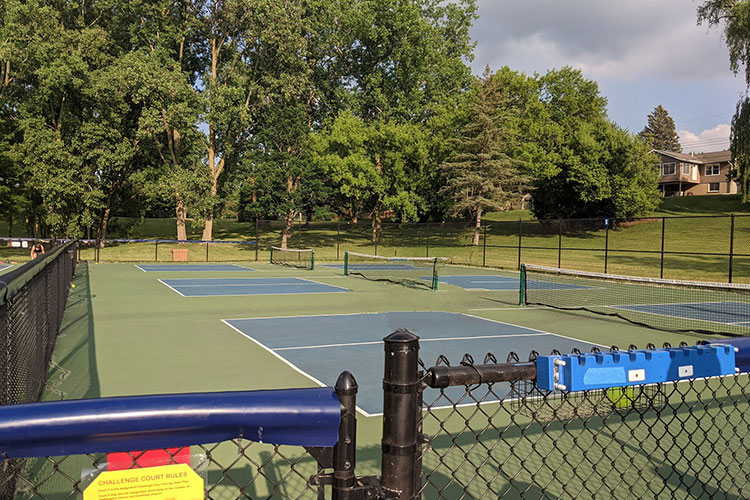 LANSING, Mich. – The community of Eaton Rapids will soon be home to four new pickleball courts through the anticipated success of a crowdfunding campaign, the Michigan Economic Development Corporation (MEDC), Eaton Rapids Athletic Booster Club, We Are PickleballERs Club and Eaton Rapids Community Schools announced today. The campaign is being offered through the Michigan-based crowdfunding platform Patronicity.

If the campaign reaches its crowdfunding goal of $30,000 by September 8, the project will win a matching grant with funds made possible by MEDC's Public Spaces Community Places program. For project details and to donate, please visit: patronicity.com/er.

"Pickleball is a great sport that is bringing generations together to play and improve their health and well-being," said MEDC Executive Vice President of Economic Development Incentives Michele Wildman. "We are pleased to support and provide resources for this project through our Public Spaces Community Places program."




In an effort to bring pickleball to Eaton Rapids, a group of residents formed the "We Are PickleballERs" Club and partnered with the Eaton Rapids Athletic Booster Club to start fundraising. Their goal is to raise funding to install three to four courts at the Eaton Rapids Athletic Complex across from the high school. Currently, the closest courts for Eaton Rapids community members to play pickleball on are 12-15 miles away. This campaign will complete the project and help the residents of Eaton Rapids enjoy the fastest-growing sport in America.

"The matching grant through the Public Spaces Community Places will make it possible to double the number of Pickleball courts that the We Are PickleballERs Club plans to build at the Eaton Rapids Athletic Complex," said We Are PickleballERs Club President Joe Mitchell. "Partnering with the Eaton Rapids Athletic Boosters Club and community support will also allow us to achieve this dream for the citizens of Eaton Rapids."

Public Spaces Community Places is a collaborative effort of the MEDC, the Michigan Municipal League, and Patronicity, in which local residents can use crowdfunding to be part of the development of strategic projects in their communities and be backed with a matching grant from MEDC. Communities, nonprofits and other business entities can apply at https://patronicity.com/puremichigan.

"The Michigan Municipal League is a strong believer in the importance of community wealth building," said Dan Gilmartin, Executive Director and CEO of the League. "These pickleball courts are a great example of the public health pillar of community wealth building. They will have a positive impact on the community for generations to come and improve the human experience for all, which is what community wealth building is all about."

The Public Spaces Community Places initiative started in 2014 with MEDC providing matched funding of up to $50,000 for community improvement projects throughout Michigan. As of July 31, 2022, MEDC has provided more than $10.4 million in matching grants. Since the launch of the program, 319 projects have been successful in reaching their goal, with more than $12 million raised from 55,312 individual donors. Communities have a 97 percent success rate in achieving their goals and earning our matching funds.
About Michigan Economic Development Corporation (MEDC)