Crowdfunding Campaign Launched for 'Kids Cove – All Inclusive Playground' in Marquette
$50,000 goal to win matching grant through MEDC's Public Spaces Community Places initiative
LANSING, Mich. – Marquette will soon be home to Kids Cove – an accessible play space that will meet the needs of the widest spectrum of users – through the anticipated success of a crowdfunding campaign, the Michigan Economic Development Corporation (MEDC), Marquette Playgrounds for All Committee, Community Foundation of Marquette County, and city of Marquette announced today. The campaign is being offered through the Michigan-based crowdfunding platform Patronicity.

If the campaign reaches its crowdfunding goal of $50,000 by September 28, the project will win a matching grant with funds made possible by MEDC's Public Spaces Community Places program. For project details and to donate, please visit: patronicity.com/kidscove.

"Kids Cove will transform underused space into an inclusive, safe and accessible playground that can be enjoyed by kids of all abilities," said MEDC Executive Vice President of Economic Development Incentives Michele Wildman. "We are pleased to support and provide resources for this project through our Public Spaces Community Places program."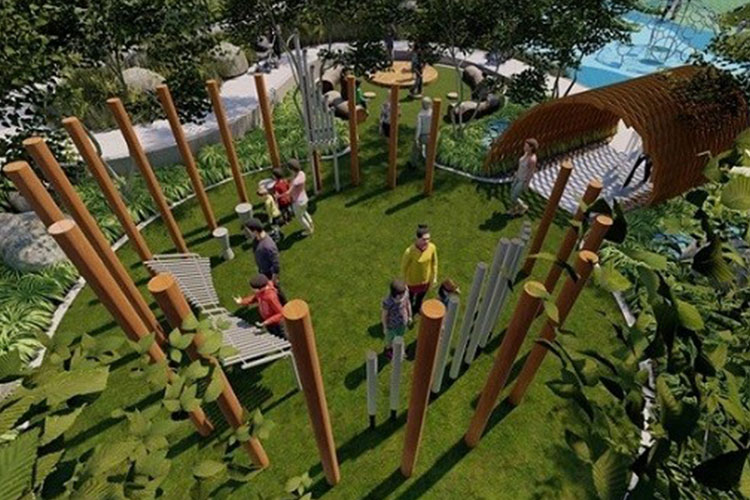 The new playground will enhance underutilized space at Mattson Park and, utilizing universal design concepts, will provide a needed play and exercise opportunity for children of all abilities. Providing a barrier-free, recreational opportunity for children that adult caretakers can navigate easily. All-inclusive play provides children with the opportunity to experience the world through multiple lenses, no matter what their abilities are.

"Our dream is to build a playground where no child is excluded, where every child can play together, laugh together, and build friendships. A playground that will delight every family and be a treasure of inclusivity in our community encouraging differences to melt away," said Nheena Ittner, executive director of the Children's Museum. "We are so close to our goal and with the help of the MEDC through this Patronicity campaign our dream will become reality, gaining the final funds needed with their generous match."

Public Spaces Community Places is a collaborative effort of the MEDC, the Michigan Municipal League, and Patronicity, in which local residents can use crowdfunding to be part of the development of strategic projects in their communities and be backed with a matching grant from MEDC. Communities, nonprofits and other business entities can apply at https://patronicity.com/puremichigan.

"The Michigan Municipal League is a firm believer in the importance of community wealth building," said Executive Director and CEO Dan Gilmartin. "This playground is a great example of public health as well as trust and belonging. It will have a lasting impact on the families of the community for generations to come, which is what community wealth building is all about."

The Public Spaces Community Places initiative started in 2014 with MEDC providing matched funding of up to $50,000 for community improvement projects throughout Michigan. As of July 31, 2022, MEDC has provided more than $10.4 million in matching grants. Since the launch of the program, 319 projects have been successful in reaching their goal, with more than $12 million raised from 55,312 individual donors. Communities have a 97 percent success rate in achieving their goals and earning our matching funds.
About Michigan Economic Development Corporation (MEDC)