$50,000 goal to win matching grant through MEDC's Public Spaces Community Places initiative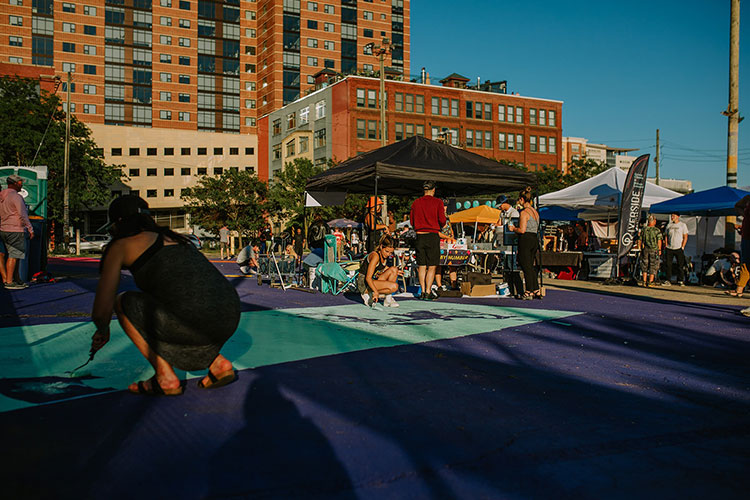 LANSING, Mich. – The neighborhoods of Midtown and North Quarter in Grand Rapids will soon be home to at least four new public art projects, five market space events, and one celebratory block party through the anticipated success of a crowdfunding campaign, the Michigan Economic Development Corporation (MEDC) and local nonprofit Lions & Rabbits Center for the Arts (LRCFA) announced today. The campaign is being offered through the Michigan-based crowdfunding platform Patronicity.

If the campaign reaches its crowdfunding goal of $50,000 by September 5, the project will win a matching grant with funds made possible by MEDC's Public Spaces Community Places program. For project details and to donate, please visit: patronicity.com/AD22.

"After Dark's model of public art participation serves to drive economic activity in our communities, while uniting local artists, businesses, and community members," said MEDC Executive Vice President of Economic Development Incentives Michele Wildman. "We are pleased to support and provide resources for this project through our Public Spaces Community Places program."

This campaign will fund After Dark programs in Midtown and the North Quarter of Grand Rapids. Funding will ensure that LRCFA is fully equipped to support each artist and event by covering artist compensation, high-quality materials, artist training and professional development, live entertainment, activities, and art for the block parties and markets.

After Dark gives local artists paid opportunities, brings awareness to a variety of local businesses, and engages community members with exciting events and impactful public art. Past block parties have included live music, food and drink, artist, business, and nonprofit vendors, and activities like a dunk tank and a "mural Guess Who." This latest project will include similar types of activities.

This is the fifth "After Dark" project Lions & Rabbits Center for the Arts has conducted around different Grand Rapids neighborhoods. The previous four projects all received support through MEDC's Public Spaces Community Places program.

"Our donors know their support is going to a great cause and making an even bigger impact on public art through the MEDC match," said Jarran Fountain of LRCFA. "The end goal of everything we do as an organization is present in our After Dark programming and our campaigns make people excited to get involved and donate."

Public Spaces Community Places is a collaborative effort of the MEDC, the Michigan Municipal League, and Patronicity, in which local residents can use crowdfunding to be part of the development of strategic projects in their communities and be backed with a matching grant from MEDC. Communities, nonprofits and other business entities can apply at https://patronicity.com/puremichigan.

"The Michigan Municipal League firmly believes in the importance of building community wealth," said Dan Gilmartin, CEO and Executive Director of the League. "After Dark speaks directly to multiple of community wealth buildings pillars including arts and culture as well as trust and belonging. It will improve the human experience for all for generations to come, which is what community wealth building is all about."

The Public Spaces Community Places initiative started in 2014 with MEDC providing matched funding of up to $50,000 for community improvement projects throughout Michigan. As of July 31, 2022, MEDC has provided more than $10.4 million in matching grants. Since the launch of the program, 319 projects have been successful in reaching their goal, with more than $12 million raised from 55,312 individual donors. Communities have a 97 percent success rate in achieving their goals and earning our matching funds.
About Michigan Economic Development Corporation (MEDC)