LANSING, Mich. – Fourteen historic Michigan properties were given special recognition in the first half of 2022 through their listing in the National Register of Historic Places, the Michigan Economic Development Corporation has announced. Administered in Michigan by the State Historic Preservation Office (SHPO), the National Register of Historic Places is the United States federal government's official list of districts, sites, buildings, structures, and objects deemed worthy of preservation for their historic significance.

"From Detroit to the Soo and from individual properties to complexes and historic districts, these historic properties tell the stories of our communities, our state, and our nation. They illustrate our shared history, foster a sense of pride in our communities, provide recognition of our historic places, and generate investment and economic activity," said Deputy State Historic Preservation Officer Martha MacFarlane-Faes. "SHPO is honored to join with so many people and communities across the state in celebrating a diverse group of properties that have been listed in the National Register of Historic Places in Michigan in 2022."

More than 96,000 properties across the country, including nearly 2,000 in Michigan, have been listed in the National Register since the program began in the 1960s. The National Register is a program of the National Park Service and is administered by the states.

To be considered for listing in the National Register, a property must generally be at least 50 years old, and must also be significant when evaluated in relationship to major historical events or trends in the history of their community, the state, or the nation. A property must also possess historic integrity – the ability to convey its significance. The properties newly listed in the National Register are identified below.

The following Michigan properties were listed in the National Register in the first half of 2022: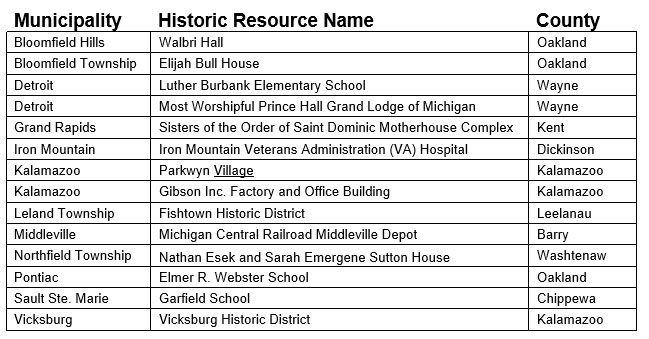 Fishtown Historic District, Leland, Leelanau County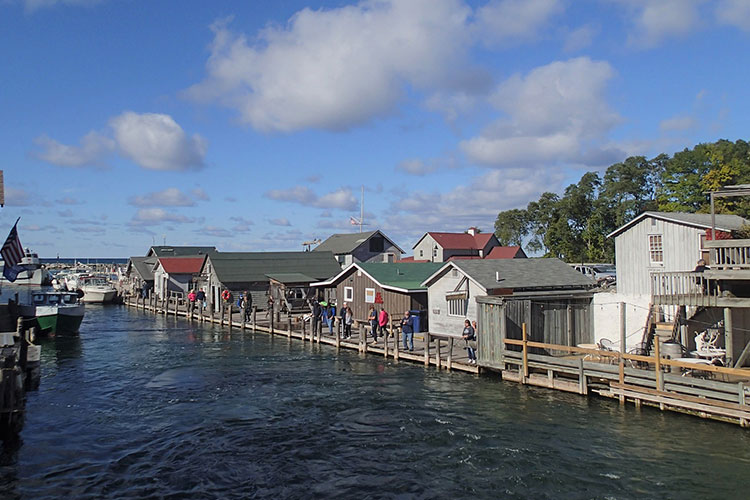 The Fishtown Historic District is significant as a Traditional Cultural Property with the themes of maritime history and commerce at the state level of significance. Fishtown is a rare surviving Great Lakes commercial fishing village that preserves the history and vernacular architecture of Michigan's important and endangered commercial fishing heritage. The district is more than individual buildings and structures, it is also an authentic cultural landscape. Its intimate character derives from the clustering of structures along both banks of its defining feature, the Leland River. The river in turn serves as a gateway to Lake Michigan fishing grounds and the Manitou Islands. It has been shaped by patterns of land use that reflect traditional occupational and social activities of commercial fishermen and fish processors. As a working waterfront, the district includes resources and activities still associated with the commercial fishery. Fishtown is also locally significant for its associations with the historic Manitou ferry and mailboat that have linked Fishtown with the nearby Manitou Islands for over a century, and for vernacular and Modernistic buildings associated with Fishtown's role as a tourist destination.

"Fishtown is the heart and soul of the Leland community, it always has been. Over the decades its meaning and rarity have grown as commercial fishing has disappeared from other Great Lakes shore towns," said Fishtown Preservation Society Executive Director Amanda Holmes. "Fishtown is more than a series of buildings, it's a working waterfront that also helps preserve a way of life that has been an active part of this community for more than 170 years."

Luther Burbank Elementary School, Detroit, Wayne County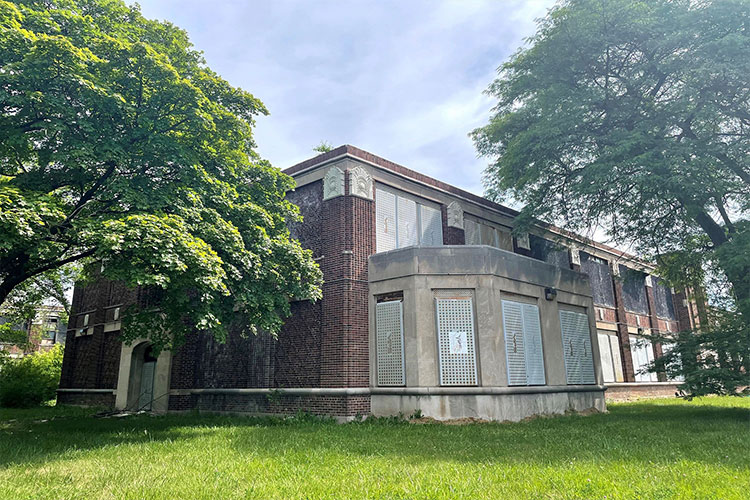 The Luther Burbank Elementary School, located on East State Fair Avenue on the east side of Detroit, is locally significant in the areas of Education and Architecture. The school illustrates the important educational policies and trends in the city of Detroit in the 1930s and 1940s. Burbank School building is an excellent example of Art Deco architecture and was constructed in phases between 1931 and 1949, reflecting the growth of the surrounding neighborhood and the city of Detroit into the 1940s. The most impressive Art Deco detailing on the school consists of exterior sculptural work completed by noted architectural sculptor Corrado Parducci. National Register designation was sought as a first step to incentivize the adaptive reuse of the shuttered school building.

The former Garfield School and Elmer R. Webster School were also recently listed in the National Register with an eye toward redevelopment. Garfield School in Sault Ste. Marie was built in 1898 of brownstone commonly found in the Upper Peninsula. The building is in the early stages of conversion to affordable housing. In Pontiac, the Webster School served students from 1922-2006. With its complete gymnasium and assembly hall spaces still intact, preparations are being made to convert the building into a community and learning center.

"School buildings anchor the neighborhoods they serve. When new school facilities are built, communities often struggle with how to best reuse these typically solid, well-constructed buildings," MacFarlane-Faes said. "The adaptive reuse of former school properties positively contributes to neighborhood character, well-being, and investment. We're pleased to see these three schools not only retain their special character but also remain viable community assets in the next chapter."

Parkwyn Village, Kalamazoo, Kalamazoo County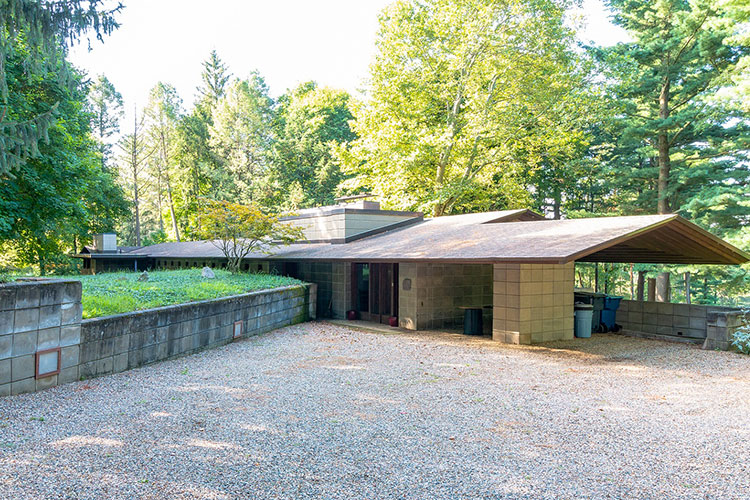 Parkwyn Village is a residential subdivision in Kalamazoo that was designed by Frank Lloyd Wright in 1947. It is significant at the state level in the areas of Architecture and Community Planning and Development. The name "Parkwyn" was derived from the names of the two principal streets in the vicinity, nearby Parkview Avenue and Winchell Avenue. Of Parkwyn Village's forty-two residential lots, thirty-eight lots are occupied by houses in variations of the Mid-Century Modern style, including four or five Frank Lloyd Wright-designed "Usonian" houses and a number of similar Wright-inspired houses, as well as several traditional ranch-style houses. It is also an excellent and successful example of the cooperative housing movement of the postwar era.

Several of the homes were designed by Norman F. Carver, Jr. Carver was an admirer of Wright and went on to become a prominent local architect in southwest Michigan. It is unusual in Michigan to find in a single district so many quality examples of mid-twentieth century architecture. Many of the design elements of these early Parkwyn Village houses, while unusual and innovative when the houses were built, are today standard features of many American houses built in the years since Parkwyn Village's founding.

"The recognition of Parkwyn Village as a national historic resource is a tribute to all those who have seen its ideals as worthy of preservation since its founding 75 years ago. They believed in not only its freeform layout with green spaces and distinctive individual design of homes, but also in ideals of fellowship with nature and non-discriminatory housing," said Parkwyn Village Homeowners Association President Les Tung. "Most importantly they continue to work toward the American vision of a democracy of service and active participation, an ideal first associated with our neighborhood by its designer Frank Lloyd Wright in 1947: 'The Parkwyn project is an example of true democracy in action because it represents a group of people working together to achieve individual freedom.'"

To obtain copies of any of these National Register nominations, or for high-resolution photos, contact preservation@michigan.gov.
Listing of a property in the National Register is honorary and places no restrictions on what a property owner may do. They are not required to open the site to the public nor to display a plaque acknowledging the listing, although many companies offer plaques to recognize the hard work and effort to get a property officially listed. In addition, listing in the National Register provides opportunities for promotion, makes available certain incentives like grants and tax credits that foster investment in our cities, towns, and villages, and allows for the consideration of historic resources when federal funding or permits are involved.

Focused on the historic preservation of culturally or archaeologically significant sites throughout the state, Michigan's State Historic Preservation Office's main function is to provide technical assistance to local communities and property owners in their efforts to identify, evaluate, designate, interpret and protect Michigan's historic above- and below-ground resources. SHPO also administers an incentives program that includes state and federal tax credits and pass-through grants available to certified local governments.

For more information about the National Register of Historic Places program in Michigan, and on how to nominate a property, visit https://www.michigan.gov/nrhp
About Michigan Economic Development Corporation (MEDC)