Gov. Whitmer Announces Sustainable Footwear Manufacturer HOLO Footwear Establishing Headquarters in Grand Rapids, Creating 61 High-Wage Jobs
LANSING, Mich. – Today, Governor Gretchen Whitmer joined the Michigan Economic Development Corporation (MEDC) to announce that HOLO Footwear, a manufacturer of sustainable outdoor footwear, is relocating its headquarters from Portland, Oregon to downtown Grand Rapids with support from the Michigan Strategic Fund.  

"Today's investment from HOLO Footwear will create 61 good-paying jobs in West Michigan and help our state's economy keep putting one foot in front of the other," said Governor Gretchen Whitmer. "My administration has been focused on growing our economy, creating jobs, and investing in every region of Michigan. HOLO Footwear's investment in Michigan is possible because of economic development funding authorized by the Michigan Economic Development Corporation, or MEDC. Over the last year, we have worked across the aisle in Michigan to empower MEDC to compete for every project and every job, including a $7 billion investment from GM creating 4,000 jobs and a $2 billion investment from ford creating 3,200 jobs. We will continue working in a bipartisan fashion to ensure Michigan's innovative businesses and hardworking people can thrive."

HOLO plans to locate in a move-in ready facility in Grand Rapids where it will add machinery and equipment and begin opening e-commerce operations in the region. The project is expected to generate a total capital investment of $1.5 million and create 61 high-wage jobs, supported by a $250,000 Michigan Business Development Program performance-based grant. HOLO chose Michigan for its headquarters over competing sites in North Carolina and Oregon. West Michigan was chosen for the project because of its robust outdoor recreation assets, strong talent pool, and attractive business environment.

HOLO Footwear, a minority-owned company founded in 2020 in the Portland, Oregon area, manufactures sustainable outdoor footwear that is accessible to a wide variety of consumers. The company uses recycled material in each shoe with the goal of ensuring its products remain affordable for the average consumer. The company currently sells through retail partners including REI, Nordstrom, and Dick's Sporting Goods, and plans to launch its own e-commerce operations at its facility in Michigan.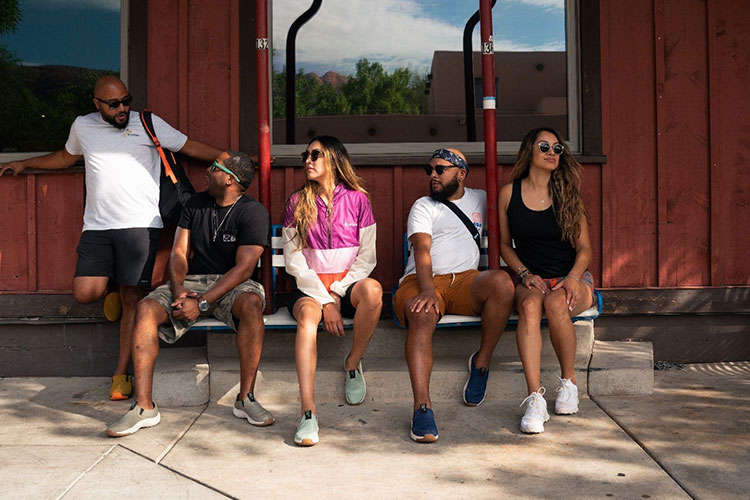 "Congratulations to the entire HOLO team on your continued growth and success. We're pleased to welcome you to Michigan, and we appreciate your vote of confidence in our state and in our workforce," said Quentin Messer, Jr., CEO of the MEDC and President and Chair of the Michigan Strategic Fund. "This project is a win for West Michigan and for the entire state. We are grateful to the Governor and legislators for the continued support of the Michigan Business Development Program. We're proud to join our partners at The Right Place and the city of Grand Rapids as we celebrate HOLO's new headquarters. We look forward to working together to add jobs and provide greater opportunity for our friends and neighbors."

The project will bring immediate, high-wage advanced manufacturing jobs to West Michigan. HOLO plans to offer a home for design students to begin and grow their careers, and subsequently retain that talent in the state. The project will also help West Michigan grow its apparel design base and will solidify the company's presence and future growth in the state. In addition, HOLO plans to partner with businesses in the outdoor recreation space to take advantage of Michigan's abundant hiking trails, lakes, and outdoor recreation potential.

"As HOLO continues to expand, we found that West Michigan is an excellent location for our growth," said Rommel Vega, founder and president of HOLO Footwear. "It's a fantastic environment for our business, with access to talented designers and people from the footwear industry. We're excited to get to work to create stylish, responsible and functional outdoor footwear. We're thankful to the team at The Right Place and the MEDC for their partnership and collaborative support as we invest in our new headquarters and e-commerce facilities."

"Michigan is excited to welcome HOLO and look forward to a successful partnership going forward," said Brad Garmon, Director of Michigan's Outdoor Recreation Industry Office. "The outdoor recreation industry is not only a foundational part of Michigan's lifestyle, it's also a huge piece of our current and future economy – representing nearly $10 billion in value-add GDP each year, including nearly $1.2 billion directly from specific outdoor recreation goods manufacturing. With our deep pool of talented designers and the state's commitment to advanced manufacturing, sustainable materials, and innovation in apparel and footwear, HOLO will find itself in good company in West Michigan."

The Right Place worked closely with MEDC to attract HOLO to establish its operations in the Greater Grand Rapids region rather than the other out-of-state locations and plans to assist the company in finding candidates for the newly created positions.

"Since their launch in 2020, HOLO Footwear is continuing to grow at a rapid rate," said The Right Place Vice President of Business Attraction and project lead Brent Case. "With the strong talent pool and robust economic environment, not to mention the amazing outdoor recreational playground that West Michigan has to offer, we think HOLO Footwear will thrive here in the region."

"HOLO Footwear's headquarters is a great addition to the city of Grand Rapids. We appreciate HOLO's commitment to making outdoor gear accessible for everyone and using recycled and renewable materials in its manufacturing processes," said Grand Rapids Director of Economic Development Jeremiah Garcia. "Its ownership and environmental sustainability practices are precisely the types of companies we are looking to attract to Grand Rapids and the region."
About Michigan Economic Development Corporation (MEDC)