Installation at Holland State Park kicks off phased state park EV charging installations as part of Lake Michigan EV Circuit and across the state
LANSING, Mich. -- Near the beautiful, sandy beaches of Lake Michigan at Holland State Park, Governor Gretchen Whitmer today joined state and local officials and representatives from Adopt a Charger and electric vehicle automaker Rivian to celebrate the first of approximately 15 electric vehicle charging sites to be installed at state parks and a state fish hatchery in Michigan over the next few years.

Four Rivian Waypoints chargers were unveiled today at the 142-acre state park in Ottawa County, followed by an inaugural charge featuring a Rivian R1T pickup.

"This partnership to install charging stations in our state parks speaks to the collaborative approach we are taking to grow our economy and address climate change head-on through clean, reliable energy," said Governor Gretchen Whitmer. "These charging stations along the Lake Michigan EV Circuit build on our rich Pure Michigan tradition of exploration and bringing together communities and businesses to ensure that we honor our past as the place that put the world on wheels and continue to invest in our workforce as we lead the transition to electric vehicles. Together, we will keep growing our economy, creating good-paying jobs, and lowering costs for drivers and working families."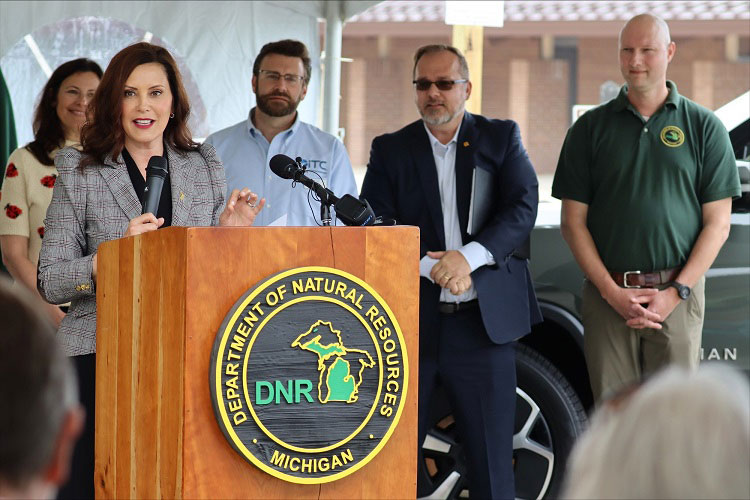 Rivian, an electric vehicle maker and automotive technology company, under an operating agreement between Adopt a Charger and the Michigan Department of Natural Resources, will be providing open-network, Level 2 Rivian Waypoints chargers at no cost to the state or taxpayers.

"We applaud the state for continuing to adopt policies that keep Michigan at the forefront of innovative electric mobility which is why we're proud to take our collaboration with the state up a notch today at Holland State Park," said Chris Nevers, Senior Director of Public Policy at Rivian. "Our state parks charging program is how we come together with our partners to offer a solution to EV-charging gaps. We're making this investment because we believe that exploring the natural world should be possible without contributing to local air pollution, climate change, or damaging the environment."

Adopt a Charger, a nonprofit organization, will provide technical, marketing and sponsorship support for the operation of the chargers throughout the duration of the agreement. ITC, an electric transmission company, will provide the funding for the electrical use for two years. Consumers Energy, through the Power MI Drive program, is providing the funds to pay for upgrades to the electrical systems at state parks necessary for charger installation.

From Warren Dunes State Park in the southwest corner of the Lower Peninsula, north along the Lake Michigan "gold coast" and additional points inland, an estimated total of 30 chargers are scheduled to be installed as part of the first phase of the project with the next installations beginning in summer and continuing through the year.

"This project will not only benefit Michigan in the near term but will also pay dividends far into the future as we move toward a sustainable energy future," DNR Director Dan Eichinger said. "From these EV charging stations, to installations of solar arrays that power fish hatcheries and other facilities, to building with mass timber and our innovative carbon sequestration development, we are working to improve the environment as we update our own portfolio."

The state park charger installations deliver on Gov. Whitmer's announcement in 2021 of a Lake Michigan EV circuit, an electric vehicle route with reliable charging options along Lake Michigan and key tourism clusters, creating the best new road-trip for EV owners in America. The Lake Michigan EV Circuit is part of ongoing efforts, such as the Charge Up Michigan program, to employ green technologies throughout the state, including solar-powered amenities, carbon sequestration and numerous efficiencies.

One example of this are solar panels recently installed at Holland State Park by Utopian Power, on a building adjacent to the electric vehicle chargers. The arrays will provide power for some of the park functions.

"As the transition to an electrified mobility future continues to accelerate, innovative initiatives like these are vital to ensuring EVs can be more easily incorporated into our everyday lives, regardless of where you are in the state," said Trevor Pawl, Chief Mobility Officer with the Office of Future Mobility and Electrification. "By identifying creative partnerships and opportunities, we are making significant progress in creating a safer, more equitable and environmentally conscious transportation future for all Michiganders."

The ability to link state parks with electric vehicle travelers will benefit both parties by increasing the number of visitors at parks, while providing convenience and significantly increasing range for EV motorists. Rivian's Level 2 Waypoints chargers are equipped with a J1772 plug, suitable for all electric vehicles including Rivian's R1T pickup and R1S SUV.

The rollout of the accessible chargers across the state is being done in phases. State parks in the Upper Peninsula are scheduled to be part of the second phase, targeted to take place next year.

The tentative list of installations for this year includes two Rivian Waypoints chargers at Warren Dunes (Berrien County), P.J. Hoffmaster (Muskegon County), Charles Mears (Oceana County), Ludington (Mason County), Orchard Beach (Manistee County), Leelanau (Leelanau County), Young (Charlevoix County), Petoskey (Emmet County), Wilderness (Emmet County) and Interlochen (Grand Traverse County) state parks, four at Holland and Grand Haven state parks, both in Ottawa County, and two at the Oden State Fish Hatchery in Emmet County. Installations are anticipated in subsequent years at Palms Book State Park (Schoolcraft County) and Fayette Historic State Park (Delta County).

As Michigan continues to welcome travelers to the state, increased access to EV charging sites is one way to continue to bring new leisure travelers to the state.

With tourism one of the industries hit hardest by the impacts of COVID-19, the Lake Michigan EV circuit builds on the continued success of the state's Pure Michigan campaign to help the industry recover by offering an exciting ecotourism attraction and reducing range anxiety for out-of-state EV drivers from population centers along Lake Michigan, like Chicago and Milwaukee.

To learn more about how Michigan is leading in transportation mobility and electrification, visit https://www.michiganbusiness.org/mobility/.


Quote stack begins here:

"The Adopt a Charger goal is to enable zero emission tourism in Michigan, and inspire visitors of all ages to consider the impact of their decisions on the environment," said Kitty Adams Hoksbergen, executive director of Adopt a Charger. "I am grateful to everyone at DNR for proactively planning and offering EV charging at state parks, and to Rivian for their generosity in making it happen. Thanks to ITC for sponsoring the electrical usage so EV motorists can charge their vehicles fee-free for the first two years. I grew up camping with my family at Michigan State Parks, and am grateful to be promoting what I believe in while supporting the places special to me"

"Consumers Energy is excited to work with Governor Whitmer and Rivian to help launch the Lake Michigan circuit of EV charging infrastructure. Our PowerMIDrive program analyzed the network needed to support EV charging and to optimize the final locations, collaborating with the State of Michigan to help enable charging ports that will be installed in a number of state parks," said Jeff Myrom, Consumers Energy's director of electric vehicle programs. "Consumers Energy's partnership with the State of Michigan will help enable Pure Michigan tourism and convenient charging infrastructure over the largest segment of the Lake Michigan Circuit."

"Today's announced partnership between the DNR and Adopt a Charger fits nicely with MDOT's goal to enhance connectivity," said Michigan Department of Transportation Director Paul C. Ajegba. "This also compliments the ongoing work by MDOT and our colleagues in other state departments to deliver on a vision for a Lake Michigan Electric Vehicle Circuit."

"These EV chargers are an important way to encourage sustainable travel across our state, while sharing the tremendous beauty and recreation offered by our world class state parks here in Michigan," said Dave Lorenz, Vice President of Travel Michigan, part of the Michigan Economic Development Corporation. "As we encourage travelers to Pursue their Pure this summer, ensuring easy, reliable access to EV charging helps us continue to share these amazing opportunities with new travelers."
About Michigan Economic Development Corporation (MEDC)