Certification provides state and federal technical assistance, eligibility for historic preservation grants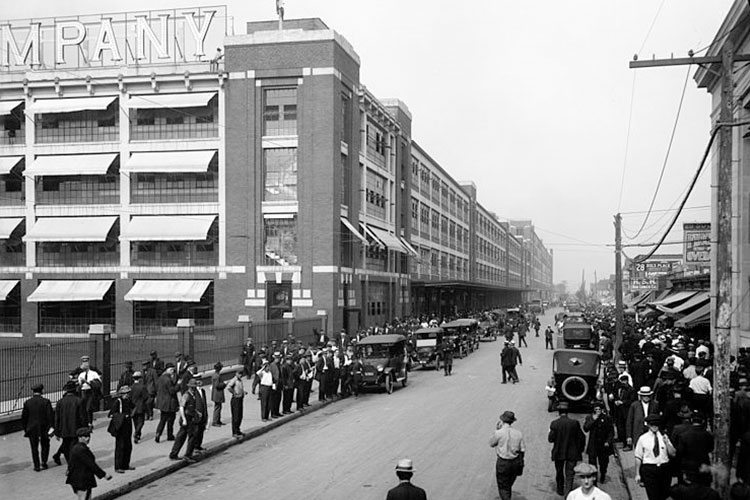 LANSING, Mich. – The Michigan State Historic Preservation Office (SHPO), part of the Michigan Economic Development Corporation, announced today that the city of Highland Park in Wayne County has been accepted to the Certified Local Government (CLG) program, following confirmation from the National Park Service, U.S. Department of the Interior.
"Highland Park has a rich history intertwined with the evolution of modern Michigan at the turn of the twentieth century," said State Historic Preservation Officer Mark A. Rodman. "This has been recognized, in part, by the designation of the Highland Park Ford Plant as a local historic district as the site of innovations critical to Ford's success. We are excited to welcome the City of Highland Park to the CLG program and look forward to working alongside the city to build on its historic preservation activities."

The Certified Local Government program is a partnership among local, state, and national governments focused on promoting historic preservation at the local level. The National Park Service administers the program in coordination with the State Historic Preservation Office. Certification makes the city of Highland Park eligible for specialized technical assistance and programming from the SHPO.
Participation in the CLG program also makes the community eligible for federal grants provided by the U.S. Department of the Interior and administered by the SHPO. These grants may be used for a variety of preservation activities, such as historic resource surveys, National Register of Historic Places nominations, educational and heritage tourism initiatives, pre-development plans and studies, and rehabilitation of certain historic properties.
"The City of Highland Park and the Historic District Commission are honored to join the Certified Local Government Program," said Mayor Hubert Yopp and Historic District Commission Chair Anne Zobel in a joint statement. "Highland Park has played a critical role in the industrial, social, and economic development of Michigan and America. We are looking forward to this partnership with SHPO to provide additional resources to document and celebrate our history through tools that can educate the community about our pivotable role in the development of 20th century America."

As noted by Zobel, Highland Park was originally platted as Woodwardville Village following the Detroit fire of 1805. Captain William Stevens later purchased a large portion of the area and named it Highland Park based on the higher elevation found at Woodward and Highland Avenues. Development followed, including new subdivisions, a school, waterworks, and hotels. In 1908, Henry Ford commissioned architect Albert Kahn to design a new factory in Highland Park, as Ford was quickly outgrowing their Piquette Street plant in Detroit. Two major innovations happened at the site: the five-dollar-a-day wage and the moving assembly line. The Model T Factory in Highland Park was transformative in making automobiles widely available and affordable.

Stemming from the success of Ford's innovations, Highland Park was swiftly developed with modern "suburban" homes and top-notch public facilities and schools. The city boasts an unusually high concentration of well-constructed homes representing craftsman-style bungalows, four squares, and various revival styles. Two neighborhoods—Medbury Grove and Highland Heights-Stevens' Subdivision—were added to the National Register of Historic Places in 1988, with many additional resources throughout the city eligible for consideration. The CLG program will contribute to the city's goal to further recognize and celebrate such places.

Highland Park joins a growing network of more than 2,000 Certified Local Governments across the country, including 36 other Michigan communities. There is no cost to participate in the program, but communities must meet certain requirements. Participating communities must have a local historic district ordinance and appoint a historic district commission to review proposed work in locally designated historic districts. CLGs must also encourage public participation in the local historic preservation program and seek ways to identify, protect, and celebrate important historic resources in their community.
About the State Historic Preservation Office
Focused on the historic preservation of culturally or archaeologically significant sites throughout the state, Michigan's State Historic Preservation Office's main function is to provide technical assistance to local communities and property owners in their efforts to identify, evaluate, designate, interpret and protect Michigan's historic above- and below-ground resources. SHPO also administers an incentives program that includes federal tax credits and pass-through grants available to Certified Local Governments.

To learn more about the State Historic Preservation Office and the Certified Local Government program, visit https://www.miplace.org/historic-preservation/.
About Michigan Economic Development Corporation (MEDC)