Travel and Hospitality Industry Celebrated at 2022 Pure Michigan Governor's Conference on Tourism
• Industry awards recognize individuals, tourism entities that exemplify best practices, impact on industry • Big Rapids, Cadillac and Elk Rapids named Pure Michigan Trail Towns • Pure Michigan ad campaign continues to have a positive economic impact on the state • Pure Michigan guitar unveiled during conference
TRAVERSE CITY, Mich. – At the annual Pure Michigan Governor's Conference on Tourism, travel industry leaders recognized top hospitality individuals and entities for their contributions to Michigan's tourism industry through the Governor's Awards for Innovative Tourism Collaboration. Also announced during this week's celebration were the latest communities to be recognized with a Pure Michigan Trail Towns designation, and a new report demonstrating the positive impact of the Pure Michigan travel campaign on Michigan's economy.
"Over the past couple of years, Michiganders visited our parks and destination towns in historic numbers. This allowed families to continue enjoying and exploring Pure Michigan and supporting regional economies, and it was only possible thanks to all of the experts in the travel industry," said Governor Gretchen Whitmer. "With warmer weather around the corner, I'm looking forward to another unforgettable Pure Michigan summer. I hope every Michigander has an opportunity to experience the resilience and beauty of our incredible state firsthand – visiting our majestic parks and public lands while supporting the travel industry and local economies in every region."

Tourism representatives, economic development professionals and meeting planners from across Michigan gathered in Traverse City this week for the 2022 Pure Michigan Governor's Conference on Tourism, where they are focusing on the latest trends and changes in the industry and gaining insights on a broad array of topics.

The Governor's Awards for Innovative Tourism Collaboration were created in 2009 by the Michigan Travel Commission to elevate the status of Michigan's tourism industry and to promote innovative collaboration as an effective, efficient, and creative operating principle for the industry.

The awards and recognitions announced at this year's event include:

2022 Governor's Awards for Innovative Tourism Collaboration:
The Innovative Tourism Collaboration Award for Marketing was presented to the Bellaire is Fresh Air campaign. At the beginning of the pandemic, the entire tourism community within Bellaire recognized the challenge of keeping their small town economically viable with its strong dependence on tourism. By mid‐May of 2020, the business community came together and combined their individual audiences to elevate Bellaire collectively as a respite for safe travel, a place to escape crowds and a place to be outside with multiple types of recreation. The concept of the theme "Bellaire is Fresh Air" resonated with the business partners immediately and the campaign was born. Each partner added to the creation and production of the marketing campaign by providing voice talent, creating videos and vlogs, developing radio and print advertising, and even merchandise. The results were demonstrated in the record-setting revenue and visitation, but the most important result is that every storefront in Bellaire remains occupied.


The Innovative Tourism Collaboration Award for an Experience Development Partnership was presented to "The Frankenmuth Christmas Experience." Frankenmuth developed a goal to spread the joy of the season in a more responsible way by utilizing more spaces and hosting a greater number of events for visitors to choose from every day of the week. The two‐year development projects have included the addition of a 40‐foot Christmas tree, the placement of 175 trees lining all the downtown streets and the largest destination development project being the addition of the Frankenmuth Ice Rink which greeted more than 17,000 skaters in the first year. In 2021, "The Frankenmuth Christmas Experience" marketing campaign was launched with a designated landing page, social media campaign, a printed experience guide and interactive activities for guests to immerse in the activities and connect personally with businesses through contests and activities at the Farmer's Market. The "Frankenmuth Christmas Experience" has forever changed how the holiday season is celebrated in Michigan's Little Bavaria.


The Industry Partnership in Education Award went to Safe Meetings in Michigan. As the pandemic took hold the meetings and events industry came to a grinding halt. Leaders within the industry did not sit idle and instead went into action to develop protocols and guidance that Michigan hotels, event venues, and meeting professionals could use to return to meetings in a safe and responsible manner. More than seventy volunteers from sixty organizations representing health, tourism, state associations, and meeting professionals joined forces to create the Safe Meetings in Michigan coalition. Their work culminated in the Safe Meetings in Michigan Virtual Conference in June 2020 to deliver the information to meeting professionals throughout the state and the Midwest region. The Safe Meetings in Michigan project exemplified the very best of what industries and associations can accomplish when they coalesce around a common cause. It was a unique collaboration of organizations that made this project a reality and allow the meetings and event industry to get back on its feet. The industry is still relying on many of the protocols and practices that were developed nearly two years ago.
Presented by Tourism Industry Coalition of Michigan (TICOM) President Chad Wiebesick, the Collaboration Awards are intended to promote innovative collaboration as an effective, efficient and creative operating principle for the tourism industry.

2022 Legacy Awards: Jennifer Petrous Ollinger and The Shepler family
Presented by Dave Lorenz, the annual Legacy Award is given to a person or organization that has served the Michigan travel industry in an extraordinary way, either during a lifetime of achievement or during the past year in some extraordinary way.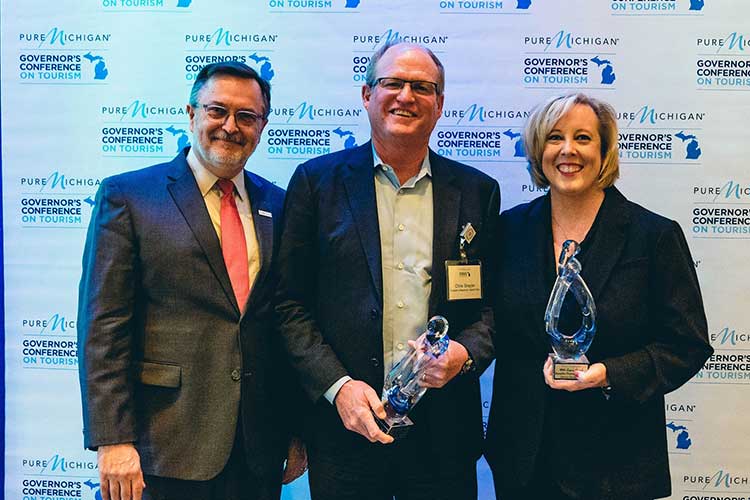 Jennifer Petrous Ollinger is known for her attention to detail and for going above and beyond the normal call of duty on behalf of her community and in service to the entire state travel industry. As the Domestic and International Tourism Manager of Visit Detroit, she has helped to welcome the world to Detroit for numerous events including the launch of Virgin-Atlantic flights to Michigan and the Superbowl. Jennifer has also given of her time to sell the entire state to international operators, agencies and media. A winner of the Circle Michigan Bill Shepler hospitality leadership award, she epitomizes what hospitality means.


The Shepler family has been known for providing safe and enjoyable travel experiences on the Straits of Mackinac waters for over 75 years. Their attention to providing the best of hospitality has encouraged travelers to return to Mackinac Island, over and over, for generations. As they transition to a new partnership, even their selection of the Hoffman Family of properties, shows their dedication to ensuring the operation continues its family legacy and meets the demands of its customers far into the future.
Pure Award
The Pure Award is intended to recognize Michigan tourism entities that have pioneered the incorporation of innovative and exemplary best practices in natural, cultural, and/or heritage stewardship into their daily operations. Presented by Michigan Cares for Tourism board member Dan Sippel, the 2022 Pure Award went to Mt. Brighton for their work in cultivating sustainable business practices that lessen their environmental impact while preserving the forests and habitats within their facility. Through a comprehensive waste reduction program, energy management strategy and community partnerships, Mt. Brighton has become an industry leader in sustainable tourism in Michigan.

"The best in tourism awards honor those individuals and entities that go above and beyond in making Michigan a top travel destination, and this year we also recognize several individuals and organizations that stepped up to help keep our residents safe during a global pandemic," said Dave Lorenz, Vice President of Travel Michigan, part of the Michigan Economic Development Corporation. "It is vital to recognize our industry partners, whose passion, dedication, and collaboration are critical to the success of travel in Michigan."

Pure Michigan Trail Towns
With a variety of trails developed and maintained through an extensive collaboration between state and local governments, nonprofits, foundations, and volunteers, Michigan offers exceptional scenic beauty and outdoor recreation opportunities that appeal to many travelers.

The Michigan Department of Natural Resources, in partnership with Travel Michigan, recognized three communities as Pure Michigan Trail Towns:
Big Rapids – The city of Big Rapids is located along the 92-mile Fred Meijer White Pine Trail and also the Riverwalk, which provides views of the Grand River. Big Rapids is also a short distance away from the Dragon Trail, a mountain biking trail that is currently in development. Trail users in Big Rapids can enjoy a number of public art installations as well as trail events throughout the year. A robust marketing plan and wayfinding signage system ensure that the trails are a well-known part of the Big Rapids community.


Cadillac – The city of Cadillac is known as a year-round destination with trail activities for all seasons. Situated along the northern end of the Fred Meijer White Pine Trail, Cadillac offers trail connectivity for snowmobiling, biking, and walking to many communities to the South along the White Pine Trail. Cadillac is also a short drive from the Big M trails and other recreational opportunities on the Manistee National Forest, as well as the Cadillac Pathway which is popular for mountain biking and hiking.


Elk Rapids – The village of Elk Rapids is situated nearby many great trail opportunities for both summer and winter use, hiking, biking, paddling, and will be connected to Traverse City and Charlevoix via the Nakwema Trail in the near future. The Elk Rapids Trail Alliance has been formed by business and community leaders to assist in supporting the growing trail networks in the area.
"Michigan continues to grow its trail network, and the Pure Michigan Trail Town program recognizes the communities who have worked hard to support trails and trails users and provide great recreational experiences year-round," said DNR Nonmotorized Trails Grant Coordinator Dakota Hewlett. "This year, Cadillac, Big Rapids, and Elk Rapids are designated as Pure Michigan Trail Towns because each has shown broad community support and continued investment in trails and takes pride in being a trail destination in Michigan."

The trails and towns that receive this designation are identified as among the best of the best in the state of Michigan, promoting healthy lifestyles, conserving natural resources, and providing a catalyst for economic activity in their communities. To learn more, visit here.

The results of the 2021 SMARInsights Advertising Effectiveness Research for Pure Michigan report were also released at the conference today. In 2021, advertising influenced nearly 544,000 trips to Michigan from regional and feeder markets, and with an average spend of $1,153 per visitor, nearly $39 million dollars in state tax revenue was generated. In consideration of the $7.8 million spent on advertising in 2021, Michigan had a Return on Investment (ROI) of $4.99 in 2021.

Eliminating the national media buy due to a decrease in funding and a pandemic that had catastrophic impacts on travel led to fewer ad-influenced trips and tax revenue, and ultimately a lower tax ROI than touted in prior years overall. However, ROI on regional and feeder market performance stayed strong, highlighting the road trip trends that resulted during the pandemic.

The report also showed the campaign performing well in communicating key messages and generating interest in visiting the state. The advertising is also having a positive influence on the Michigan trip experience, as evidenced by longer, more active, better trips with more social sharing among those aware of the ads.

"These numbers show that advertising – and our related efforts in public relations including our own social and digital channels – continues to drive travel and the Pure Michigan campaign continues to drive economic growth, supporting statewide economic development efforts to showcase Michigan as a great place to live, work and play," Lorenz said.
In addition, the new Pure Michigan guitar was unveiled during the conference. A collaboration with Wallace Detroit Guitars, the Pure Michigan guitar is a handcrafted, one-of-a-kind guitar made of reclaimed wood from the Packard assembly plant, which was originally cut from old-growth Michigan forests. The custom copper pickguard is etched with the Pure Michigan logo and scenes from around the state. This beautiful instrument will be raffled for the benefit of Michigan Cares for Tourism, and details of that raffle will be shared during National Travel and Tourism Week on May 2. To watch of video of the making of the guitar, visit here.
About Michigan Economic Development Corporation (MEDC)