Pure Michigan regional advertising campaign launches, with reminders to "Pursue Your Pure" during the warm weather travel season
• New TV ads, "On the Street" and "On Repeat," highlight the diverse experiences throughout the state, encourage travelers to pursue their own pure moments • Campaign features new out-of-home billboards, fully-wrapped double-decker bus in downtown Chicago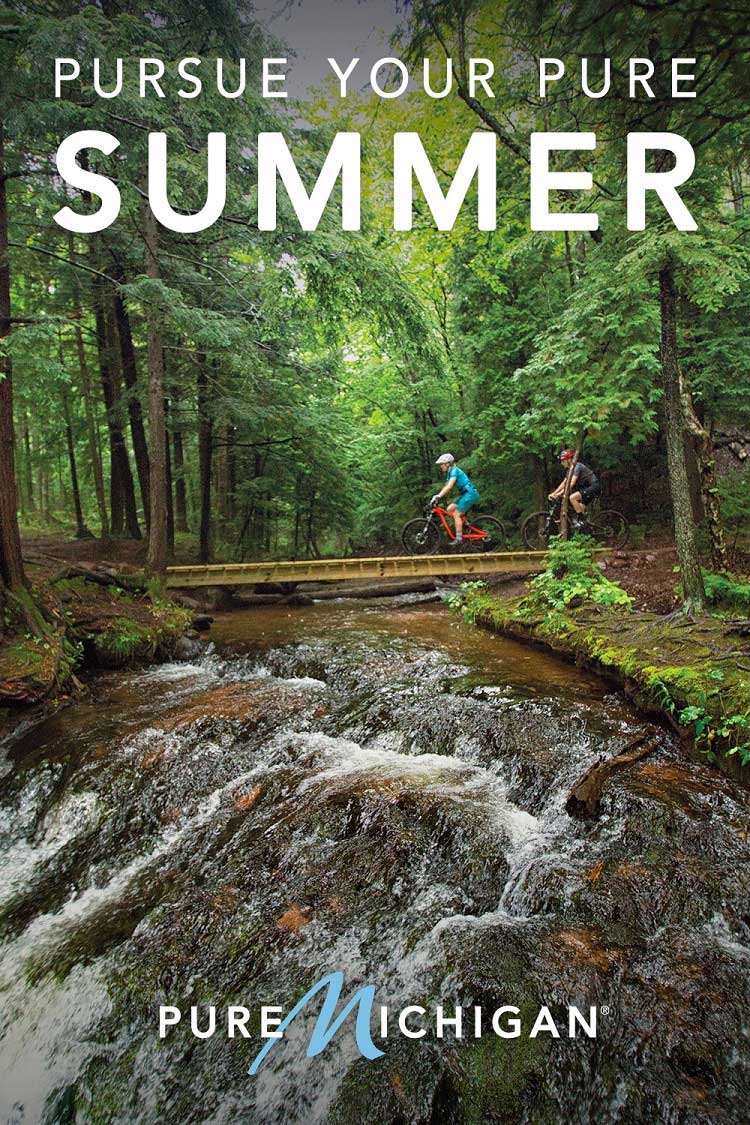 LANSING, Mich. – Warm weather and sunny days are just around the corner, and the award-winning Pure Michigan advertising campaign returns today for audiences across the Midwest to inspire travel in Michigan this year. In addition to the broadcast commercials, travelers can plan their perfect vacation with the help of various digital platforms and resources available on michigan.org.
"With warm weather on the horizon, I encourage travelers to explore nearby communities, spend time with loved ones and create new memories this spring and summer in Pure Michigan," said Governor Gretchen Whitmer. "The Pure Michigan campaign is designed to remind travelers of the beauty and diversity of Michigan's destinations, and seek their purest, most unforgettable moments of warm weather travel."

The regional and in-state Pure Michigan warm weather broadcast and connected TV advertising campaign will run in key markets through Aug. 31, 2022. The campaign will include two brand new television commercials, "On the Street" and "On Repeat," highlighting the many diverse destinations and experiences Michigan offers while also encouraging travelers to pursue their own unique experiences. Additional commercials featured include 14 Clubs, Along the Way, Perfect Summer, and Wish You Were Here.

The ads will be seen in out-of-state markets including Chicago, Cincinnati, Cleveland, Columbus, Dayton, Fort Wayne, Green Bay, Indianapolis, Milwaukee, Minneapolis, South Bend, Toledo, Atlanta, Louisville and St. Louis. In-state markets include Alpena, Detroit, Flint, Grand Rapids, Lansing, Marquette and Traverse City.

"Spring is upon us, and with warmer temperatures ahead comes our new spring/summer advertising campaign, designed to remind audiences of the beauty and diversity of Michigan at summertime," said Dave Lorenz, vice president of Travel Michigan, part of the Michigan Economic Development Corporation. "We continue to evolve the ways we inspire travel to, and within, the state, by sharing our diversity of people and places using a variety of new techniques to amplify the message about Pure Michigan as the perfect warm-weather vacation destination."

The campaign will also utilize online video and digital ads, social media, and radio ads including Road Trip, Field Trip, First Tee, Gone Fishing, Songs of Summer and Soul 2. In addition, 96 static billboards will be seen in regional and in-state markets from April 11 through May 8 inviting them to plan a Michigan getaway. Pure Michigan branding will also be displayed on a double-decker bus in Downtown Chicago from April 11 through May 8.

The summer campaign will feature a Motown Radio station takeover of Pandora's Motown station beginning April 11. Pure Michigan will be featured on the Motown station playlist, reaching an organic audience of more than 300,000 Motown music listeners every month.

The 2022 Pure Michigan Travel Guide will be available both as a free magazine and as a universally accessible digital guide in April. Marquette's Presque Isle Park is showcased on the cover of the stunning four-color, 90-page guide. Features include Great Outdoors, City Escapes, Along the Shore, Upper Peninsula Arts & Culture, Eat & Drink, Beach Plus, Summer of Your Dreams, Make it Marquette and Golf Paradise.

This year's total warm weather advertising budget is $16,694,642. The campaign will include 22 industry partners contributing a total of $1,520,000. In 2019, the most recent year a report was compiled, the summer ad campaign influenced $2.2 billion in traveler spending and $142 million in state tax revenue in Michigan. (Source: SMARInsights).
About Michigan Economic Development Corporation (MEDC)