THIS JUST IN: Economic incentive bills pass with bipartisan support
Wednesday, December 15, 2021
New programs, $1 billion in funding will help secure historic opportunity for economic growth across Michigan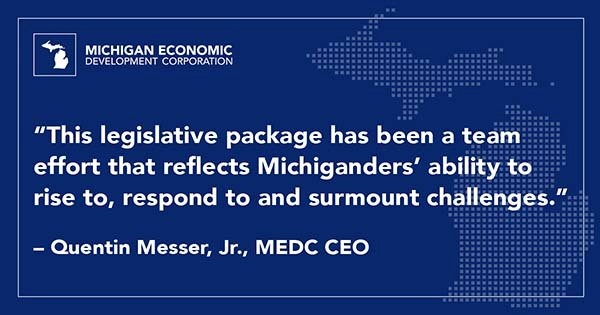 A package of bills vital to Michigan's efforts to compete for, and win, transformational projects here in the state was passed by the Michigan Legislature last night with strong bipartisan support and is on its way to Gov. Gretchen Whitmer's desk to be signed into law. With funding appropriated at $1 billion, the programs will put the state in the strongest possible position to win projects that would create economic opportunity in the state for the next 20 years and beyond, while also delivering relief for businesses impacted by COVID-19.
"We have said from the beginning that Michigan will move mountains to ensure we can compete for, and win, transformational projects that will bring long-term economic opportunity and security to regions and communities across the state," said Quentin L. Messer, Jr., CEO of MEDC and President and Chair of the MSF Board. "This legislative package has been a team effort that reflects Michiganders' ability to rise to, respond to and surmount challenges. From the Governor, legislative leadership across parties, business and labor stakeholders and to our dedicated economic development partners across the state, we appreciate the incredibly hard work and collaborative approach to rethinking our competitive positioning for large-scale investments that makes us better able to secure high-paying jobs for decades to come."
There are a number of projects with capital investment of more than $1 billion and more than 1,000 new jobs in MEDC's pipeline that require these programs to secure them in Michigan. As the automotive industry shifts from internal combustion engine vehicle manufacturing to electric vehicle production, investment decisions being made over the next 15 months will have a profound economic impact for Michigan's economy and workforce over the next 20 years. With nearly 300,000 jobs at stake, it is critical Michigan has the tools necessary to secure these generational investments here in the state.
Site Readiness supports business attraction efforts across regions
HB 5603 creates a strategic site readiness program to provide grants, loans, and other economic assistance for the purpose of creating investment-ready sites to attract and promote investment in this state.
Site availability and readiness have risen quickly as key deciding factors for companies when considering future growth and expansion opportunities. As the MEDC works to win projects across multiple industries in both rural and urban areas, this program will ensure an increased inventory of sites, particularly large sites, to support projects today and in the coming years.
Michigan must create a new "home court" advantage
SB 771 creates a critical industry investment fund that will allow Michigan to make game-changing investments to businesses, critical to closing deals and creating and preserving qualified jobs in the state while generating significant capital investment.
Winning transformational projects in the state helps create opportunities for growth and success for small businesses, protects and grows jobs, leads to population growth, and builds more vibrant communities – and in turn, ensures that Michiganders all across the state have the best possible opportunity for economic growth for themselves and their families.
SB85 funds these vital economic development efforts with a $1 billion appropriation while also building on the work of the Whitmer Administration and MEDC over the past 18 months to ensure small businesses can thrive. SB 769 creates the vehicle by which funding for the site readiness program and critical industry investment fund will be authorized to the Michigan Strategic Fund for transformational projects.
"Let there be no doubt: Now is the time for Michigan to make strategic investments in our economy by building the tools that will secure transformational projects here in our state while ensuring our small businesses can also continue to thrive and grow," Messer said. "Team Michigan stands united in declaring that Michigan is constantly working to take being 'open for business' to the next level."
Gov. Whitmer is expected to sign the bills in the coming days.
Read the full statement from Quentin L. Messer, Jr. here.
To learn more about why businesses can find Pure Opportunity in Michigan visit michiganbusiness.org/pure-opportunity.
About Michigan Economic Development Corporation (MEDC)