$50,000 goal to win matching grant through MEDC's Public Spaces Community Places initiative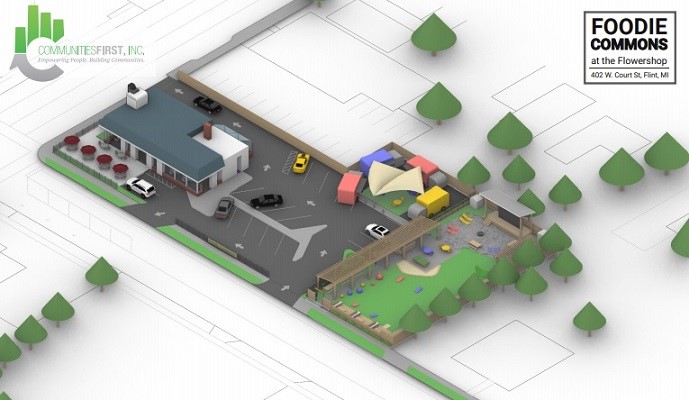 LANSING, Mich. – Flint's Grand Traverse neighborhood will gain a new greenspace, community meeting place, and food and small business incubator with the help of a crowdfunding campaign, the Michigan Economic Development Corporation (MEDC) and local nonprofit Communities First, Inc. (CFI) announced today. The campaign is being offered through the Michigan-based crowdfunding platform Patronicity.

If the campaign reaches its crowdfunding goal of $50,000 by February 15, the project will win a matching grant with funds made possible by MEDC's Public Spaces Community Places program. For project details and to donate, please visit: patronicity.com/foodiecommons.

"This project will transform a vacant building into an exciting community asset where community members can gather and small businesses can grow," said MEDC Senior Vice President of Community Development Michele Wildman. "We are pleased to support and provide resources for the Foodie Commons project through our Public Spaces Community Places program."

This campaign will allow CFI to complete the transformation of a vacant building and lot into a dynamic, engaging community destination with food, music and fun. Foodie Commons will function primarily as a food truck park and event space complete with an open green space with landscaped features, an outdoor stage, a food truck park and covered seating. The space will offer engaging programs and events like public artistic performances, efforts focused on cross-cultural exploration, technical assistance and resource support to small food businesses with an emphasis on minority-owned businesses, and ongoing activities like lawn games and open space for play and recreation.

Founded in 2010, Communities First, Inc. (CFI) is a nonprofit housing and community economic development corporation. Its mission is to build healthy, vibrant communities through economic development, affordable housing, and innovative programming. Foodie Commons will address the critical need for green spaces in the city for families to recreate, improve access to healthy foods, foster a supportive environment for small business owners, and create a community meeting place.

"We're excited to be a part of the Public Spaces Community Places program and that the MEDC sees Foodie Commons @ the Flower Shop as an important investment in Flint. Every donation to this project matters, and once we hit our goal, the MEDC will match every contribution dollar for dollar up to $50,000," said Glenn Wilson, president and CEO of Communities First, Inc. "With support from the community, we're confident we'll be able to transform this blighted site into a community destination."

Public Spaces Community Places is a collaborative effort of the MEDC, the Michigan Municipal League, and Patronicity, in which local residents can use crowdfunding to be part of the development of strategic projects in their communities and be backed with a matching grant from MEDC. Communities, nonprofits and other business entities can apply at https://patronicity.com/puremichigan.

"The Michigan Municipal League is a firm believer in building community wealth in ways that enhance the human experience for everyone," said Dan Gilmartin, the League's CEO and Executive Director. "This Foodie Commons plan in Flint that takes a vacant lot and makes it into a vibrant community space for the benefit of all is community wealth building in action. With the backing of Flint supporters, this space will improve the human experience for everyone for years to come."

The Public Spaces Community Places initiative started in 2014 with MEDC providing matched funding of up to $50,000 for community improvement projects throughout Michigan. As of Dec. 1, 2021, MEDC has provided more than $9.6 million in matching grants. Since the launch of the program, 297 projects have been successful in reaching their goal, with $11 million raised from 51,338 individual donors. Communities have a 97 percent success rate in achieving their goals and earning MEDC matching funds.
About Michigan Economic Development Corporation (MEDC)