Gov. Gretchen Whitmer Announces Three Communities Chosen for Select Level of the Michigan Main Street Program
Thursday, October 28, 2021
Adrian, Coldwater and Rogers City join 24 other Michigan communities taking a strategic approach to revitalizing their downtowns and commercial districts
LANSING, Mich. – Governor Gretchen Whitmer joined the Michigan Economic Development Corporation today to announce that the cities of Adrian, Coldwater and Rogers City have been selected by the MEDC to take part in the Select Level of the Michigan Main Street program.
As part of the Select Level of Michigan Main Street, these three communities will receive five years of intensive technical assistance from MEDC with a focus on revitalization strategies designed to attract new residents, business investments, economic growth and job creation to their central business districts.
"Now more than ever, it is vital that our communities take a common-sense approach toward strengthening their core commercial districts and driving growth in the community as Michigan's economic recovery continues," said Gov. Whitmer. "With the support of the Main Street program and the MEDC, I believe we can positively transform the downtowns and commercial districts in communities to ensure their place on Michigan's path toward our future."
The Michigan Main Street Program aims to create communities distinguished by a "sense of place." The rationale is based on a range of studies that show investing in creating a "sense of place" is an integral part of developing vibrant downtowns and commercial districts, thereby making the state economically stronger and culturally diverse.
Adrian, Coldwater and Rogers City join 24 other communities already benefitting from participation in the Main Street program. To view a map of the current Michigan Main Street communities, visit here.
"Developing downtowns and commercial districts is essential in creating jobs and growing vibrant, unique places where people want to live, work, visit and play," said MEDC Senior Vice President Michele Wildman. "Programs like Michigan Main Street provide communities with the tools needed to create jobs, provide desirable places to live and build a sense of place for Michigan residents. I look forward to seeing how these three communities will grow within the next five years."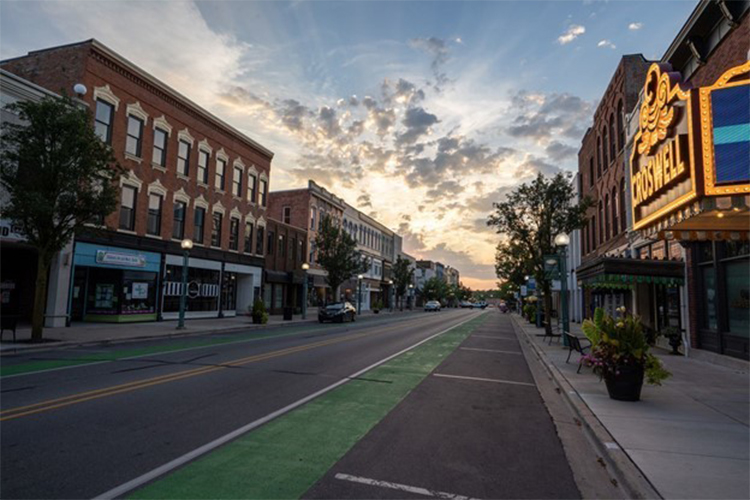 The city of Adrian and the Downtown Development Authority are positioned well for the Select Level. The board has shown increased engagement and commitment to the Main Street Approach through transitioning the way it functions under the Four Points. The downtown district has seen large amounts of investment and there are many opportunities for continued investment that will drive their revitalization in the future.
"I am very pleased to have our passionate volunteers and supportive stakeholders achieve MMS Select Level," said Harry "Dusty" Steele, DDA Board Chair. "We are eager to work alongside Michigan Main Street staff, as we continue implementing the Main Street Approach, to achieve our vision of attracting residents, business owners and developers by preserving and promoting our rich history and our vibrant arts and culture."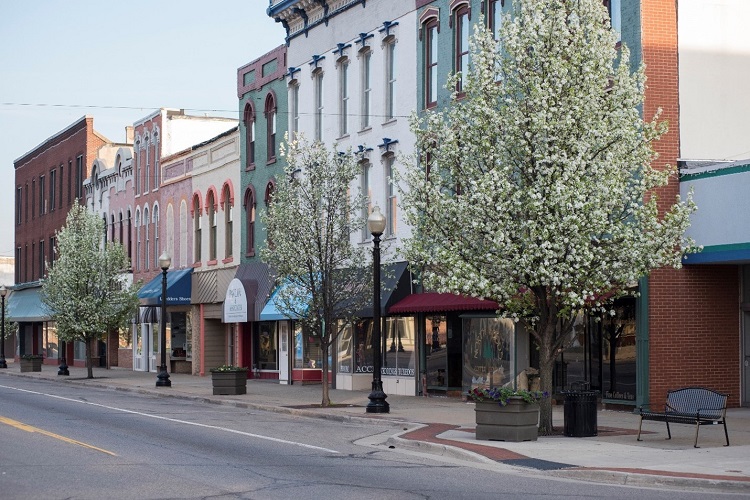 The city of Coldwater and the Downtown Development Authority are also well-positioned for the Select Level. The board has been engaged in the process and ready to move to the next level of Michigan Main Street. The city, board and stakeholders are ready to use the framework of Main Street to guide their comprehensive downtown revitalization efforts. They were able to demonstrate broad-based community support in a short amount of time.
"The city of Coldwater is thrilled to be chosen as a Select Level community. The Downtown Development Authority board and city staff have engaged with community stakeholders, volunteers, and donors to build support for the Main Street 4-Point Approach," said Economic Development Coordinator Audrey Tappenden. "We can't wait to start working with Michigan Main Street program specialists to develop transformation strategies for our downtown."



The city of Rogers City and the Downtown Development Authority are positioned well for the Select Level of the Main Street program due to the overwhelming community and business support and buy-in for comprehensive downtown revitalization. A group from the community attended the online training series and created a communication and fund development plan that allowed them to grow broad-based community support.
"The designation as Michigan's 25th Main Street Community is truly a game changer for the city of Rogers City, as it has been for all of the other MMS locations across the state," said Rogers City Mayor Scott McLennan. "The strong support received from citizens and local businesses led to this outstanding achievement. Now, looking to the future and with the backing of the Michigan Economic Development Corporation, our city will be working to further enhance its assets, building a stronger economy and a more vibrant community for all."
Over the past year, Michigan Main Street communities generated more than $26 million in private investment, 127 new businesses and 143 façade improvements and building rehabilitations. Since its inception in 2003, Michigan Main Street has been a catalyst for job growth, private investment and community engagement. From 2003 through 2019, 1,622 businesses have been launched, with a total public investment of more than $128 million and total private investment of $346 million. In addition, 37,197 volunteer hours were recorded in 2021 in the task of revitalizing downtowns across the state.
To learn more about the Michigan Main Street program, visit here.
To learn more about MEDC's community development programs, visit here.
About Michigan Economic Development Corporation (MEDC)