Crowdfunding campaign launched for the 'Perry Center Centennial Pavilion & Gardens' project in Grand Blanc
$26,000 goal to win matching grant through MEDC's Public Spaces Community Places initiative
LANSING, Mich. – A group of dedicated community members in Grand Blanc is coming together to create a pavilion and public gardens space in honor of the Grand Blanc Perry Center's Centennial celebration. This effort will be made possible through a new crowdfunding campaign, the Michigan Economic Development Corporation and Grand Blanc Community Schools announced today. The campaign is being offered through the Michigan-based crowdfunding platform Patronicity.

If the campaign reaches its crowdfunding goal of $26,000 by September 30, the project will win a matching grant with funds made possible by MEDC's Public Spaces Community Places program. For project details and to donate, please visit: patronicity.com/perry.

"This campaign honors a unique historical asset by creating a vibrant, outdoor learning and gathering space for all to enjoy," said MEDC Senior Vice President of Community Development Michele Wildman. "We are pleased to support and provide resources for this project through our Public Spaces Community Places program."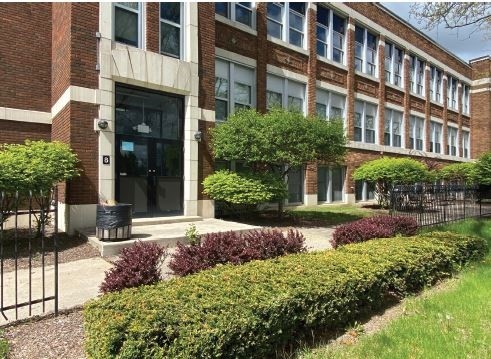 As the first consolidated school in the state of Michigan in 1922, the Perry Center in downtown Grand Blanc has experienced vast change, progress, and innovation. This campaign will support the future of the Perry Center and create a community space for downtown Grand Blanc that will function as both an outdoor classroom and community pavilion.

Located just off Saginaw Street, the gardens and greenspace will have historical plaques posted around the grounds that depict the history of Grand Blanc and the Perry Center. Along with the nearby nature center, this space will provide an amazing learning experience in the heart of Grand Blanc.

"I am so excited that the Michigan Economic Development Corporation and Patronicity are partnering with the Grand Blanc community to facilitate our fundraising campaign for the public Centennial Garden commemorating 100 years of education at the Perry Center," said Grand Blanc Mayor Susan Soderstrom. "The continued excellence of our school system is a great source of pride in our community. The success of this campaign is a perfect way to demonstrate our never-ending commitment to the education of our children and our community."

Public Spaces Community Places is a collaborative effort of the MEDC, the Michigan Municipal League, and Patronicity, in which local residents can use crowdfunding to be part of the development of strategic projects in their communities and be backed with a matching grant from MEDC. Communities, nonprofits and other business entities can apply at https://patronicity.com/puremichigan.

"The Michigan Municipal League is a firm believer in building community wealth in ways that build on existing assets and enhance the human experience for everyone," said Dan Gilmartin, League's CEO and Executive Director. "Creating a pavilion and public gardens to honor the long history of the historic Perry Center in Grand Blanc does both. It improves upon what already exists in ways that better serve everyone living in and visiting Grand Blanc. That is what community wealth building is about."

The Public Spaces Community Places initiative started in 2014 with MEDC providing matched funding of up to $50,000 for community improvement projects throughout Michigan. As of July 30, 2021, MEDC has provided more than $8.9 million in matching grants. Since the launch of the program, 285 projects have been successful in reaching their goal, with $10.3 million raised from 49,527 individual donors.
About Michigan Economic Development Corporation (MEDC)