$50,000 goal to win matching grant through MEDC's Public Spaces Community Places initiative
LANSING, Mich. – The Iosco Exploration Trail (IET) nonprofit will soon complete the Iosco Exploration Trail in Oscoda with the help of a new crowdfunding campaign, the Michigan Economic Development Corporation and IET announced today. When completed, the 44-mile-long non-motorized pathway will be connected from Oscoda/Au Sable to Hale, Mich. and a portion of Michigan's Iron Belle Trail system, and will run from Detroit to Ironwood. This effort will be made possible through The campaign is being offered through the Michigan-based crowdfunding platform Patronicity.

If the campaign reaches its crowdfunding goal of $50,000 by August 30, the project will win a matching grant with funds made possible by MEDC's Public Spaces Community Places program. For project details and to donate, please visit: patronicity.com/iet.

"Creating connectivity between our public trails brings our communities together and provides new recreational opportunities for our residents," said MEDC Senior Vice President of Community Development Michele Wildman. "We are pleased to support and provide resources for this project through our Public Spaces Community Places program."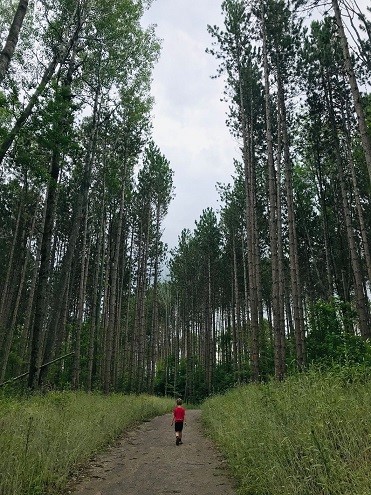 The Iosco Exploration Trail nonprofit is a 501c3 leading the collaboration between cities and townships in Iosco County to complete the entire Iosco Exploration Trail, a 44-mile-long non-motorized pathway from Oscoda/AuSable to Hale. In Phase 3 of this trail, a 5.3-mile-stretch will include a 10-ft.-wide gravel path adjacent to River Road National Scenic Byway. Closing the funding gap will allow for the completed construction of this critical phase and the continued extension of Michigan's Iron Belle Trail.

There is an extraordinary amount of pedestrian and bicycle traffic along this stretch due to the number of attractions and the large campground in the area. Campers, residents, visitors, and tourists should all have a safe place to travel and exercise when traversing along from destination to destination. This campaign will provide just that as well as regional connectivity.

"We are absolutely thrilled to have been selected for the PSCP matching grant program for phase 3 of our Iosco Exploration Trail, connecting into Michigan's Iron Belle Trail, and a long-time vision of a beautiful trail system that would bring immense recreational and economic benefits to this gorgeous area of Michigan," said Iosco Exploration Trail Secretary Roberta Smith. "This is truly an enormous opportunity. We are grateful, and now have a lot of work to do to reach our goal."

Public Spaces Community Places is a collaborative effort of the MEDC, the Michigan Municipal League, and Patronicity, in which local residents can use crowdfunding to be part of the development of strategic projects in their communities and be backed with a matching grant from MEDC. Communities, nonprofits and other business entities can apply at https://patronicity.com/puremichigan.

"The Michigan Municipal League is a firm believer in building community wealth in ways that build on existing assets and enhance the human experience for everyone," said Dan Gilmartin, League's CEO and Executive Director. "Connecting the local Iosco Exploration Trail and to a portion of Michigan's Iron Belle Trail system is community wealth building in action. With the public's support, this project will improve the human experience for all for years to come. That is what community wealth building is about."

The Public Spaces Community Places initiative started in 2014 with MEDC providing matched funding of up to $50,000 for community improvement projects throughout Michigan. As of June 30, 2021, MEDC has provided more than $8.6 million in matching grants. Since the launch of the program, 280 projects have been successful in reaching their goal, with $10.1 million raised from 48,922 individual donors.
About Michigan Economic Development Corporation (MEDC)