Gov. Gretchen Whitmer announces 245 manufacturing jobs with Tier 1 auto supplier in Southeast Michigan
• Global auto supplier Flex-N-Gate establishing new manufacturing facility in Troy, investing $52.1 million • Gov. Whitmer also announces mixed-use development in Midtown Detroit to bring workforce housing, increased vibrancy to neighborhood
LANSING, Mich. – Governor Gretchen Whitmer joined the Michigan Economic Development Corporation (MEDC) today to announce two projects in Southeast Michigan that will create 245 automotive manufacturing jobs and provide additional housing in Midtown Detroit have been approved by the Michigan Strategic Fund.
"Good paying jobs and housing that is attainable for our workforce remain critical drivers of economic opportunity as we jumpstart Michigan's economy," said Governor Whitmer.
"The expansion of Flex-N-Gate Troy means an additional 245 new jobs in Southeast Michigan and continues our leadership in advanced automotive manufacturing and mobility, while the new mixed-use development in Detroit will add critical housing to Midtown."
Flex-N-Gate Troy establishing manufacturing facility in Troy, creating 245 jobs
Flex-N-Gate Group is a minority-owned American Tier 1 enterprise that operates globally and delivers a broad range of exterior and interior plastic, structural metal, advanced vehicle lighting and mechanical assembly automotive systems and components to automotive OEMs. Established in 2019, Flex-N-Gate Troy, LLC is a Flex-N-Gate Group member company created to supply sequenced plastic fascias and welded underbody rear rails.
The company will operate out of the former AxleTech facility in the city of Troy with an expected private investment of $52.1 million. The project is also creating 245 new jobs, resulting in a $1 million Michigan Business Development Program performance-based grant. Michigan was chosen over competing sites in other locations. Flex-N-Gate supports personal growth of its employees and makes every effort to hire, train, and promote from within. The company also utilizes Michigan Works! to reach local talent in disadvantaged areas and underrepresented employees.
"We are thrilled to once again be expanding Flex-n-Gate's footprint in Michigan with our new manufacturing operation located in Troy. Flex-N-Gate truly appreciates the support that the city and state have shown regarding this project. The State of Michigan has been consistent in its support of all Flex-n-Gate growth plans and it is this consistency which keeps us coming back to Michigan," said Flex-N-Gate Executive Vice President of Metals and Procurement Bill Beistline.
The project will bring immediate jobs with a large auto supplier and will further solidify the company's position in Michigan while aligning with MEDC's strategic goals of retention and growth in the automotive and advanced manufacturing businesses in the state.
The city of Troy has provided support to the project with staff, financial and marketing assistance and extended a previously approved Industrial Facilities Tax Exemption Program abatement for the property.

"The city of Troy is proud to welcome Flex-N-Gate and its employees to its new facility at 1400 Rochester Road in Troy. As a global Tier 1 auto supplier, Flex-N-Gate recognized the significant business advantages that come with a Troy location," said Glenn Lapin, Troy Economic Development Specialist.
Individuals interested in careers with Flex-N-Gate Troy should visit https://jobs.flex-n-gate.com/.
Petit Bateau, LLC plans to construct two five-story mixed-use buildings, and four multi-family townhome buildings, on six parcels in the Cultural Center of Midtown Detroit. The Petit Bateau project will include the East Building, consisting of commercial space and 38 residential units, and the West Building, comprised of retail space, 38 residential units, and four multifamily townhome buildings with a total of 16 townhomes. The project will include a total of 92 residential units with 20 percent of those units set aside for individuals at 80 percent of area median income or below. The project will also include public improvements such as sidewalks, alley paving, curbs and a low-impact green storm water management system.
The project is expected to generate a total capital investment of $30.9 million. The City of Detroit Brownfield Redevelopment Authority today received MSF approval of a brownfield work plan including state tax capture in the amount of $247,167 for the reimbursement of brownfield activities. The city of Detroit is supporting the project with the local portion of the brownfield Tax Increment Financing and a 15-year Neighborhood Enterprise Zone tax abatement valued at approximately $2.6 million. The city of Detroit is engaged with MEDC's Redevelopment Ready Communities program.
"Throughout the City, the Detroit Economic Growth Corporation is helping to activate vacant property into productive use," said DEGC executive vice president Kenyetta Hairston-Bridges, Economic Development and Investment Services. "With the support of the City of Detroit Brownfield Redevelopment Authority, MEDC and MSF, Julio Bateau's development will complete the last vacant block in Midtown, and provide both commercial space and affordable housing. The DEGC is proud to enable development that connects residents to the rich fabric of the neighborhood with its diverse housing, historic churches, schools, parks, and major cultural institutions."
The project is putting a long-vacant property to new use, putting it back on the tax roll and offering necessary workforce housing, supporting MEDC strategic objectives including developing attractive places to retain and attract talent and creating more equitable access to attainable housing.
"We are working to retain and grow global companies like Flex-N-Gate who see the opportunity to grow and create good manufacturing jobs in Southeast Michigan, while supporting projects that create the vibrant communities that our workforce is able to live, work and play in," said Josh Hundt, Chief Business Development Officer and Executive Vice President at the Michigan Economic Development Corporation. "We are proud to work with our local partners on these two projects that will help to drive economic opportunity in the region."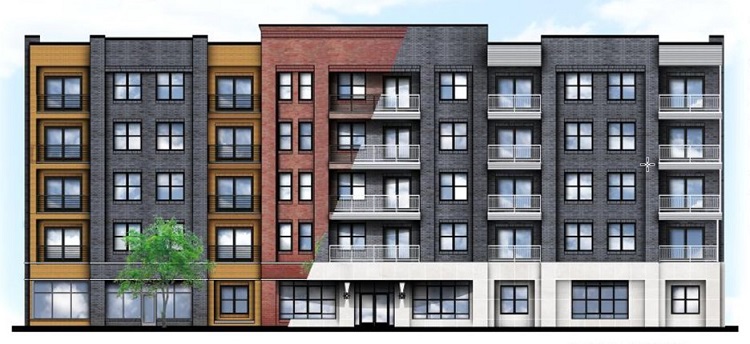 About Michigan Economic Development Corporation (MEDC)