$50,000 goal to win matching grant through MEDC's Public Spaces Community Places initiative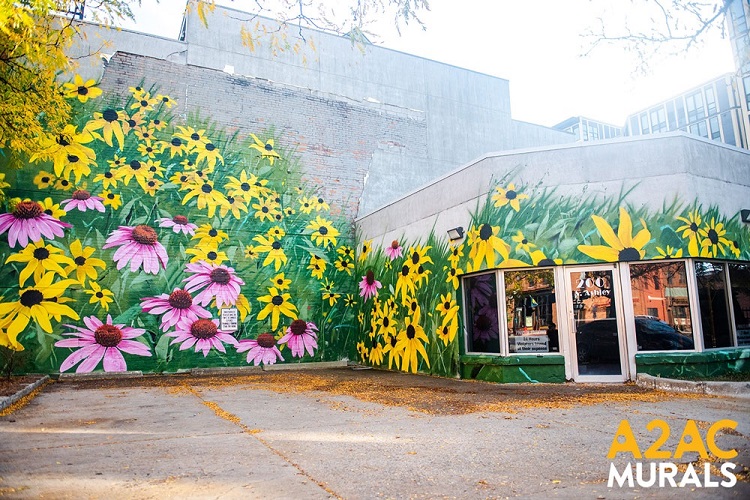 LANSING, Mich. – The A2AC Art in Public program will bring more art into downtown Ann Arbor with new murals and installations with the help of a new crowdfunding campaign, the Michigan Economic Development Corporation and Ann Arbor Art Center (A2AC) announced today. The campaign is being offered through the Michigan-based crowdfunding platform Patronicity.

If the campaign reaches its crowdfunding goal of $50,000 by July 30, the project will win a matching grant with funds made possible by MEDC's Public Spaces Community Places program. For project details and to donate, please visit: patronicity.com/artinpublic.

"Public art brings people out into the community and creates more vibrant, engaging spaces," said MEDC Senior Vice President of Community Development Michele Wildman. "We are pleased to support this effort for a second year through our Public Spaces Community Places program."
The funds raised during this campaign will support two of A2AC's Art in Public initiatives – A2AC Murals and A2AC Alleys. A2AC Murals will attract local, regional, and national artists to create new murals in downtown Ann Arbor. The project pairs downtown buildings and business owners with artists who visually transform their buildings and spaces with beautiful and thoughtful public artworks.

A2AC Alleys expands beyond walls to provide a brand-new spatial installation art experience. A2AC has invited architects, designers, engineers, and artists from around the world to participate in a design competition to reclaim these forgotten pedestrian spaces through immersive art installations. The competition is already underway and will select up to five artists who will make their vision come to life in a downtown alleyway.

"With the support of the MEDC's PSCP program and the generosity of its donors, the A2AC's "Art in Public" initiative is poised to embark on the second year of progress in the expansion and accessibility of public art in downtown Ann Arbor," said Marie Klopf, Ann Arbor Art Center's President & CEO. "In 2020, the transformative A2AC Murals project was a huge success and completed 10 separate murals throughout the downtown. The continuation of this effort in 2021 will enhance the downtown experience through additional accessible and equitable public art experiences for community members and visitors alike."

Public Spaces Community Places is a collaborative effort of the MEDC, the Michigan Municipal League, and Patronicity, in which local residents can use crowdfunding to be part of the development of strategic projects in their communities and be backed with a matching grant from MEDC. Communities, nonprofits and other business entities can apply at https://patronicity.com/puremichigan.

"The Michigan Municipal League is a firm believer in building community wealth in ways that build on existing assets and enhance the human experience for everyone," said Dan Gilmartin, League's CEO and Executive Director. "This public art project in Ann Arbor is community wealth building in action. With the support of the Ann Arbor area community, the A2AC Murals and A2AC Alleys efforts will improve the human experience for all for years to come. That is what community wealth building is about."

The Public Spaces Community Places initiative started in 2014 with MEDC providing matched funding of up to $50,000 for community improvement projects throughout Michigan. As of May 31, 2021, MEDC has provided more than $8.5 million in matching grants. Since the launch of the program, 275 projects have been successful in reaching their goal, with $9.9 million raised from 48,007 individual donors.
About Michigan Economic Development Corporation (MEDC)