Crowdfunding campaign launched for "ArtPath | Public Art on the Lansing River Trail 2021" project
$7,500 goal to win matching grant through MEDC's Public Spaces Community Places initiative
LANSING, Mich. – Lansing will continue its successful annual effort to bring public art to the Lansing River Trail through a new crowdfunding campaign, the Michigan Economic Development Corporation and Lansing Art Gallery & Education Center announced today. The campaign is being offered through the Michigan-based crowdfunding platform Patronicity.

If the campaign reaches its crowdfunding goal of $7,500 by April 27, the project will win a matching grant with funds made possible by MEDC's Public Spaces Community Places program. For project details and to donate, please visit: patronicity.com/artpath2021.

"Public art brings people out to public spaces and helps them better engage with those spaces and the community," said MEDC Senior Vice President of Community Development Michele Wildman. "We are pleased to support this effort for the fourth year through our Public Spaces Community Places program."

This summer, Lansing Art Gallery & Education Center is partnering with the city of Lansing for the fourth annual ArtPath River Trail Exhibition. More than three miles of the Lansing River Trail will highlight the work of talented Michigan artists at 20 new locations within historic art districts from Old Town to Downtown, REO Town and beyond.

The funding from this campaign will provide the installations as well as support for safe and healthy activities for self-guided tours, and coordination and promotions for ArtPath 2021. Trail users will be able to explore the ArtPath at their own pace, and learn more about the Michigan artists whose work is installed along the historic river trail.

This is the fourth year the Public Spaces Community Places program has helped the ArtPath exhibition succeed. Last summer, a crowdfunding campaign successfully raised $8,105 in support of the project, with $7,500 awarded in matching funds from MEDC. That summer more than 82,000 visitors enjoyed the River Trail during the exhibition – a substantial increase from the previous year.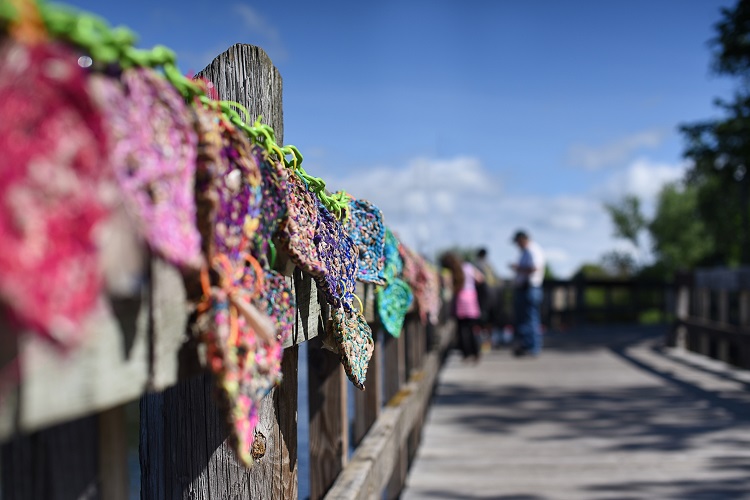 "Public art and placemaking create vibrant, livable communities that people want to be a part of. ArtPath brings original art by Michigan artists to unexpected places while also revitalizing the Lansing River Trail," said Lansing Art Gallery & Education Center Exhibitions & Gallery Sales Director Katrina M. Daniels. "MEDC and Patronicity play an incredible role in community investment. With their support we will not only be able to produce ArtPath but we will also give the community an opportunity to invest in it as well."

Public Spaces Community Places is a collaborative effort of the MEDC, the Michigan Municipal League, and Patronicity, in which local residents can use crowdfunding to be part of the development of strategic projects in their communities and be backed with a matching grant from MEDC. Communities, nonprofits and other business entities can apply at https://patronicity.com/puremichigan.

"The Michigan Municipal League is a firm believer in improving the human experience in our communities," said Dan Gilmartin, CEO and Executive Director for the Michigan Municipal League. "That's what this ArtPath project does. With the support of the Lansing area community, it will expand on the ongoing effort to create spaces that enhance people's enjoyment of the Lansing area, and specifically the Lansing River Trail."

The Public Spaces Community Places initiative started in 2014 with MEDC providing matched funding of up to $50,000 for community improvement projects throughout Michigan. As of March 31, MEDC has provided $8.4 million in matching grants. Since the launch of the program, 266 projects have been successful in reaching their goal, with $9.6 million raised from 47,004 individual donors.
About Michigan Economic Development Corporation (MEDC)