Crowdfunding campaign launched for the "Reimagine Nine Mile Road" project in Oak Park
$50,000 goal to win matching grant through MEDC's Public Spaces Community Places initiative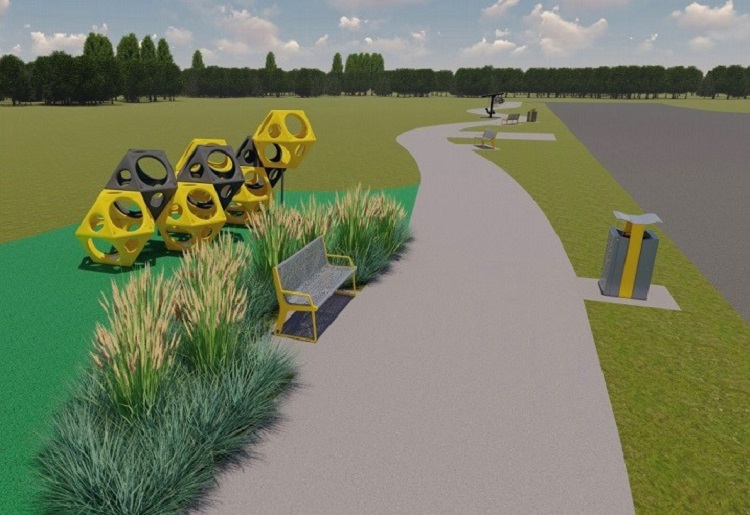 LANSING, Mich. – Oak Park will redevelop a stretch of grass and concrete along Nine Mile Road into a linear park through a new crowdfunding campaign, the Michigan Economic Development Corporation and city of Oak Park announced today. The campaign is being offered through the Michigan-based crowdfunding platform Patronicity and is part of a greater effort to enhance the Nine Mile corridor in Oak Park.

If the campaign reaches its crowdfunding goal of $50,000 by April 30, the project will win a matching grant with funds made possible by MEDC's Public Spaces Community Places program. For project details and to donate, please visit: patronicity.com/ninemile.

"Transforming underutilized spaces into vibrant public gathering spots that fit their neighborhood and give people space to safely gather is what this program is intended for," said MEDC Senior Vice President of Community Development Michele Wildman. "We are pleased to support and provide resources for this effort through our Public Spaces Community Places program."

The Nine Mile Redesign project implementation began back in 2015 with the goal of redeveloping Nine Mile Road. The city of Oak Park gathered public input to help reimagine the corridor and make it more attractive to residents, businesses, and investors. The first phase included a road diet, bike lanes, two pocket parks, and much more.


This campaign will conclude the second phase of the redevelopment of Nine Mile through the completion of the Nine Mile Road Linear Park with exciting new amenities for people of all ages and abilities. A section of road that is currently is a drab stretch of grass and concrete on the south side of Nine Mile between Scotia and Rosewood will be transformed into a new linear park. The linear park will be built out with elements including lighting, benches, play structures, and public art pieces.

"The Nine Mile Road Linear Park will make a significant contribution to transforming this vital Oak Park corridor into an economic and cultural asset," said Oak Park Mayor Marian McClellan. "This crowd-funding campaign with matching funds from the MEDC will provide places for residents to gather, public art to enjoy, and play structures for children."

Public Spaces Community Places is a collaborative effort of the MEDC, the Michigan Municipal League, and Patronicity, in which local residents can use crowdfunding to be part of the development of strategic projects in their communities and be backed with a matching grant from MEDC. Communities, nonprofits and other business entities can apply at https://patronicity.com/puremichigan.

"The League is a firm believer in the power of creating spaces that attract people, also known as placemaking," said Dan Gilmartin, CEO and Executive Director of the Michigan Municipal League. "With the support of the community, this linear park will enhance the work already happening in the Oak Park corridor and become a source of community pride for years to come."

The Public Spaces Community Places initiative started in 2014 with MEDC providing matched funding of up to $50,000 for community improvement projects throughout Michigan. As of Jan. 31, 2021, MEDC has provided more than $8.2 million in matching grants. Since the launch of the program, 261 projects have been successful in reaching their goal, with $9.5 million raised from 46,672 individual donors.
About Michigan Economic Development Corporation (MEDC)