Crowdfunding campaign launched for "Cascade in the Shade" at Shadyside Park in Mount Clemens
$40,000 goal to win matching grant through MEDC's Public Spaces Community Places initiative
LANSING, Mich. –Shadyside Park in Mount Clemens will gain a playscape and splash water feature through a new crowdfunding campaign, the Michigan Economic Development Corporation and nonprofit Advancing Macomb announced today. The campaign is being offered through the Michigan-based crowdfunding platform Patronicity.

If the campaign reaches its crowdfunding goal of $40,000 by April 30, the project will win a matching grant with funds made possible by MEDC's Public Spaces Community Places program. For project details and to donate, please visit: patronicity.com/cascade.

"Activating underused spaces and creating new community amenities is exactly what this program is intended for," said MEDC Senior Vice President of Community Development Michele Wildman. "We are pleased to support and provide resources for this effort through our Public Spaces Community Places program."

This campaign will create an alluring playscape in Shadyside Park that incorporates an interactive water feature for play during summer months and inspires play all year round. Advancing Macomb is continuing its partnership with the City of Mount Clemens and the Anton Art Center to provide unique opportunities to increase access to play in public spaces for families. This effort began in downtown Mount Clemens in 2019 and with overwhelming community support, was expanded to provide more opportunities for play in the neighborhoods.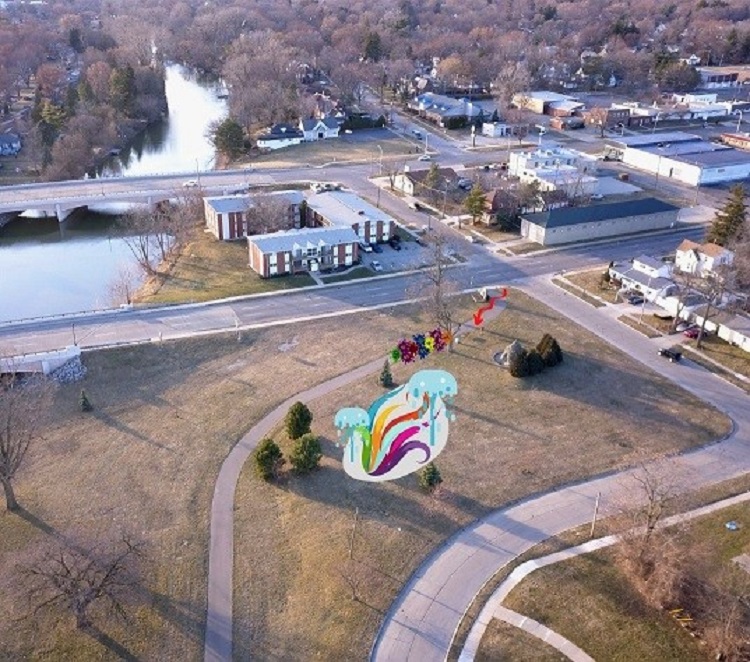 "Cascade in the Shade, a community-designed interactive water fountain with colorful murals, will inspire play and increase access to recreation for families in Shadyside Park, an underutilized public space in Mount Clemens," said Diane Banks, Executive Director of Advancing Macomb. "Although we have been awarded a Play Everywhere Design Challenge grant through the Ralph C. Wilson, Jr. Foundation and KABOOM!, we still need to raise additional funds for the project. The Public Spaces Community Places matching grant program is essential in helping us fill the funding gap to make this project a reality."

Public Spaces Community Places is a collaborative effort of the MEDC, the Michigan Municipal League, and Patronicity, in which local residents can use crowdfunding to be part of the development of strategic projects in their communities and be backed with a matching grant from MEDC. Communities, nonprofits and other business entities can apply at https://patronicity.com/puremichigan.

"The Michigan Municipal League is a firm believer in improving the human experience in our communities," said Dan Gilmartin, CEO and Executive Director of the Michigan Municipal League. "That's what this project does. With the backing of Mount Clemens-area supporters, it will create a vibrant, interactive attraction that will gather people, share community wealth and prosperity, and be a source of pride for years to come."

The Public Spaces Community Places initiative started in 2014 with MEDC providing matched funding of up to $50,000 for community improvement projects throughout Michigan. As of March 15, MEDC has provided nearly $8.4 million in matching grants. Since the launch of the program, 264 projects have been successful in reaching their goal, with $9.6 million raised from 46,958 individual donors.
About Michigan Economic Development Corporation (MEDC)