• Redevelopment of former Cadillac Stamping Plant property in Detroit to create additional manufacturing growth opportunities • Support approved for new carpenters training center, workforce opportunities in Detroit • Community development project in Port Huron bringing new opportunities for economic growth • Updated guidelines for Michigan Business Development Program put MEDC strategic plan into action
LANSING, Mich. – At today's final meeting of 2020, the Michigan Strategic Fund board approved a range of projects and initiatives that will keep Michigan's economic recovery moving forward in the new year. In all, the developments approved today are expected to generate a total capital investment of $80.7 million and return a number of obsolete properties to productive use, the Michigan Economic Development Corporation announced today. The board also took action to approve a new initiative around Industry 4.0 readiness across the state.

"Today's projects will create a more resilient economy and continue to lay a path forward toward economic recovery for Michigan's residents, businesses and communities," said MEDC CEO Mark Burton. "We are proud to work with our local and industry partners to place our workforce and companies at the forefront of manufacturing technology, and also create increased vitality in Port Huron."

Michigan's Leadership in Manufacturing Extended Through Statewide Industry 4.0 Initiative

The Michigan Strategic Fund today approved a new Industry 4.0 initiative, a statewide effort to ensure 50 percent of Michigan manufacturers – or 6,200 businesses – are prepared to adopt Industry 4.0 technologies at some level by 2025. The initiative includes efforts to drive awareness on the importance of Industry 4.0 readiness and technical support to help small- to medium-sized manufacturers adopt Industry 4.0 technologies through a partnership with Automation Alley and the Michigan Manufacturing Technology Center (MMTC). An RFP for a grant program of up to $2 million to support regional needs related to Industry 4.0 readiness complementary, but separate, from the Automation Alley and MMTC efforts, was also approved. To learn more about the initiative, visit here.

Redevelopment Project, Carpenters Training Center Will Lead to New Career Opportunities in Detroit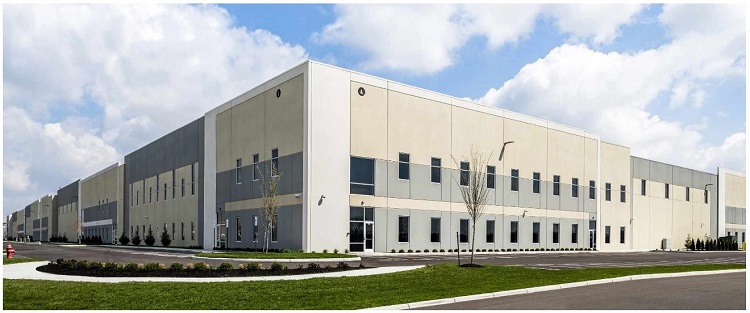 NorthPoint Development and Michigan based LoPatin & Co. plan to redevelop the 45-acre site of the former Cadillac Stamping Plant in the city of Detroit. The project will include the demolition of an existing building and the construction of a new multi-tenant industrial manufacturing facility that will be targeted toward automotive suppliers and advanced manufacturing and logistics opportunities. NorthPoint Development, LLC is one of the country's largest manufacturing and logistics development companies and was ranked by Real Capital Analytics as the #1 industrial developer over the last five years in terms of square feet developed.

The project is expected to generate a total private investment of $47.9 million and, when the facility is fully leased, has the potential to support manufacturing efforts that could employ up to full-time 450 workers. The company will use the Detroit at Work career center for hiring, with a commitment to giving preference to Detroit residents in trades that include carpentry, general labor, operators, roofing, plumbing, electricians, and landscaping. In addition, the project will address the lack of manufacturing space in the region that can be used to attract large corporate tenants, particularly in the mobility and automotive sectors. The facility is expected to be operational by January 2022.

"This abandoned industrial site will be remediated of hazardous materials, the structure will be demolished and the new building will create hundreds of jobs and tax revenue for the city, county and state," said NorthPoint Development Director of Development Tim Conder. "This redevelopment is a win-win for the city of Detroit and the residents of this community. We look forward to working with the city on this project."

The City of Detroit Brownfield Redevelopment Authority today received MSF approval of $3,330,293 in state tax capture to reimburse for eligible brownfield remediation activities. The property has a history of manufacturing uses dating back to the early 1900s and requires extensive cleanup of the soil, asbestos removal and exorbitant demolition costs. The project will also include the improvement of public sidewalks on the property.

The city of Detroit is supporting the project with the local portion of the Act 381 Work Plan request valued at $4,659,235 and an anticipated 12-year Industrial Facilities Tax Exemption valued at $8,081,377.

By redeveloping the underutilized and contaminated land that can be used to attract business expansion and job opportunities in a geographically disadvantaged area, support for this project will create opportunity in key industries and increased economic prosperity for the region.

"The DEGC is committed to revitalizing environmentally distressed and blighted industrial areas within Detroit," said Kenyetta Bridges, DEGC Executive Vice President, Economic Development and Investment Services. "By leveraging creative tools like Brownfield incentives and tax abatements, DEGC is helping convert properties that were once liabilities into jobs-producing assets. Such strategies allow us to attract developers to challenged properties and gain consideration by companies like Northpoint looking for sites they can develop into facilities that will provide good jobs to local residents."

MSF also approved $5 million in collateral support to the Michigan Statewide Carpenters and Millwrights (MSCM) Joint Apprenticeship and Training Fund (operated by the Michigan Regional Council of Carpenters) for the construction of a training center on the west side of Detroit, supporting additional workforce training within the state. The center will feature classrooms and training areas for hands-on experience and real-world simulations. Additionally, the building will offer meeting space for contractor symposiums, career fairs, apprenticeship readiness programs, and space for community events.

The 147,000-square-foot facility on seven acres will centralize operations that are currently spread across southeast Michigan, consolidating administrative and training operations under one roof. The property was leased from the city of Detroit for 99 years at $1. As part of MRCC's commitment to the city, 25 percent of the apprentice applicants at the new training center will be reserved for Detroit residents. The $30 million center is projected to open in 2021 and will begin hosting classes in early 2022.

TCF Bank (formerly Chemical Bank) is providing $24 million in financing for the construction of the project. The collateral support from MSF will serve as an enhancement to the MSCM Joint Apprenticeship and Training Fund loan from TCF Bank.

Community Development Project to Help Revitalize Downtown Port Huron

The Michigan Strategic Fund also approved a community revitalization project in Port Huron that is helping to create vibrant communities that attract talent through innovative placemaking. By contributing to traditional downtown districts and revitalizing public space in geographically disadvantaged areas, these projects are meeting MEDC's strategic goal of developing attractive places to live, work, visit and play.

The Wrigley Center Development Project will renovate and expand a vacant, functionally obsolete one-story building in downtown Port Huron. The completed development will consist of a four-story building including 36 mixed-income residential units and commercial space that will contain multiple tenants including the city of Port Huron farmers market. The project will also include multi-level parking and public improvements including sidewalks and the space occupied by the farmers market. The project is expected to generate a total capital investment of $14.4 million and create 45 full-time equivalent jobs, and will redevelop a vacant, underutilized property, increase density and walkability to the downtown, and bring new economic activity to the area. MSF today approved a $1,500,000 Michigan Community Revitalization Program performance-based grant in support of the project. In addition, The City of Port Huron Brownfield Redevelopment Authority today received MSF approval of $689,143 in state tax capture to be used to reimburse for brownfield remediation activities.

The city of Port Huron is supporting the project by approving the local portion of the Act 381 Work Plan valued at $981,507 and a 10-year Obsolete Property Rehabilitation Act tax abatement valued at $2.7 million. St. Clair County has also agreed to sell the property to the developer for less than the appraised value. The developer has partnered with the Community Foundation of St. Clair County, which will be contributing $350,000 in the form of a direct equity investment as well as a forgivable loan.

Key administrative actions put MEDC strategic plan into action
The Michigan Strategic Fund also took a number of administrative actions today, including updated program guidelines for the Michigan Business Development Program (MBDP) and allocation of funds for continued business marketing efforts by the MEDC.
Updated guidelines for MEDC's flagship Michigan Business Development Program better reflect updated goals of achieving a more equitable and resilient economy for all. Updates include stronger definitions around pathway jobs, a reinforcement of MEDC's commitment to invest in geographically disadvantaged areas and will reflect its continued support for innovative industries throughout the state. These program guideline updates build on approval of updated program guidelines for the Michigan Community Revitalization Program in October.


An amendment to the contract with global advertising agency McCann Erickson, allocating an additional $5.7 million for McCann Detroit to continue to provide business marketing and advertising services to MEDC. McCann has been an effective strategic partner with MEDC, promoting Michigan's reputation as a world-class business location through the full range of strategic marketing and communications activities including advertising, social media, digital media, events, content marketing and more. These efforts have helped Michigan continue to perform well in national business rankings, connect Michigan businesses to critical services through the Pure Partnership campaign and support small businesses through efforts including the "Support Local" campaign launched earlier this month.
About Michigan Economic Development Corporation (MEDC)