• More than $725,000 in grants will help properties compete for business attraction projects • Michigan Build Ready Sites program aims to give Michigan competitive advantage in attracting new businesses • Grants will leverage $1.3 million in local match funds
LANSING, Mich. – Ten industrial sites submitted by communities and local partners around Michigan have been awarded $728,500 in site readiness grants, the Michigan Economic Development Corporation announced today. Awarded through the competitive Michigan Build Ready Sites program, the targeted grant program of the Site Readiness Improvement program, the grants are aimed at boosting Michigan's inventory of available properties ready to compete for business attraction projects.
"These site-ready projects underscore Michigan's continued commitment to working with our local partners and communities to foster business growth and developing our inventory of shovel ready sites across the state," said MEDC Chief Business Development Officer and Executive Vice President Josh Hundt. "With the innovative projects our partners have brought forth, we are positioning the state to grow a more resilient economy that will have meaningful impact on our business attraction efforts, and ultimately bring good jobs for Michiganders."
The Michigan Build Ready Sites program is intended to assist with the development or enhancement of industrial sites to help them get closer to having Vetted Site Standards and make them more competitive during the site selection process. Local and regional economic development or community partners submitted applications that demonstrated a plan and pathway to a vetted site. Grant funds under the program could be used for activities including site development studies or site material development, site implementation or land assembly activities, and more.
The Eastern Market – Superior Street site received a Build Ready Sites grant of $75,000 to assist the Detroit Economic Growth Corporation and city of Detroit to market the sites and project area with clear title and known conditions by executing predevelopment activities such as environmental, geotechnical, and physical assessments of the land and pulling and clearing the title. This site, currently made up of a high number of public vacant parcels that were formally residential, provides an opportunity to attract two large floor plate food production and wholesaler facilities into a larger project area.
Attracting private company partner investment and job creation to the Dorr Township site is not possible without adequate utility and roadway infrastructure. The $75,000 site readiness grant will assist with these improvements and the creation of a 250-acre "Sustainable Business Park." The sustainable business park is an alternative to more landfill dead properties and is a bold attempt for a different kind of economic development initiative. This "re-Imagining" of trash will be a model for the State of Michigan and other local units of government who are looking for alternatives to the landfilling of solid waste. Once completed, this world class public-private partnership opportunity in Allegan County will be one of the county's biggest-ever economic development activities and successes. On 250 acres, it can be expected that the property will attract hundreds of millions of dollars in private sector investment and job creation businesses.
"Both the sustainability park in Dorr Township and the Eastern Market site exemplify the type of project the Build Ready program is intended for – collaborative, thoughtful plans that identify a pathway to the redevelopment of sites, making them ready to compete for site selection projects and generate long-term prosperity for their communities," Hundt said.
Grants were awarded to the following projects: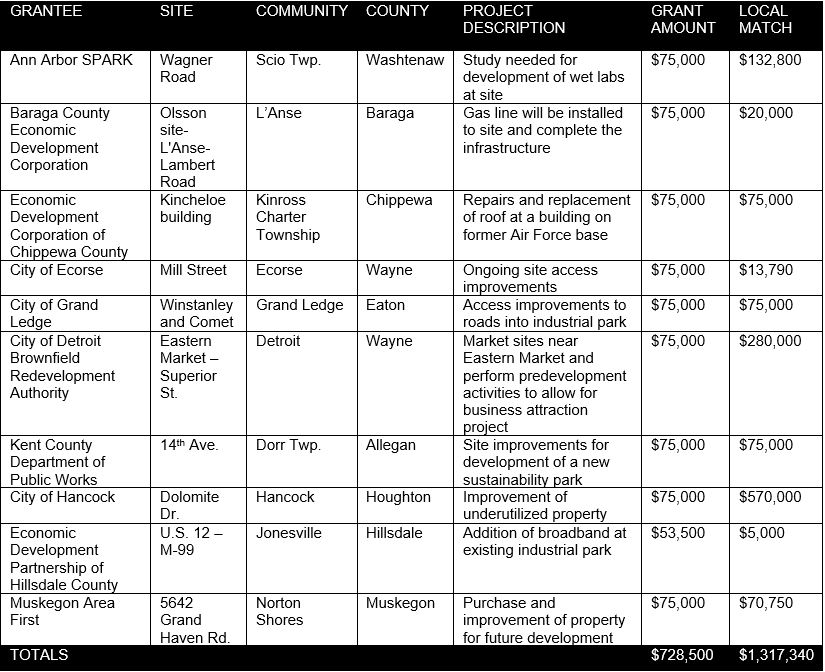 "Baraga County is a fantastic place to do business. Having the right site in place to help entrepreneurs achieve their dreams and help industry grow, and provide employment are essential to L'Anse, Baraga County, and the Upper Peninsula's future," said L'Anse Village Manager Bob LaFave. "With these funds, the village of L'Anse, in partnership with the Baraga County EDC, Lake Superior Community Partnership, and Site Readiness Grant opportunity with the Michigan Economic Development Corporation, will be able to continue to help secure our economic future."

"On behalf of the City of Norton Shores, we were pleased to accept the Build Ready Sites grant, through Muskegon Area First, from the Michigan Economic Development Corporation. We would like to thank Muskegon Area First, our county-wide economic development corporation, for submitting the grant, which will allow us to add much needed new industrial property to the City's inventory. In the past few years, we have had several new companies locate in Norton Shores, and the existing inventory of industrial space has been greatly depleted," said Norton Shores City Administrator Mark Meyers. "Vacant industrial land is one of the most important needs in our city, as existing manufacturers continue to expand and manufacturers out of the area explore opportunities to locate in the city. We are grateful to the MEDC for providing this exciting opportunity for the City of Norton Shores to add more industrial land to our inventory, and thus additional jobs for the residents of Muskegon County and the State of Michigan. I have no doubt we will have manufacturers ready to build on this site in the near future."

"The city of Ecorse is very pleased to be a recipient of a 2020 MEDC Site Readiness Grant. This funding will help us evaluate and address environmental contamination that has long been an impediment to productive redevelopment of the city-owned Mill Street site, a former steel mill. A 2019 Site Readiness grant supported the creation of basic information about the site, essential for marketing and understanding site needs and assets, and the 2020 grant picks up from there," said Ecorse City Administrator Richard Marsh. "MEDC has been a great partner in this process and we are very optimistic that the end result will be new, high-quality industrial development that creates significant tax base and jobs for the city and region."
For more information on each project visit here. Five more communities will be receiving an additional $300,000 in Community Development Block Grant funds for site ready projects sometime in the next few weeks.
Michigan moved up three spots in Area Development's 2020 Top States for Doing Business rankings this year; including #7 overall for the state's Site Readiness programs, including the Michigan Build Ready Site program. Other initiatives highlighting site selection in Michigan include a dedicated landing page for site selectors. This site serves as a one-stop-shop for any and all site selector needs from statistics demonstrating Michigan's strengths as a place to do business to Zoom Prospector data base access.
A key component of the Michigan Build Ready Sites Program is the establishment of Vetted Site Standards, a voluntary resource that provides a critical roadmap to helping Michigan sites achieve "shovel ready" status. These standards include appropriate planning and zoning, boundary survey, proper soil and environmental conditions, and more.
The Michigan Build Ready Sites program's creation was guided by input from the Collaborative Development Council (CDC), utility partners, stakeholders and other local economic development partners. With the Michigan Build Ready Sites program in motion, local partners in conjunction with the MEDC are continuing to highlight the strengths of Michigan's cities and sites for doing business.
About Michigan Economic Development Corporation (MEDC)