Crowdfunding campaign launched for Boyne Forest Trail Bike Park in Boyne City
Friday, November 13, 2020
$50,000 goal to win matching grant through MEDC's Public Spaces Community Places initiative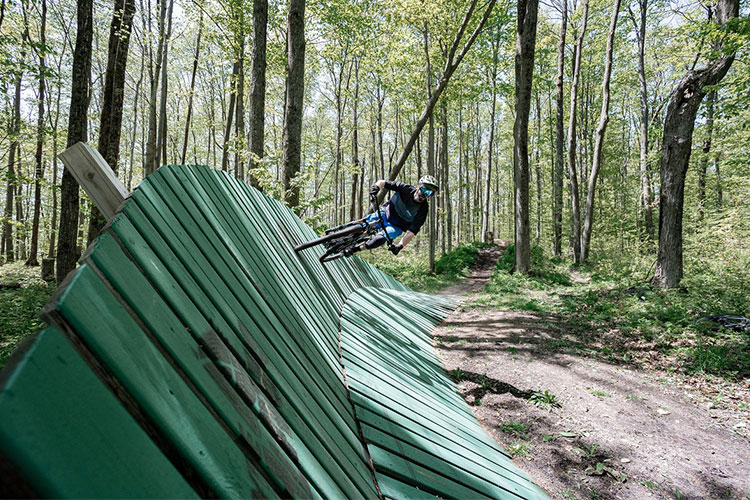 LANSING, Mich. – Boyne City will gain a new bike park and three miles of world-class, sustainable, and professionally-built trails through a new crowdfunding campaign, the Michigan Economic Development Corporation and Top of Michigan Mountain Bike Association (TOMMBA) announced today. The campaign is being offered through the Michigan-based crowdfunding platform Patronicity.

If the campaign reaches its crowdfunding goal of $50,000 by January 8, the project will win a matching grant with funds made possible by MEDC's Public Spaces Community Places program. For project details and to donate, please visit: patronicity.com/boyneforesttrail.

"Creating new recreational assets for a region is a strong strategy for economic development and local pride, and this project is another example of how Boyne City continues to enhance the sense of place in its community and improve the quality of life for its residents and visitors," said MEDC Senior Vice President of Community Development Michele Wildman. "We are pleased to bring this space to life and provide resources for this effort through our Public Spaces Community Places program."

This project will add miles of new sustainably designed trails that will become a destination trail system for the region. This trail system will draw from states across the region for many reasons. The new trails will be professionally built with exciting features, sustainable design practices, and will be heavily promoted by TOMMBA and our partners. Boyne Forest Trail is within riding distance of the thriving downtown of Boyne City, a Michigan Main Street community.

The bike park offers local residents and visitors miles of biking and hiking trails through some of the most beautiful woods near Walloon Lake and Boyne City. In winter, the trails are groomed for winter biking, snowshoeing, and backcountry skiing. With its rolling terrain, natural charm, and proximity to a fantastic variety of restaurants, pubs, shops, the Boyne Forest Trail offers another recreation destination as a choice for the region's outdoor enthusiasts.

"Boyne is a Trail Town, with the area's trails continuing to expand and connect for a multi-use experience for all skill levels and generations," said Spencer Lindenberg, TOMMBA board member. "The Build More Boyne Trails crowdfunding campaign will add another dimension to the existing Boyne Forest Trail System, including unique features and challenges. We are excited to tell donors that their donations will be doubled with a Michigan Economic Development Corporation match or even tripled, with donation challenges – join in the fun as we continue to build more trails in the Boyne region."

Public Spaces Community Places is a collaborative effort of the MEDC, the Michigan Municipal League, and Patronicity, in which local residents can use crowdfunding to be part of the development of strategic projects in their communities and be backed with a matching grant from MEDC. Communities, nonprofits and other business entities can apply at https://patronicity.com/puremichigan.

"Creating engaging outdoor recreational amenities is key to great placemaking," said Dan Gilmartin, CEO and executive director of the Michigan Municipal League. "This new bike park and trails will provide even more opportunities for residents and visitors alike to enjoy the spectacular natural assets this area has to offer."

The Public Spaces Community Places initiative started in 2014 with MEDC providing matched funding of up to $50,000 for community improvement projects throughout Michigan. As of Oct. 31, 2020, MEDC has provided nearly $7.9 million in matching grants. Since the launch of the program, 255 projects have been successful in reaching their goal, with $9.2 million raised from 45,392 individual donors.

Boyne City Main Street was just recognized as a winner of the 2020 Great American Main Street Award (GAMSA) presented by National Main Street Center Inc. on Oct. 30. Selected by a national jury of community development professionals and leaders in the fields of economic development and historic preservation, the Great American Main Street Award winners serve as exceptional models for comprehensive, preservation-based commercial district revitalization. Boyne City was recognized for turning its previously industrial downtown into a thriving destination to live, work, and play. This project is another example of how Boyne City continues to demonstrate its focus on placemaking and creating a thriving community.
About Michigan Economic Development Corporation (MEDC)