THIS JUST IN: General Motors announces plans to add more than 1,200 jobs at its Lansing operations
Friday, February 28, 2020
Automaker has invested more than $1 billion in Lansing manufacturing since 2015
General Motors is adding more than 1,200 jobs at its Lansing manufacturing operations, the automaker announced today. The new jobs are needed to meet customer demand for popular mid-size SUVs and to support the launch of two all-new Cadillac sedans.
"This is great news for our hardworking UAW members, their families, and the entire Lansing community. Everyone knows the best vehicles on the road are made by the industry's best workforce right here in Michigan," said Gov. Gretchen Whitmer. "From the $300 million investment in the Orion Assembly plant to the $2.2 billion in the Detroit-Hamtramck Assembly plant, we are excited about the future of manufacturing in Michigan. We are making strides every single day to cement Michigan's status as a world leader in mobility, and we will continue to work with our partners to keep our foot on the gas."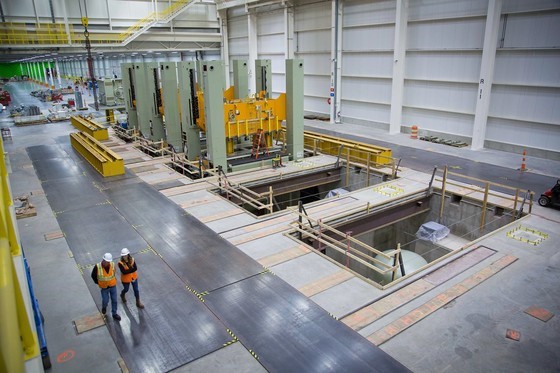 GM said it will add a second shift with almost 400 employees at its Lansing Grand River Assembly facility to support the launch of the Cadillac CT4 and CT5. More than 800 employees and a third shift will be added at its Lansing Delta Township Assembly plant to support production of the popular Chevrolet Traverse and Buick Enclave.
Since 2015, GM has invested more than $1 billion into Lansing manufacturing. This includes the $36 million investment at Lansing Delta Township last year for future mid-size SUV production, as well as the $175 million investment at Lansing Grand River in 2018 to modernize tooling and equipment for the all-new Cadillac CT4 and CT5.
Today's news builds on GM's January announcement that it was investing $2.2 billion at its Detroit-Hamtramck Assembly plant to produce battery electric trucks and other electric vehicles. When the plant is fully operational, the investment will create more than 2,200 manufacturing jobs at the facility. The company also announced it was investing $800 million for supplier tooling and other projects related to the launch of the new electric trucks.
The news also follows a series of other major auto announcements in Southeast Michigan throughout 2019, creating nearly 12,000 new automotive jobs in Michigan in total.
In December, Ford announced it will double its operations in two key facilities and establish a new vehicle modification center in southeast Michigan. In doing so, Ford is extending Michigan's leadership in the design and production of autonomous and electric vehicles — all while creating 3,000 well-paying and skilled trades jobs and investing more than $1.45 billion in the region.
Earlier in 2019, Fiat Chrysler Automobiles announced it is investing $4.5 billion and creating 6,433 jobs to build a new automotive assembly plant in Detroit and add to its production at five existing Michigan facilities, with the ability to build fully battery electric models in the future. This generational project represents the largest automotive assembly plant deal in the U.S. in a decade and is the first new automotive assembly plant in Detroit in more than 30 years.
Estimates from the Center for Automotive Research show every job in an automotive assembly plant has a multiplier of eight jobs throughout the supply chain.
"Today's announcement further solidifies Michigan's position as the undisputed leader of automotive manufacturing and innovation," said Michigan Economic Development Corporation CEO Jeff Mason. "These expansions will continue to strengthen our supply chain and will lead to long-term economic opportunity for all Michiganders."
As the global leader in automotive research and manufacturing, Michigan continues to lead the way in the development of next-generation mobility technologies. Visit PlanetM.com to learn more about how Michigan is driving the next generation of transportation.
Visit michiganbusiness.org/why-michigan to learn why businesses are choosing to invest in Michigan.
About Michigan Economic Development Corporation (MEDC)