MSF actions help create vibrant community spaces, support entrepreneurial programs and promote Michigan as world-class business location
Tuesday, February 25, 2020
Community development projects will bring new vitality and economic activity to Albion, Ironwood, East Jordan and Plainwell • Business marketing efforts to promote Michigan • Support for tech and small business startup programs
LANSING, Mich. – Support for programs that will further grow Michigan's entrepreneurial ecosystem and projects that will transform community spaces in the communities of Albion, Ironwood, East Jordan and Plainwell gained approval from the Michigan Strategic Fund, the Michigan Economic Development Corporation announced today. The MSF also approved funding for business marketing campaigns aimed at supporting business attraction as well as in-state growth opportunities in Michigan.

"These approvals will continue to strengthen the entrepreneurial ecosystem in Michigan and support our goals of developing attractive, vibrant, and resilient places where people want to live, work, and play," said Jeff Mason, CEO of MEDC, the state's chief marketing and business attraction agency, responsible for enabling long-term economic opportunity for all Michiganders.

Last year, the MEDC launched two new business marketing campaigns to implement the full range of marketing and communications activities to attract, retain and grow businesses in Michigan.

MEDC's business attraction "Pure Opportunity" campaign focuses on impactful peer-to-peer testimonials, featuring CEOs and leaders from across Michigan who convey the value and competitive advantage of doing business in our state. Appearing in national print, social and digital media, these testimonials also serve as the foundation of a digital and social campaign promoting Michigan as the place to do business.

The in-state services campaign, promoting "Pure Partnership," demonstrates MEDC's commitment to providing services that drive growth and retention for existing businesses. This campaign campaign highlights several of MEDC's programs in digital channels, billboards and radio spots. The campaigns are integrated with traditional and social media, as well as extensive new efforts
to create valuable content for our prospects and customers.

Since launch, the campaigns have resulted in 561 million impressions which drove 1.3 million visitors to MEDC websites and resulting follow-up from MEDC business development, community development and in-state services teams. To continue those efforts, the Michigan Strategic Fund today approved an extension of the existing business marketing contract with McCann Erickson, a global advertising agency, for MEDC's business marketing advertising services, including digital media, branded content and lead generation.

"McCann has been an effective strategic partner with MEDC, promoting Michigan's reputation as a world-class business location through the full range of strategic marketing and communications activities," Mason said. "The campaigns developed by McCann and the MEDC marketing team have enhanced Michigan's reputation as a leader in business and mobility, while getting more Michigan companies engaged in the many MEDC services designed to help their business grow and thrive. We will partner with McCann in the year ahead to continue optimizing the campaigns' performance and continue reaching decisionmakers in our key industries."

Projects approved today by the Michigan Strategic Fund include the following:

Community Development:

Brick Street Lofts, LLC plans to redevelop three blighted buildings in downtown Albion to add eight new residential units and enhanced commercial space and a reconstructed façade. The project is expected to generate a total capital investment of $3 million and create four full-time equivalent jobs, promote mixed-use development and walkable communities and attract new and retain existing businesses in the community. As a result, the project has been awarded a Michigan Community Revitalization Program performance-based grant in the amount of $931,534. MSF also approved $217,388 in state tax capture for the City of Albion Brownfield Redevelopment Authority to remediate brownfield conditions at the site.

In addition to MSF support, local support for the project includes the local portion of the Brownfield Act 381 Work Plan with an anticipated value of $365,812, which is approximately 62 percent of the total Act 381 request. The city of Albion is certified with the MEDC's Redevelopment Ready Communities program. The project is in a Michigan Geographically Disadvantaged Business Location.

The city of Ironwood has been awarded $1,475,927 in Community Development Block Grant funds for its plans to transform a vacant downtown lot into an active community space that will serve residents of Ironwood as well as the western Upper Peninsula. The project includes the creation of a recreational and community space in downtown Ironwood. The Downtown City Square project is expected to increase outdoor, year-round activity and will spur increased private investment and economic activity within the downtown. With placemaking amenities such as an amphitheater, an ice rink in the winter, a location for food truck vendors and more, it is expected that the space will be a regional destination. The CDBG funds will be used to assist with public facilities improvements needed for the project. In addition, the city will make a minimum anticipated contribution of $201,100 totaling 12.2 percent of the total project costs.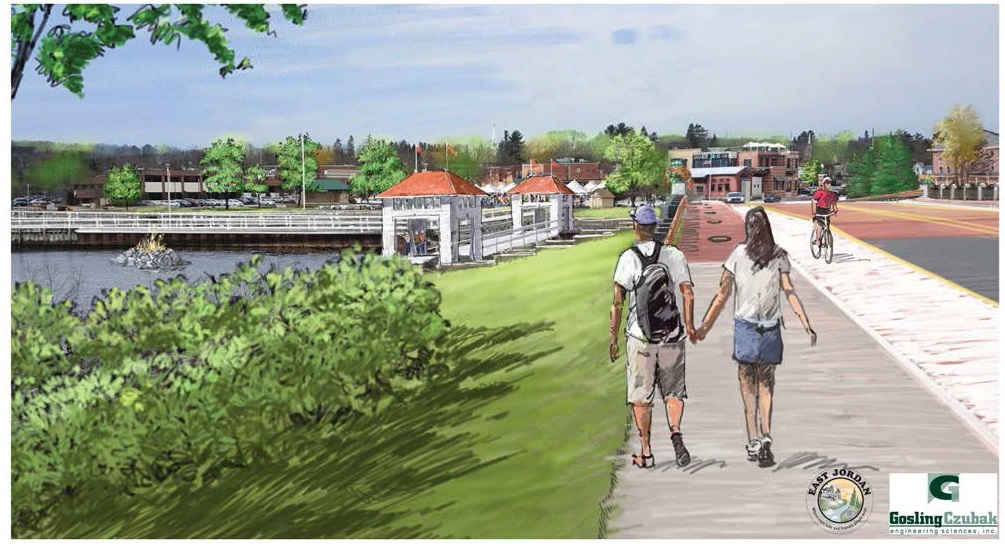 The city of East Jordan has been awarded $2,209,430 in Community Development Block Grant funds to support its plans to create a public waterfront pocket park to anchor the west side of Lake Charlevoix and the Jordan River located in Charlevoix County. The pocket park will enhance public recreation areas for visitors and residents alike. The project will also include a new public waterfront park with a boardwalk, an elevated pedestrian bridge with pavilions and streetscape improvements. Redevelopment of the corridor will reallocate the existing three vehicle lanes into two lanes with adjacent bicycle lanes. The remaining property in conjunction with the project will be available and marked as a priority redevelopment site with the city's partnership of MEDC's Redevelopment Ready Communities Program. The Joining Jordan project will invite new private investment into a targeted area of the community. In addition, the project's implementation will give all members of the community safe access to water recreational activities as well as safe passage throughout the east and west portions of the community without vehicle assistance. The CDBG funds will be used for public facilities improvements needed for the project. In addition to MSF support, the city of East Jordan will make an anticipated contribution of $243,826 which is 10 percent of the total public facility project costs.
The city of Plainwell has been awarded $5.1 million in Community Development Block Grant funds to assist with the final phase of demolition for the remaining non-contributing historic buildings that exist on the former Plainwell Paper Mill site. The obsolete mill located on Allegan Street in Plainwell is situated on 36 acres along the Kalamazoo River. After closure, the city purchased the mill to ensure that it would be redeveloped consistent with community goals. These goals include developing a regional asset by creating jobs, housing, recreational opportunities and increased services. The city will make every effort possible to recycle and/or reuse all appropriate materials. The CDBG funds will be used toward blight elimination related to the Plainwell Paper Mill. Upon completion of the final phase the city will work with the MEDC's Redevelopment Services team to market the property for mixed-use development and much-needed recreation along the Kalamazoo River.

Business Investment:

Jedco Inc., based in Grand Rapids, is a manufacturer of highly engineered gas turbine engines and other components to the aerospace industry. The company is experiencing significant growth and needs to increase production by adding machinery and equipment as well as invest, recruit and train new workers. The company also plans to move to a larger facility in Grand Rapids in early 2021. The company plans to add 27 employees within the next six months and an additional eight within the next two years. MSF today approved $1.9 million in collateral support toward the project. The company has received MSF support in the past. In March 2018, Jedco was awarded a $215,000 Michigan Business Development Program performance-based grant for the creation of 39 highly-skilled jobs and $9.3 million in private investment in the Grand Rapids area.

The Michigan Strategic Fund also approved the following projects as part of an overall strategy to strengthen the ecosystem that enables more entrepreneurship, commercialization and new businesses in the state:
Award of additional funds in the amount of $325,000 and extension of the grant for the Flint Ferris Wheel Business Incubator for one year.
Extension of the grant terms for Invest@NMU, the business incubator/accelerator at Northern Michigan University, including the allocation of $400,000 in additional funding. The grant extension will be used to support one year of Invent@NMU operations including project marketing, consultants and other related administrative expenses.
Extension and allocation of additional funding for existing grants and authorization of new grants to 19 nonprofit/university organizations to provide business incubator services.
Extension of the grant terms with Michigan State University for the University Early State Proof of Concept Fund, including the allocation of $200,000 in additional funding. The University Proof of Concept Fund grant program is designed to closely align with other programs like the Michigan Translational Research and Commercialization program.
For more information on these Entrepreneurial and Innovation projects, a full press release is available here.
About Michigan Economic Development Corporation (MEDC)