City of Tecumseh receives certification as Redevelopment Ready Community
Wednesday, January 29, 2020
Designation facilitates private investment, improves economic development opportunities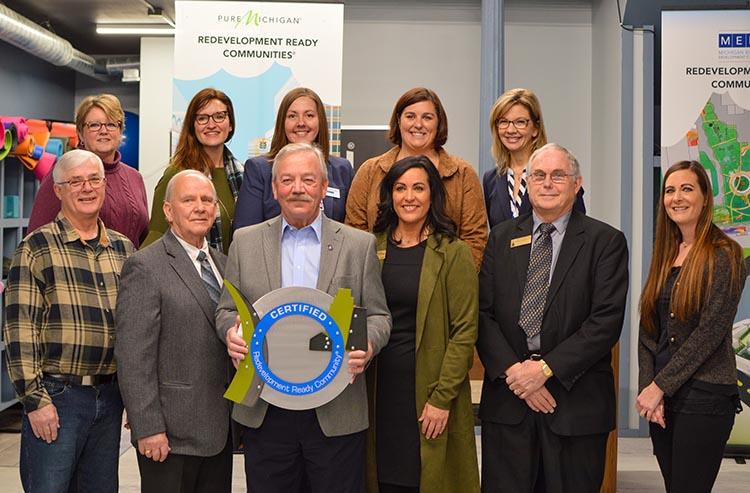 LANSING, Mich. – For their efforts in establishing a solid foundation to attract private investment and further build on municipality assets, the city of Tecumseh has been awarded the Redevelopment Ready Communities (RRC) certification, the Michigan Economic Development Corporation (MEDC) announced.
The MEDC will formally present the award at 11:00am on Thursday, Jan. 30 at a special event held at illuminate Dance and Arts Center and Jazzercize Tecumseh Fitness Center, located at 106 E. Chicago Blvd. in Tecumseh. Tecumseh joins 36 other Michigan communities which have qualified as "thoroughly prepared" when it comes to planning and zoning to remove traditional barriers and promote opportunities for prospective investors.
Other certified RRC communities include:
Allegan
Alpena
Battle Creek
Bessemer
Boyne City
Dearborn
Eastpointe
Escanaba
Ferndale
Grand Haven
Grand Rapids
Grayling
Hillsdale
Howell
Hudsonville
Jackson
Kalamazoo
Laingsburg
Lansing
Lathrup Village
Manistee
Marshall
Meridian Charter Township
Middleville
Mount Pleasant
Muskegon
Novi
Oak Park
Petoskey
Pinckney
Roseville
Saginaw
Southfield
Swartz Creek
Traverse City
Ypsilanti
"Our mission at MEDC is to support Michigan's strong economic momentum and empower communities to establish a strong planning, zoning and economic development foundation," said MEDC Senior Vice President Michele Wildman. "Tecumseh is well positioned to continue to implement their vision for the future and further improve the quality of life for its residents. We look forward to building upon our relationship with the city and supporting local economic development efforts."

As an RRC participant, the city of Tecumseh received a comprehensive assessment that measured current community and economic development practices compared to RRC best practice standards. The program evaluates and certifies communities which integrate transparency, predictability and efficiency into economic development practices. Certification status is a compelling indicator that a community has removed development barriers and streamlined processes to be more competitive and attractive to investors.
To reach certification Tecumseh worked to improve upon numerous policies and processes. The city's efforts are highlighted by the creation of a community engagement plan, overarching marketing strategy and the development of flowcharts that that clarify the steps in each of the city's development review processes.
"We are thrilled that Tecumseh has been certified as a Redevelopment Ready Community," said Tecumseh's Economic Development Director, Jessica Sattler. "The certification process was incredibly rigorous and enabled us to fine tune our internal processes to ensure we are a responsive, business friendly community."
"The City of Tecumseh was historically a company town and relied on a few industries for its success. With changes in our local economy, we are adapting to a new global business environment, implementation of new technologies, and the faster pace of decision making," said Tecumseh City Manager Dan Swallow. "The Redevelopment Ready Communities program was a great way to reaffirm our strategies and pick up some tips from best management practices."
"It is an honor to have achieved this certification and we are excited to utilize the helpful tools available to RRC communities," Sattler said. "We are confident this will help us continue to grow our business community and attract new development."
About Michigan Economic Development Corporation (MEDC)