Community revitalizations projects in Muskegon, Detroit, Kalkaska will bring new housing, vibrancy to downtown areas
Ford expected to create 3,000 new jobs, invest more than $1.45 billion at two of its key Southeast Michigan manufacturing sites
Support for tech and small business startup programs demonstrates Michigan's commitment to growing state's entrepreneurial ecosystem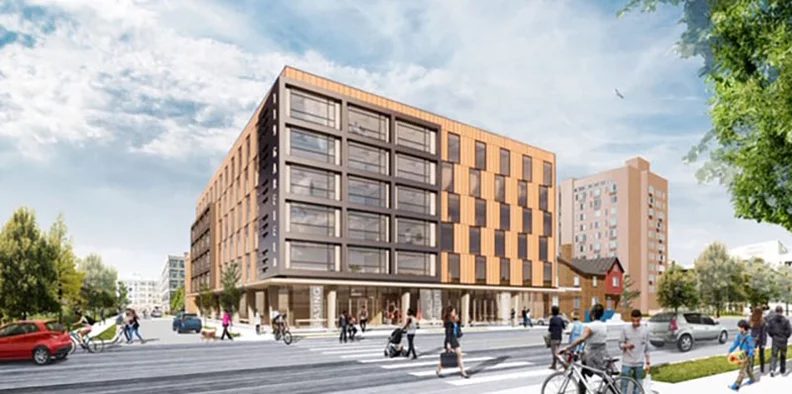 Image courtesy of POHDD Sugar Hill Capital, LLC.
LANSING, Mich. – At today's final meeting of 2019, the Michigan Strategic Fund board approved projects demonstrating support for companies and communities of all sizes around the state, including vital support for the creation of 3,000 new jobs in the state by Ford Motor Company, along with three community revitalization projects and funding to further grow Michigan's entrepreneurial ecosystem.
Overall, the MSF board approved projects expected to generate more than $1.5 billion in capital investment and create 3,076 jobs, the Michigan Economic Development Corporation announced today.
"Today's projects will bring economic opportunities across the state in the manufacturing, mobility and entrepreneurial sectors, as well as support innovative placemaking opportunities in our communities," said Jeff Mason, CEO of MEDC, the state's chief marketing and business attraction agency, responsible for enabling long-term economic opportunity for all Michiganders.
"It's important to note, however, that Ford's Good Jobs for Michigan award will also be the final project awarded under that program before it sunsets at the end of the month. The program has been vital in attracting large-scale projects with highly skilled, high-paying jobs like those announced today here to our state," Mason said.
Ford Motor Company plans to expand at two of its key facilities and establish a new vehicle modification center in southeast Michigan, a project that will generate a total private investment of more than $1.45 billion and create 3,000 well-paying jobs, including work to install the unique self-driving technology and unique purpose-built interiors for Ford's autonomous vehicles.
Ford is investing approximately $750 million and adding 2,700 new direct jobs at its manufacturing facility in Wayne, Mich. during the next three years. Ford will install new equipment to support production of the all-new Ford Bronco and Ford Ranger, as well as create a new vehicle modification center at that location where Ford's first autonomous vehicles will be completed starting in 2021.
At its Dearborn Truck Plant (DTP), Ford will add 300 jobs and invest nearly $700 million in new manufacturing equipment and tooling to support production of new electrified variants of its F-150 truck series, producing both a hybrid and fully-electric vehicle. Ford will also create a new battery operation at that location, where workers will assemble battery cells into battery backs for the F-150 hybrid and F-150 battery electric vehicles.
For Ford's commitment to creating and maintaining a minimum of 3,000 jobs with an average wage of equal to or greater than the regional average, the Michigan Strategic Fund today approved:
100-percent Good Jobs for Michigan withholding tax capture for up to 10 years valued at up to $26 million;
A 100-percent State Essential Services Assessment (SESA) exemption for up to 15 years valued at up to $6.1 million for the MAP facility;
A 100-percent SESA Exemption for up to 15 years valued at up to $3.185 million for the DTP facility.
The Good Jobs for Michigan attraction tool has been an instrumental in aiding six large-scale projects either relocating to or expanding here in Michigan that represent a total of more than $6.5 billion dollars of private investment and almost 11,300 well-paying jobs. The program allows for the capture of Michigan income taxes withheld from the certified new jobs created as a result of a business expansion or new location project. If the company does not create the jobs, it will not receive funding through Good Jobs for Michigan.
For more information on Ford's expansion, read the full press release by visiting here.
A number of projects supporting local efforts in community development were also approved by the MSF Board today:
Sweetwater Development Partners, LLC plans to construct a new six-story, mixed-use building in the heart of downtown Muskegon in the former Muskegon Mall area. The development will include first floor retail space, second and third floor office space and residential apartments.
The project will be crucial in continuing the momentum of the revitalization of downtown Muskegon. The lot is vacant and ready for dense, mixed-use development. The city lacks market-rate residential apartments, so the project will bring residential tenants downtown, along with new commercial tenants. The project is expected to generate a total capital investment of $8.9 million and create approximately 61 new jobs, resulting in a Michigan Community Revitalization Program performance-based loan participation of $1.5 million. In addition, the City of Muskegon Brownfield Redevelopment Authority received approval of local and school tax capture valued at $2,682,150 for the remediation of brownfield conditions at the site.
Local support for the project includes a 12-year Commercial Facilities Tax Exemption with an estimated value of $332,882, a 15-year Neighborhood Enterprise Zone abatement with an estimated value of $389,609, and approval of $1,416,615 in local brownfield tax increment financing. The city of Muskegon is certified with the MEDC's Redevelopment Ready Communities program, and the project is in a Michigan Geographically Disadvantaged Business Location and an Opportunity Zone.POAH DD Sugar Hill LLC plans to redevelop a contaminated, blighted, tax-reverted property located at the Northwest corner of Garfield Street and John R Street in Detroit's Sugar Hill Historic District of Midtown. The project includes the construction of a five-story, mixed-use building with commercial space and 54 market rate and 14 affordable residential units. The affordable units will be rented to veterans through HUD-VASH program that provides rental assistance for homeless U.S. veterans. The redevelopment will also incorporate green infrastructure improvements, green building techniques and an integrated 160-space parking structure to support the project and surrounding neighborhood. The project will reinforce urban vitality in one of Detroit's most dynamic districts.
The project is consistent with the MEDC's Five-Year Strategic Plan, helping to position affordable housing options within Detroit's employment center near local and regional mass transit options. In addition, the project is expected to generate a total capital investment of $36.6 million and create 15 full-time equivalent jobs. As a result, the project was awarded a Michigan Community Revitalization Program performance-based loan of $4 million. The City of Detroit Brownfield Redevelopment Authority also received approval of local and school tax capture valued at $9,368,646 for the remediation of brownfield conditions at the site but has capped reimbursement at a maximum of $2,183,301 for the state tax capture.
Local support for the project includes the local portion of the brownfield tax Increment financing with an estimated value of $852,012, a HOME loan for housing development valued at $2 million, a Community Development Block Grant loan valued at $1.4 million. In addition, the city is participating in a Section 108 loan guarantee in the amount of $6,706,930. The city of Detroit is engaged with MEDC's Redevelopment Ready Communities program and the project is in a Michigan Geographically Disadvantaged Business Location.
The village of Kalkaska plans to improve public facility infrastructure at the existing Railroad Square project site. The Railroad Square project was the community's early engagement into a proactive effort to eliminate a contaminated brownfield site in the heart of downtown and was established by updating five different local plans. Improvements to the site will include an information center with electronic signage to market community events, a multi-purpose pavilion with restrooms and an incubator kitchen to expand the existing farmers market, a food truck court with a fire pit and covered gathering structure and limited façade improvements of the railroad department museum.
The village expects that this project will result in a new private investment throughout the adjacent private properties given the increase in downtown activity and pedestrian traffic. The project is estimated to cost more than $3.842 million. Given the large-scale of the project and combined with the low- and moderate-income individuals it is intended to benefit, the project is not possible without grant assistance, resulting in MSF approval of a $3,477,500 Community Development Block Grant. Local support for the project includes the anticipated contribution of $390,000, which is 10 percent of the total public facilities costs, by the village. Kalkaska is an engaged level Michigan Main Street community. The project meets a national objective by providing benefit to at least 51 percent low-and moderate-income persons.
The Michigan Strategic Fund also approved funding for and extensions of a number of programs that support economic growth and stimulation of Michigan's entrepreneurial ecosystem:
Technology Transfer Talent Network (T3N) – $500,000
Michigan Translational Research and Commercialization Statewide Program (MTRAC) – $2.45 million
MTRAC Advanced Transportation Innovation Hub at the University of Michigan – $500,000
MTRAC Life Sciences Innovation Hub at Michigan State University – $1 million
BBC Entrepreneurial Training and Consulting's (BBCetc) Small Business Innovation Research (SBIR) and Small Business Technology Transfer Research (STTR) programs – $480,000
Michigan Small Business Development Center's (SBDC) Business Acceleration Fund (BAF) and Emerging Technology Fund (ETF) – $3,585,000
Additional details on these approvals will be announced in a separate press release, which will be available at https://www.michiganbusiness.org/press-releases/.
About Michigan Economic Development Corporation (MEDC)